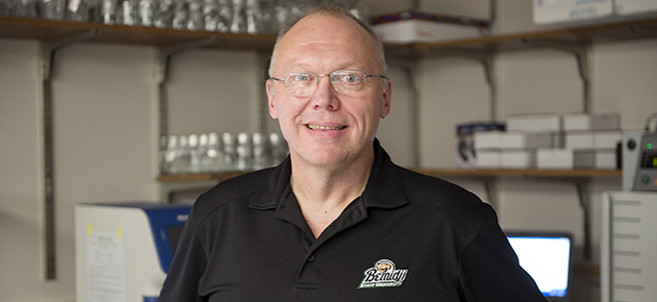 For the last 25 years, Dr. Mark Wallert, associate professor of biology at Bemidji State University, has guided undergraduates through real-world research experiences that have shown them what it means to be working scientists. As a new member of its biology faculty, Wallert is running his cancer research team at BSU for the first time this fall.
He will share the philosophy behind his undergraduate research model at "The Wallert Research Team: Training the Next Generation of Biomedical Scientists through Research Engagement, Campus Commitment, and Community Involvement," Oct. 26 as part of BSU's Honors Council Lecture Series. His presentation will begin at 7 p.m. in Hagg-Sauer Hall 112. BSU's Honors Council lectures are open to everyone free of charge.
At BSU, the Wallert Research Team will study the development and progression of lung cancer cells in an effort to identify mechanisms to prevent cells from spreading. Wallert says he hopes that his team, made up of three undergraduate students and one graduate student, will eventually develop its research to the point that it can be published in peer-reviewed journals and presented at national conferences in the next few years.
"This is what these students need to do," he said. "If they want to go be researchers when they apply to graduate school, now they have a research experience, they have a publication, they've been at a meeting. When they're interviewing, they can engage the committee at a completely different level because they've seen medicine, biomedical science and research, not only at BSU, but at the state and national level."
During his 25-year career, Wallert has seen more than 150 undergraduate students study in his labs.
"You get this whole spectrum of young people who come and work really hard in your lab, and then they go out and contribute to the world," Wallert said. "And that's what we want them to do."
About Dr. Mark Wallert
Dr. Mark Wallert is in his first year as an associate professor of biology at Bemidji State University. Wallert received his doctorate in physiology from Emory University and was a postdoctoral fellow in pharmacology at the Mayo Clinic. Before joining the BSU faculty, Wallert spent 25 years as a professor in the Biosciences Department at Minnesota State University Moorhead. Wallert is the Northwest Regional Director for the American Society of Biochemistry and Molecular Biology Student Chapters Steering Committee. In that role, he has helped organize the annual meeting of the Undergraduate Research in the Molecular Sciences in Moorhead, Minn., for the past 10 years.
About the Honors Council Lecture Series
The Honors Council Lecture Series is hosted by the Bemidji State University Honors Council. The council is the advisory group to the honors program composed of 12 faculty members representing each of the university's colleges. Student representatives are also elected to the council by their cohorts for one-year terms.
Contacts
• Kari Caughey, BSU honors program; (218) 755-3984, kcaughey@bemidjistate.edu
• Dr. Mark Wallert, associate professor of biology; (218) 755-2925, mwallert@bemidjistate.edu
Bemidji State University, located in northern Minnesota's lake district, occupies a wooded campus along the shore of Lake Bemidji. Enrolling nearly 5,000 students, Bemidji State offers more than 80 undergraduate majors and 11 graduate degrees encompassing arts, sciences and select professional programs. BSU is a member of the Minnesota State Colleges and Universities system and has a faculty and staff of more than 550. University signature themes include environmental stewardship, civic engagement and global and multi-cultural understanding.