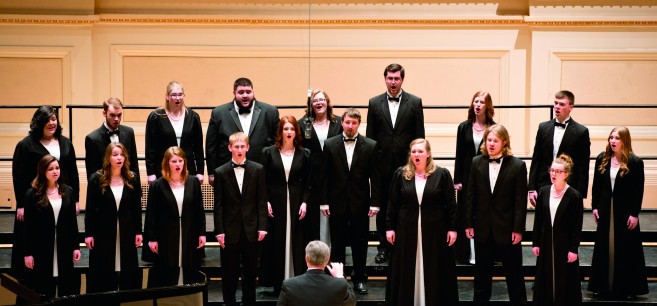 The Bemidji State University Department of Music presents its annual Fall Festival, featuring performances by the Women's Chorus, Musikanten, Varsity Singers, Chamber Singers, and the Bemidji Choir on Oct. 25 at Bemidji State University.
The concert will begin at 3 p.m. in the Main Stage Theatre of BSU's Bangsberg Fine Arts Complex. Tickets are $8 for adults, $5 for seniors, and free to all students.
The Women's Chorus is an all women's group under direction of BSU student Miranda Carlson.
Musikanten is an all men's ensemble co-directed by BSU students Luke Barnard and Bob Boland.
Varsity Singers is an open choir to all BSU students under the direction of Patricia Mason, adjunct instructor of music.
Chambers Singers is an auditioned group of sixteen singers from the Bemidji Choir who serve as the Royal Court for the annual Madrigal Dinners, under the direction of Dr. P. Bradley Logan, professor of choral music, and BSU student Gwendolyn Erickson.
The Bemidji Choir, an auditioned group of forty-seven singers, also under Logan's direction.
Stream the concert free on LiveStream (free account required)
Contact
Bemidji State University Department of Music; (218) 755-2915