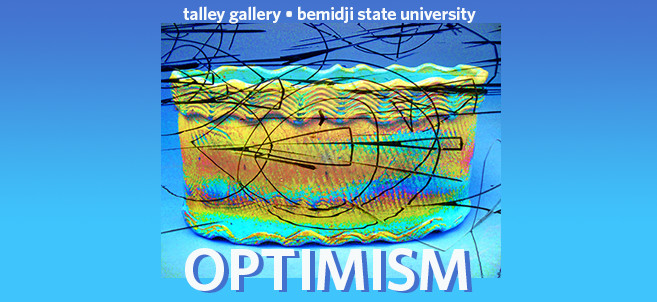 Butch Holden, professor of technology, art and design at Bemidji State University, will display a collection of work reflecting nature, growth and change in a show called "Optimism" at BSU's Talley Gallery, beginning Nov. 3.
The gallery will host an opening reception for Holden's exhibit Nov. 3 from noon-3 p.m., open free to the public. Holden will give a gallery talk at 12:30 p.m.
"Optimism" will include ceramics and installations reflecting nature, growth and change. Holden's exhibit also will feature current works of manipulated photographs of nature and of his ceramic forms printed on canvas.
"My works of pottery and photographs are a continuation of my fascination of the similarities of gardening and ceramics," Holden said. "When I garden, I am manipulating all sorts of variables — soil, location, timing, temperature, water — all in the hopes of achieving a thriving plant. Pottery making is incredibly similar. I manipulate all sorts of variables — minerals, temperature, timing, water, location in the kiln — all in the hopes of achieving a desirable ceramic outcome.
"However, for me, the most powerful similarity between these two human activities is the thought process. Both are made possible with a vision combined with a strong sense of optimism. Natural surprises and setbacks will happen. But patience, knowledge and work often fuels my optimism to the point of an exhilarating feeling of being in collaboration with nature."
"Optimism," like all exhibits at the Talley Gallery, is supported by Bemidji State's student body through the Student Activity Fee Allocation Committee.
Butch Holden has a bachelor's degree in art from the University of Minnesota and a master of fine arts degree in ceramics from Indiana University. He has taught drawing and ceramics at Mount Senario College and currently is a professor technology, art and design at Bemidji State University, where he has taught since 1983. He has exhibited in local, regional and national competitions, and also has had many solo exhibitions. In addition to have juried many shows, he has served on numerous art grant panels.
About the Talley Gallery
Located in Bridgeman Hall room 140 on the campus of Bemidji State University, the Talley Gallery is barrier-free and open at no charge to the public. The gallery is open Monday through Friday from 9 a.m.-4 p.m.
Other events
In addition to the Talley Gallery show, Holden will be participating in a number of other ceramics-related activities in Bemidji surrounding his exhibition.
November 4
TAD Talk lecture, 7 p.m., Thompson Recital Hall, BSU's Bangsberg Fine Arts Complex.
Holden will deliver a TAD Talk lecture, part of the Department of Technology, Art and Design's annual lecture series, entitled "A Brief History of Butch Holden Ceramics."
Holden will reflect on his many years of making art and the  experiences he has gained through his art.
A pre-lecture reception begins at 6:30 p.m. in BSU's Ramsey Gallery, located at Bangsberg Hall's lower entrance. During the reception, the galley will feature pieces from the BSU Margaret Harlow Ceramics Collection. Bemidji State offers purchase awards at Bemidji's annual "It's Only Clay" juried national ceramics competition. Those purchased works are added to the Harlow collection.
November 5
"It's Only Clay" workshop, noon-4 p.m., BSU ceramics studio.
Holden will demonstrate forming clay on the wheel and by hand, and some of the many surface techniques that he uses in creating ceramic forms.
November 6
"It's Only Clay" national juried show winners; Watermark Art Center, 5-7 p.m., downtown Bemidji.
Holden will present the winners of the "It's Only Clay" juried show, and the Talley Gallery will have extended hours to participate in the City of Bemidji's First Friday art tour event.
Contact
• Laura Goliaszewski, Talley Gallery director; (218) 755-3708, lgoliaszewski@bemidjistate.edu
Links
Bemidji State University, located in northern Minnesota's lake district, occupies a wooded campus along the shore of Lake Bemidji. Enrolling nearly 5,000 students, Bemidji State offers more than 80 undergraduate majors and 11 graduate degrees encompassing arts, sciences and select professional programs. BSU is a member of the Minnesota State Colleges and Universities system and has a faculty and staff of more than 550. University signature themes include environmental stewardship, civic engagement and global and multi-cultural understanding.