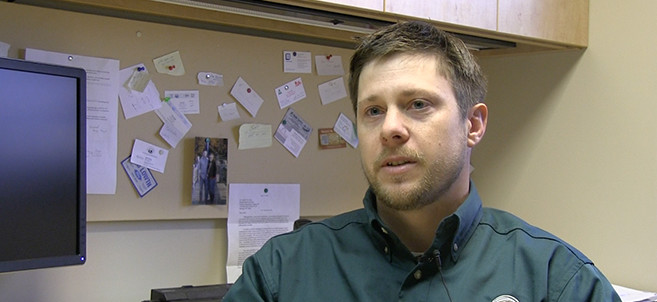 Dr. Andrew Hafs, assistant professor of biology at Bemidji State University, has traveled the country researching interactions between animal populations and aquatic environments. He will share his experiences studying factors that negatively impact these aquatic ecosystems and management techniques that can be used to correct them as part of BSU's Honors Council Lecture Series.
Hafs will present his lecture, "Management Issues Influencing Aquatic Ecosystems Across the USA – Case Studies From My Experiences", Nov. 3 at 7 p.m. in Hagg-Sauer Hall 112. BSU's Honors Council lectures are open to everyone free of charge.
He will focus on his own research through a virtual tour around the country addressing major aquatic ecosystem threats — agriculture, logging, stream dryness and large wooded debris removal — and new management strategies.
"It is my hope that determining the influence of anthropogenic factors, as they relate to interaction between animals and their habitat," Hafs said. "We will be better prepared to conserve and rehabilitate the aquatic environments we study."
About Dr. Andrew Hafs
Dr. Andrew Hafs is currently in his fourth year as an assistant professor of biology at Bemidji State University. Prior to joining the faculty at Bemidji State, he completed a post-doctoral research position at the University of California – Santa Barbra where he studied Chinook salmon energetics in the Merced River.
Originally from Wisconsin, Hafs received his doctorate from the University of West Virginia, where he studied brook trout ecology. Prior to that, he received a master's degree at Arkansas Tech University, where he studied smallmouth bass habitat use, movement and survival. He has bachelor's degrees in biology and water resources from the University of Wisconsin–Stevens Point.
About the Honors Council Lecture Series
The Honors Council Lecture Series is hosted by the Bemidji State University Honors Council. The council is the advisory group to the honors program composed of 12 faculty members representing each of the university's colleges. Student representatives are also elected to the council by their cohorts for one-year terms.
Contacts
• Kari Caughey, BSU honors program; (218) 755-3984, kcaughey@bemidjistate.edu
• Dr. Andrew Hafs, assistant professor of biology; ahafs@bemidjistate.edu
Bemidji State University, located in northern Minnesota's lake district, occupies a wooded campus along the shore of Lake Bemidji. Enrolling nearly 5,000 students, Bemidji State offers more than 80 undergraduate majors and 11 graduate degrees encompassing arts, sciences and select professional programs. BSU is a member of the Minnesota State Colleges and Universities system and has a faculty and staff of more than 550. University signature themes include environmental stewardship, civic engagement and global and multi-cultural understanding.