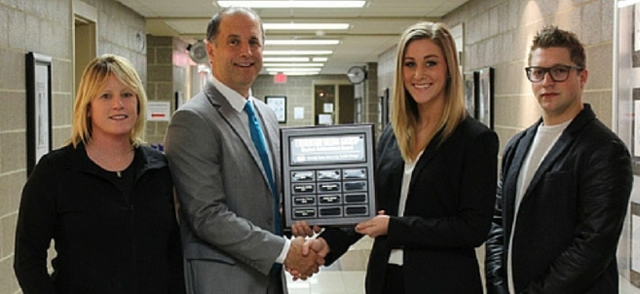 Ashley Kiecker, a senior in Bemidji State University's art and design program, has won the 2016 EXHIBITOR Media Group Student Achievement Award. Kiecker was selected by art and design faculty for her academic performance and classroom leadership.
As the recipient of the award, Kiecker receives an All Access Passport to EXHIBITORLIVE 2016: The 28th Annual Training Conference for Trade Show Exhibit and Event Managers and Marketers, Feb. 28-March 3 in Las Vegas. She will also receive a $500 scholarship to help offset the expenses of attending the conference and a one-year subscription to EXHIBITOR magazine, and her name will be engraved on a plaque displayed in Bridgeman Hall, home Bemidji State's Department of Technology, Art and Design.
Kiecker, a Hector, Minn., native, will graduate in May 2016 with a bachelor of science degree in art and design with emphases in exhibit design and digital design.
About Exhibitor Media Group
Exhibitor Media Group publishes EXHIBITOR magazine, a monthly publication featuring best practices in trade show marketing, and sponsors learning events such as EXHIBITORLIVE, the industry's top-rated conference and exhibition for trade show and corporate event marketing; EXHIBITORFastTrak accelerated learning conferences; and EXHIBITOR eTrak professional online learning. Exhibitor Media Group is the founder and sponsor of Certified Trade Show Marketer, the world's only university-affiliated professional certification program. For more information, visit http://www.exhibitoronline.com.
Contact
Dr. Bonnie Higgins, professor and department chair, Department of Technology, Art & Design; (218) 755-2790, bhiggins@bemidjistate.edu