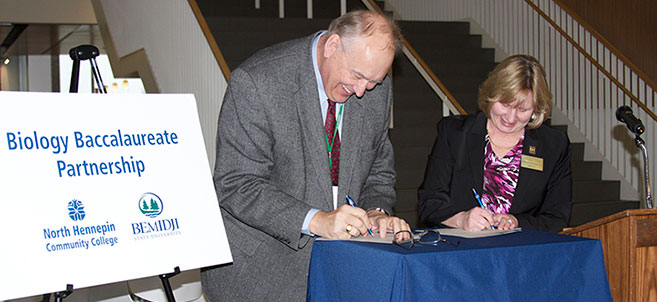 photos courtesy of North Hennepin Community College
On Dec. 8, Dr. Richard A. Hanson, president of Bemidji State University and Northwest Technical College, signed an agreement to deliver a BSU baccalaureate degree program in biology on the campus of North Hennepin Community College in Brooklyn Park, Minn. Hanson was joined at the ceremony by Dr. Barbara McDonald, NHCC president, and a host of faculty and administrators from both schools.
The Biology Baccalaureate Partnership combines a community college atmosphere in the metro area with the impact of a four-year degree from a school renowned for its fantastic biology programs. The program is designed for students looking for entry-level professional positions in the biological sciences or who plan to apply to graduate school in the biological or medical sciences.