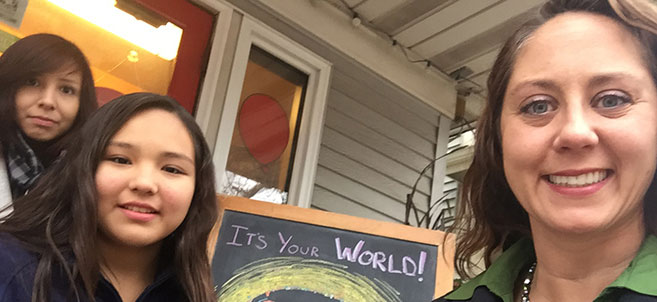 Jennifer Theisen, a programmer in Bemidji State University's programming, network and servers office spoke with KAXE radio about Girls Who Code, a programming club for girls she founded at BSU a year ago. Chelsea Clinton recognized the club and its efforts in her new book, "It's Your World." Theisen and two members of the club were able to meet Clinton during a Nov. 20 book signing in St. Paul, Minn.
Theisen joined KAXE Radio on Dec. 17 to talk about the club and about her own experiences as a woman working in the tech field.
Girls Who Code is a non-profit program meant to inspire high-school aged girls to learn computing and coding skills and, ultimately, increase the number of women working in high-tech professions. BSU's Girls Who Code club will begin meeting again in January 2016 and expects its membership to total nearly 30 girls for its second year. Nearly two dozen are expected to return from the program's first year. Club members come from schools in the Bemidji area and many travel to Bemidji by bus from local communities such as Red Lake and Ponemah.