Apparently, Joe Lueken was right all along.
Indications are that an original $35 million goal for Bemidji State University's Imagine Tomorrow campaign wasn't quite a swing for the fences, to borrow an old baseball metaphor.
In retrospect, the target that once loomed so large now looks more like a solid triple than a home run. Fortunately, the game is far from over.
Campaign cash and commitments crept past the goal in November, with seven months to go in the five-year effort and tens of thousands more alumni and friends able to join the cause.
Well before Imagine Tomorrow quietly kicked off in July 2011, Lueken said Bemidji State could aim even higher in its bid to dramatically boost scholarship funding and academic investment.
While deeply grateful for every gift and pledge received so far, President Richard Hanson and other campaign leaders say they won't stop reaching out to new donors at every level of giving.
"Tomorrow" hasn't quite arrived, and it's still possible to "imagine" what can be achieved by midnight on June 30., once everyone has joined the team.
"As much as we use dollars and cents as a measure of our progress, this campaign has always been about more than money alone," Hanson said. "It's about the impact we will make in the lives of students and on the university for decades to come. With that to inspire us, the sky is the limit."
Lueken, who died in July 2014 at age 72, would undoubtedly have agreed. The generosity with which the legendary Bemidji grocery store owner and his wife, Janice, have supported Bemidji State is an expression of belief in its importance and potential.
When the BSU Foundation Board of Trustees was preparing to launch the campaign to be known as Imagine Tomorrow, trustee Lueken suggested they consider a goal as high as $50 million.
Cautious optimism prevailed, and the lower but still challenging amount was approved.
The campaign's volunteer leadership, BSU Foundation and Alumni Association staff and Hanson himself now have 180 days to see just how far donors are willing to stretch.
Progress to date is encouraging to say the least:
• As of the most recent official tally, on Nov. 30, the total value of gifts and pledges to the Imagine Tomorrow campaign was $35.34 million.
• The university has doubled its donor-funded scholarships for BSU students in five years, going from $698,766 in 2011 to $1,387,275 this fiscal year.
• Campaign donors have created 50 new scholarship endowments valued at $6.89 million. They are benefiting students in 23 areas, ranging from leadership to mathematics to encouraging American Indian and international enrollment.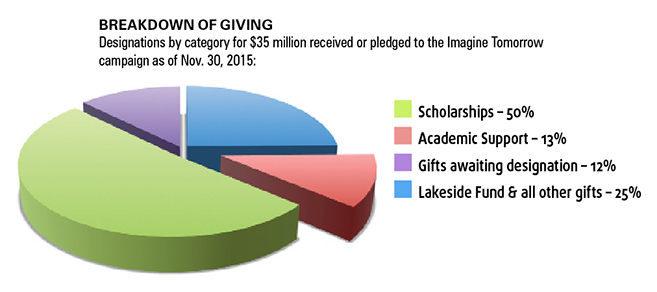 The way donors are designating their funds is also largely on track to meet or exceed initial targets. In the area of scholarships, with a goal of $20 million, $17.23 million has been committed. For academic excellence, including faculty development and program investment, $4.47 million has been committed toward an $8 million goal. Annual support, which can be applied to the areas of highest need, has garnered $8.6 million, exceeding a $7 million goal. About $5 million more awaits donor designation.
Dave Sorensen, chair of the Imagine Tomorrow Campaign Steering Committee said alumni and friends of BSU can expect plenty of friendly encouragement to participate, if they haven't already.
Reminders and updates will come via email, direct mail, individual meetings and special events such as the Fun in the Sun alumni gatherings in Arizona on March 4-5. One key point is that all multi-year pledges and planned gifts made by June will be credited to Imagine Tomorrow.
"We want as many people as possible to join this campaign and then join us at the gala on Oct. 16 when we celebrate this accomplishment together," Sorensen said. "It will be a thrilling night and a historic milestone for Bemidji State University."
– by Scott Faust