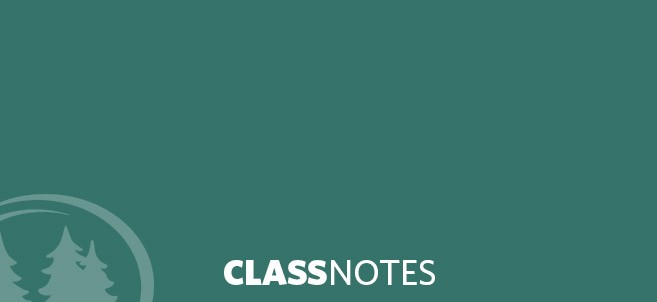 '15
John Frazier has been hired by Showcraft of Burnsville as an exhibit designer … Sam Windle has signed a contract to play with the Reading (Pa.) Royals of the East Coast Hockey League. A defenseman for the BSU Beavers, he led the NCAA Division I last year with 97 blocked shots. The Royals are affiliated with the Philadelphia Flyers of the NHL … Ami Johnson has returned to Park Rapids after teaching English to students ages 5 to 8 in China. She plans to work as an elementary-level substitute in districts across the region … Phil Brewer has signed a contract to play for the Tulsa (Okla.) Oilers of the East Coast Hockey League. A forward, Brewer played with the Oilers as an amateur in March and signed a 2015-16 pro contract with the team, affiliated with the Winnipeg Jets of the NHL.
'14
Lane Young has been named vice president of marketing and business development at the Occupational Development Center in Bemidji, where he lives. He and his wife, Sarah, have two young children … Patrick Rudlang is designing exhibits for TradeTec Skyline in Chicago, Ill. … Chris Vinderslev delivered the Memorial Day address during Chokio's celebration of the holiday. A member of the Army National Guard, he served two tours in Kuwait before returning to his home in Apena, S.D. He works as a grain dispatcher and asset manager for Stan's Inc., a trucking and feed processing firm … Rachel Wold has joined the Christenson Insurance Agency, with offices in Crosby and Deerwood. She is a licensed advisor in the health, life, property and casualty insurance areas … Brock Tesdahl completed the 2015 Boston Marathon, finishing 994th out of more than 30,250 runners. He has returned to Minnesota from a year in the Telluride, Colo., school district and is teaching at Hopkins High School, where he will also coach cross country, basketball and track and field … Aaron Although and Cara Basler of Richfield were married last spring. They work in Bloomington, she as a compensation analyst for the consulting firm McLean and he as a loan portfolio analyst for the commercial real estate company NorthMarq Capital … Jeff Jubinville of the Tulsa (Okla.) Oilers finished fifth in the Rookie of the Year voting in the East Coast Hockey League. He completed his first professional season as a forward with 63 points in 70 games. The Oilers are affiliated with the Winnipeg Jets of the NHL.
'13
Danielle Carty has joined the Bemidji Pioneer as the multimedia coordinator in the marketing department … Megan Ehrnriter has been commissioned as a second lieutenant with the U.S. Marine Corps after completing officer candidate school in Quantico, Va. … Sadie Lundquist participated in her second consecutive Red Bull Crashed Ice competition held annually in St. Paul. She finished fifth on the 1,400-foot obstacle course out of 19 female skaters from three countries. She lives in Minneapolis and works for the Minnesota Wild as an associate account executive in the NHL team's sales and marketing department…. Scott Sobocinski volunteered as an official for the annual school spelling bee in Wabasso, where he lives and works as a librarian, helps on the family natural livestock farm and is writing a novel … Danika Stelton creates 3D exhibits and permanent brand environments for clients of MG Design from her office in Pleasant Prairie, Wis. At BSU, she won the Euroshop Design Contest conducted by the Exhibit Designers and Producers Association. She lives in Kenosha, Wis. … Ayla Koob of Bemidji is the regional coordinator at TXT4Life, a texting service that connects trained counselors with people contemplating suicide … Devin Kopperud is Windom's newest police officer. He has relocated to Windom from his home in Morristown.
'12
Brent Oslin married Danielle Swenson last winter. The couple lives in Mora, where he works in sales and estimating at Oslin Lumber … Jessica Bobrowski is a housing coordinator for Advocates for Family Peace. She presented a program on the faces of poverty sponsored for the AAUW. A licensed foster parent, she lives in Deer River with seven children for whom she has legal custody. She is also working on a master's degree in criminal justice … Josh Hardy served as dean of students and a physical education teacher last year at Crookston High School, where he was also an assistant hockey coach for the boys' team. He lives in Grand Forks, N.D. … Nathan Voll is chief financial officer at Intercept Industries, a company in Roseau that assembles tires for ATV manufacturers. He also served his first year as head baseball coach last spring for Greenbush-Middle River High School, which he guided to a third-place finish in the district … Hank Fiskevold premiered a composition entitled "Final Thoughts Before the Supernova" at the annual spring concert of the Lakes Area Community Band. After studying a year in Argentina, he lived and worked in Detroit Lakes but moved to Washington this fall to pursue a master's degree at the Seattle Film Institute … Drew Fisher is continuing his professional hockey career in the United Kingdom with the Coventry Blaze of the Elite Ice Hockey League. Fisher completed his best professional season last year when he scored 77 points for the Tulsa (Okla.) Oilers of the East Coast Hockey League … Bryce Tesdahl has accepted a position as a health and physical education teacher at New Prague High School, where he will also  coach the boys' basketball team. He was an assistant coach for the past three seasons at the University of Minnesota Duluth … 
Jack Pellinen became assistant manager at Hayes Lake State Park in June. The park is located southeast of Roseau, where he now lives.
'11
Katie (Jurvelin) Jones is a marketing and enrollment specialist for Northland Community and Technical College in Thief River Falls. She married Ryan Jones last fall, and the couple lives in Grand Forks, N.D. … Jackie (Robertson) Stoffel has moved from an elementary school to the high school in Bemidji, where she is teaching physical education and continuing to coach the girls' hockey team. She also wrote a successful application for the 2015 USA Hockey Grow the Game Award, which picked the Bemidji Little Lumberjacks development program for 3- to 10-year-olds who are starting out in hockey. The award included 20 sets of starter equipment. Prior to the start of the school year, Jackie married Bryan Stoffel ('05), who teaches physical education and is an assistant football coach at the high school in Bemidji, where they live.
'10
Courtney Snyder has been putting the finishing touches on a business education textbook for grades 6-12 with a December 2015 publishing date. A former teacher in Red Wing, Snyder now works as an education technology consultant. She and her husband, Adam, have two young children and live in Hager City, Wis. … Josiah Hoagland completed a master's in pastoral counseling and is serving as lead pastor at New Journey Church in Fosston. He was also recently commissioned as a second lieutenant chaplain candidate in the Minnesota National Guard. His wife, Lisa ('15), is an early childhood mental health practitioner at Stellher Human Services in Bemidji, where she specializes in working with families and children ages 6 and under. The couple has a toddler and lives in Fosston … Joel Van Nurden has opened a law office in St. Anthony where he will focus on family law, criminal defense and civil litigation. He and his wife, Anna, live in Golden Valley … Kent Croatt married Samantha Trick one year ago. He works for Burlington Northern Santa Fe Railway. The couple lives in Mankato … Matt Goinz of St. Paul returned to his hometown of Bemidji to play the keyboards during the play "Spamalot," the final production of the 2015 Paul Bunyan Playhouse summer season. He sings professionally as a member of Cantus, an internationally known ensemble based in the Twin Cities … Joe Gould has been hired for the government relations team of Capitol Hill Associates. Gould, who lives in St. Paul with his wife, Gwenia, lobbies for the Minnesota Rural Education Association, a nonprofit advocacy group representing 200 school districts outside the Twin Cities … Kevin Ham was inducted into the Mound Westonka Wrestling Hall of Fame. Ham amassed 89 career wins during his high school career and twice earned berths in the state tournament. He is assistant superintendent at Burl Oaks Golf Course and also works for Innovative Marketing Solutions, which develops promotional product solutions for the sports, beverage and casino industries … Jackie (Ostenaa) Huschle brings nine years of experience to her new position as a real estate processor at VISIONBank in Fargo, N.D., where she recently moved with her husband, Cody, and one child … Ashley Leopold, a St. Paul police officer, participated in a Minnesota Hockey Day skate-off, a fundraising event for St. Paul Youth Hockey and Serving Our Troops. Leopold lives in Afton.
'09
Dr. Jenna (McKean) Gross is a nephrology nurse practitioner with Sanford Health in Bemidji, where she specializes in hypertension and dialysis. Jenna also just received a doctorate in nursing from North Dakota State University.  She lives in Blackduck with a toddler and her husband, John ('11), who teaches elementary physical education there … Robert Strand is admissions director at the University of Wisconsin-Superior. The Superior, Wis., resident also fishes on the Professional Muskie Tournament Trail and last year finished second in the World Championships in a field of 35 teams … Kelly Schultz has worked at RP Broadcasting in Bemidji in many capacities, from sports play-by-play to marketing. But her hat making is getting noticed as well. Inspired by the hats worn at the most recent British royal wedding, she has created and sold a variety of the fascinators in local shops and online at www.angelinealice.com. She lives in Bemidji with her husband, Brian … Dave Esping has been named chief technology officer for Ozarks Technical Community College. This year he was also inducted as a fellow into the Leading Change Institute, an organization that engages leaders who seek to develop their skills for the benefit of higher education. He and his wife, Amy, have lived in Rolla, Mo., but were planning a move to Springfield, Mo., with their two teenagers … Bryan Wick won a gold medal as part of the U.S. team that won the American Football World Championship. Teams from seven countries participated in the month-long tournament, held every four years. A former defensive lineman for the Beavers, Wick works for a beverage distributor in Duluth, where he has a home … Gordie Haug of Laramie, Wyo., coaches wide receivers and serves as director of recruiting for the University of Wyoming football team.
'08
Kyle Shepherd has been named assistant vice president and branch manager of RiverWood Bank in Bemidji. An ICB certified lender with eight years of experience, he lives in Park Rapids with his wife and three young children … Rabi Vandergon is working as an analyst with Vermont Energy Investment Corporation, a nonprofit whose mission is to reduce the environmental and economic costs of energy use by helping design and deliver energy efficiency and secure renewable resources. He married Sarah Bhimahi early this fall, and they will be living in Burlington, Vt. … Allison Barta has been hired as a teacher in Bagley High School in the areas of Earth and physical sciences. She and her life partner, Neil Peterson, reside in Cass Lake.
'07
Josie (Aschnewitz) Johnson was recently hired as a patrol officer for the Detroit Lakes Police Department after she had served as a corrections officer in Becker County for several years. She and her husband, Matt, are both certified firearms instructors and operate a gun dealer business in Frazee, where they live with their three children … Mychal Stittsworth was selected as a co-winner of the Entrepreneur of the Year Award presented by the Bemidji Area Chamber of Commerce. He earned the honor for expanding his business, Stittsworth Meats, into a new store facility and by finishing as a finalist in the regional Idea competition. He and his wife, Danielle, live in Bemidji with their two children.
'06
Shannon (Anderson) Cunningham was recently promoted to director of government and community relations for the Minnesota Nurses Association. She was also re-elected to the board of directors of the City and County Credit Union. She lives in Roseville with her husband, Cary, and a toddler … Scott Klicker is the new school activities director and high school dean of students in Onamia. Married to Carly ('08), he previously served in the same capacity in Rosholt, S.D.
'05
Katie Edgar is head librarian at the Greenbush Public Library, part of the Minnesota's Northwest Regional Library system. Edgar and her kindergartner reside in Karlstad.
'04
Travis MacLeod teaches social studies at St. Anthony Village High School, where he is the junior varsity boys' basketball coach and head cross country coach for both the girls' and boys' teams. He and his wife, Jill, live in St. Paul with a toddler … Valerie Wilwert was chosen the Outstanding Graduate Student in the College of Health, Community and Professional Studies at Metropolitan State University in St. Paul. She received her master's degree last spring in social psychology. An operational teller trainer at Wings Financial Credit Union in Apple Valley, she lives in Cottage Grove with her husband, Charlie, and infant child … Dusty Minky of Forest Lake is a sales representative with North Country Marketing, a firm specializing in the shooting, hunting and outdoor industries in the Upper Midwest. He also serves as a fishing guide and has competed in professional walleye tournaments over the past four years … Lenny Bellecourt has been hired as a computer-aided design technician at Meyer Group Architecture in Duluth, where he lives … Jason Swanson was presented with the Presidential Excellence in Leadership Award from Tealwood Senior Living for his performance in managing the Prairie View Health Care Center in Tracy, where he is executive director. He lives in Walnut Grove with his wife, Devon, and their grade-school-aged children … Brad Johnson was inducted into the Bemidji High School Athletic Hall of Fame. While in high school, Johnson competed in baseball and hockey, earning All-State Honorable Mention. He teaches fifth grade and is a coach in the Bemidji School District. He and his wife, Ashley, live in Bemidji.
'03
Carol Spragg of Gilbert was recently appointed as the accounting clerk for Lake Country Power's Mountain Iron Service Center, where she provides records, reports and accounting information to the electric cooperative … Brian Bell is the safeties coach for the New Mexico State University football Aggies after coaching defensive backs and coordinating recruiting at Minnesota State University Mankato for eight years. He has relocated to the Las Cruces, N.M., area with his wife, Amanda … Chris Knopik was promoted to a principal at the accounting firm CliftonLarsonAllen, where he has 11 years experience providing auditing and consulting services to state and local governments. He and his wife, Tanya, live in Rogers … Justin Isaacs and his wife, Heather (Howe), are both employed as educators in the Deer River school district. Justin, who recently became a volunteer firefighter, teaches industrial arts and coaches football, while Heather has moved into an early childhood teaching position. The couple has a home in Deer River with their two young children … Jake Cook, an independent financial advisor, was recently featured as a 40 Under 40 professional in Faribault, where he lives with his wife, Dana, and their three children.
'02
Dr. Nicholas Lentz has joined Midwest Energy Emissions Corporation as a field technical manager. He and associates in the company will help spearhead system deployment efforts in emerging mercury control services and develop the company's proprietary mercury removal technologies. His wife, Rebecca (Robb, '02), is a special education teacher in the Fisher school system. They live in Grand Forks, N.D. … Todd Knott is an assistant coach of forwards and recruiting coordinator for the Minnesota State University Mankato men's hockey team. He and his wife, Angie, have two young children and live in Eagle Lake … Gary Sabart was promoted to an associate in the TSP Architects and Engineers firm, which specializes in planning and design for facilities in education, health care and communities. He and his wife, Chelsie, have welcomed a newborn into their Watertown, Wis. home … Jim Etzel, an educator specializing in soil and plant nutrition, recently presented a program at a meeting of the Fifty Lakes Association. He lives in Hackensack. …
'01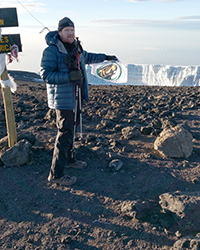 Brad Borkhuis '01 is founder of Epitome Coaching and Consulting and travels extensively to motivate individuals, teams and organizations. From Minot, N.D., he recently planted a BSU Beaver flag on the summit after climbing Mt. Kilimanjaro in Tanzania
Simon Waltman, who teaches math and coaches football and wrestling at Little Falls High School, was a mainstay pitcher, logging 1,000 innings and notching 100 wins for the Sobieski city baseball team over 13 seasons before an arm injury sent him to the sidelines in 2012. He returned to the mound this season following a four-year rehab from Tommy John surgery and pitched three shutout innings during an early season appearance. He lives in Little Falls …  Jill Bakken and her husband, Jeremy, are operating Bakken's Market in Clearbrook. Jill took a leave from teaching science to help the transition to the new venture but returned this fall to the classroom in the Win-E-Mac schools. The couple lives in Clearbrook with two young children.
'00
Nicole Manecke of Brainerd is a certified dermatology physician assistant who sees patients throughout the region … Nathan Ellingson has accepted the position of regional clinic manager of Altru facilities serving Crookston, Erskine, Fertile and Red Lake Falls. He lives in Fertile with his wife, Jessica, and three children … Amy Green of Buffalo has been hired as special education director for the Buffalo-Hanover-Montrose school district … Hollie Swanson is a clinical research nurse who recently joined the staff of the Cancer Center at Essentia Health-St. Joseph Medical Center in Brainerd, where she lives. Swanson is certified as a chemotherapy and biotherapy infusion nurse.
'99
Kay Granley experienced several changes in 2015. In January, she and her father, Bob, sold Granley's Market, a family-owned landmark in Clearbrook for over 100 years. In March she married Gus Vettleson, a math teacher at Clearbrook-Gonvick High School who also operates a screen-printing and embroidery company. After a short hiatus, Kay has returned to the market part-time to handle bookkeeping duties. The couple lives in Clearbrook … Dr. John Gonzales, an associate professor of psychology at BSU, is a member of a strategic planning team that is working on a 10-year plan for the future of the White Earth Nation. As the lead consultant, he has conducted community forums in all reservation communities and consults with the tribal council on developing specific goals and objectives for the plan. He and his wife, Nanako Kaga ('00), live in Bemidji with their three children … Dr. John Pietila published an article in the Worldwide Leaders in Healthcare publication as a new member of the International Association of Healthcare Professionals. A chiropractor in Burnsville, he is considered an expert in applied kinesiology, functional neurology, injury prevention, performance optimization and accelerated injury rehabilitation. He and his wife, Leslie, live in Richfield … Michael Cedergren received the Employee of Excellence Award from Wells Fargo Financial for his work as a business process specialist. He lives in Beaverton, Ore., with his wife, Maria Josie.
'98
Becky (Carlsen) Boland brings 10 years of experience in the financial industry to her new position as a financial services manager at Altana Federal Credit Union in Billings, Mont., where she lives with her husband, Patrick … Steve McCaughan has retired from serving as a pastor for two churches in the Bagley area. He and his wife, Laura, first became involved in Lutheran ministry 39 years ago in Montana. The couple raised two children and planned a move to a 40-acre residence near Sandstone … Shane Zutz presented the program Culture Eats Strategy for Lunch during an annual banquet of the Thief River Falls Chamber of Commerce. He has held the position of principal at TRF Lincoln High School since 2009 and three times has been honored by the region's association of school administrators with Principal of the Year or Assistant Principal of the Year Awards. He and his wife, Mya, live in Thief River Falls.
'97
Craig McKechney and his wife, Cindy, live on a ranch near Litchfield, where they raise 300 head of sheep. They export wool to Canada and markets in Asia. They have two adult children … Brent Glass is system director and operations manager for academic and student affairs at the Minnesota State Colleges and Universities system. He is also enrolled in a higher education administration doctoral program at St. Cloud State University. He lives in Prescott, Wis., with his wife, Jennifer … Greg Berg is assistant area fisheries supervisor in Aitkin after previously working at Minnesota DNR stations in International Falls, Baudette, Detroit Lakes and Brainerd. He lives in Deerwood … Sammi Davidson has accepted the administrative director position for Sanford Bagley, where she will oversee the health care system's medical center, ambulance and clinic operations, as well as the Clearwater clinic. She lives in Bagley with her husband, Corey … Marc Iverson was elected auditor and treasurer for Renville County last fall after providing assessor services to county residents for 12 years. His wife, Sarah (Domeier), teaches third grade at the elementary school in Bird Island, where they live with their two children … Kristen (Vidor) Busch is teaching life science, physical science and environmental science at Mountain Iron High School. She also is instructing forest ecology and forest field skills classes for Vermilion Community College, where MIHS students may earn college credits. She and her husband, Rick, live in Gilbert with their two middle-school-aged children.
'96
Kris (Hendrickson) Mallett is coordinator of the Rookie Basketball Association, a youth development league in Duluth. She is also head coach of the girls' basketball team at Lakeview Christian Academy. She lives in Duluth with her husband, Jon, and three children ages 9 to 16 … Marie Chandler was named Western Bank Educator of the Month in April for her work in Cass Lake-Bena elementary schools. Chandler is a 20-year veteran of the classroom, with 14 of those spent in Cass Lake. She and her husband, David, live in Bemidji … Mark Carter spent the past year teaching at Clearbrook-Gonvick High School. He recently moved from Spokane, Wash., to Park Rapids to help on the family farm that raises a variety of produce and stock. Carter is also co-artistic director of the Red Compass Theatre in Park Rapids, where he lives with his wife, Beth, and three children … Rhonda Fochs, a retired social studies teacher who lives in Motley, has authored a series on towns in Minnesota that once were thriving but have virtually disappeared. The series, "Minnesota's Lost Towns," has a central and two northern editions, and a southern version is scheduled for release in 2016.
'95
Bryan Brown began serving as the high school principal in Isle this fall. He and his wife, Kim, live between Isle and Mora and have three adult children.
'94
Susan Frisby Lee retired last spring from 37 years of teaching high school and elementary school in the Red Lake County district. In addition to working as a speech therapist, she served in the school readiness program and early childhood special education. She lives in McIntosh with her husband, Jim. They have two grown children … Scott Wiechman has been promoted to senior creative director at Lawrence & Schiller, an integrated marketing and digital strategy firm in Sioux Falls, S.D., where he lives … James Ekstrom started as director of information systems at First National Bank in Bemidji, where he previously was the information technology supervisor. In his new position, he will manage all information systems, including hardware, software, networks and security. A lieutenant colonel in the U.S. Army Reserve, he and his wife, Sheri, live in Bemidji … Danni Halvorson is director of education and monitoring for the International Water Institute. With his wife and daughter, he also helps run a mobile lemonade stand that travels to fairs and other venues over the summer. The family lives in Viking.
'93
Allen Kidd teaches a series of Japanese language classes at Muncie Central High School in Indiana. He has also taught history, geography and personal finance for the school. Last year he was named Secondary Teacher of the Year by the Indiana Foreign Language Teachers Association and previously won the same honor from the Association of Indiana Teachers of Japanese. He lives in Muncie with his wife, Kyoko, and two young children … Shannon (Wraa) Alto was named Exceptional Educator of the Month for March by Western Bank. She has been at Cass Lake-Bena Elementary School for 22 years and currently teaches in a first-grade classroom. She, her husband, Dan, and two children live between Blackduck and Bemidji.
'92
Ross Faldet teaches seventh- and eighth-grade industrial arts in Clearbrook-Gonvick schools, where he also is head coach for the girls' basketball team. He lives in Clearbrook with his wife, Jennifer, and three children … Pete Fenson, a former Olympic bronze medalist, is rejoining the competitive curling ranks this winter after resigning from his national coaching position. He will now be considered with other applicants for the 2015-16 USA Curling High Performance Team. He and his wife, Roxanne (Matter, '91), operate Dave's Pizza in Bemidji, where she also works for Security Bank. Residents of Bemidji, they have one son, Alex, now enrolled at BSU, and another child in high school … Jim Varichak has been named an Administrator of Excellence by the Minnesota Association of School Administrators. He has served as superintendent for Chisholm public schools since 2002. Under his leadership, the district successfully passed an $871 per pupil operating referendum and started a K-12 iPad initiative. He lives in Side Lake with his wife, Jill.
'90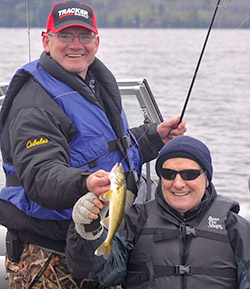 Tim "Buck" Lescarbeau '90 owns and operates Best Bet Guide Service and is chairman of the Lake Vermilion Guides League. Last spring he guided Gov. Mark Dayton for the annual fishing opener hosted by Explore Minnesota and the Department of Natural Resources for media, state officials and special guests. His full-time job is as a control-room operator with Hibbing Taconite. He lives in Chisholm with his wife, Megan (Scanlan, '88), an early childhood development teacher. They have two young adult children
Missy (Coffield) Karboviak is director of the Kittson County Day Activity Center for senior citizens in Lake Bronson, which is licensed to serve 22 people. She and her husband, Thomas ('89), have three children ranging in age from 17 to 27 … Brian Stefanich received the Northern Division Principal of the Year Award from the Minnesota Association of Secondary School Principals. He has been principal of Bemidji High School since 2009. He and his wife, Sage, live in Bemidji and have five grown children … Linda Erceg retired from the Concordia Language Villages after 33 years. A BSU Outstanding Alumna and registered nurse, she started as a camp nurse and left as the associate director of health and risk management. She coauthored "Basics of Camp Nursing," the definitive text for individuals in outdoor and community health care professions. She and her late husband raised one child in their Bemidji home.
'89
Lance Northey is the new superintendent for the Nashwauk-Keewatin School District. Originally from Two Harbors, he was looking forward to relocating his family to the Iron Range from Fisher, where he previously served as superintendent.
'88
Candy Heide has joined the First National Bank of Durango, Colo., as a business-banking officer in the institution's branch in Bayfield, where she lives with her husband, Gary ('83).
'87
Tina Haroldson is gaining a following as a singing waitress at the Amboy Cottage Café, where she entertains diners with popular tunes, original adaptations and requests. She sings despite a decade-old decline in her hearing. She returned to Amboy a year ago to help care for her elderly mother after 15 years in Albuquerque, N.M., where she spoke and sang at various ministry conferences … D.P. Brumbaugh is celebrating his 20th year of employment at the Keg n' Cork, located in Bemidji, where he lives.
'86
Jeff Olson was named president and CEO of the Credit Union Association of the Dakotas. He had previously served as executive vice president for government relations at the financial cooperative trade organization, which serves credit unions in both North and South Dakota. He lives in Bismarck, N.D., with his two teenagers … Debbie (Dahl) Aune of Gatzke had an exhibit of her watercolor paintings shown at the Northwest Minnesota Arts Council Gallery in East Grand Forks last spring. The show was titled Midwest Living and included personal images from a busy farming community and the outdoors and scenes important to the traditions of northern Minnesota. She and her husband, Elroy, have four children ranging in age from 16 to 30 … Nancy (Ettish) Vyskocil was been named to the board of directors of the Blue Cross and Blue Shield of Minnesota Foundation. She is president and CEO of the Northwest Minnesota Foundation, which has offices in Bemidji. She and her husband, Richard, have three adult children and a home in Dent, although she also maintains a residence in Bemidji … John Damjanovich has joined the board of directors for Woodland Bank. The chief financial officer for MNSTAR Technologies in Grand Rapids, he previously worked as a commercial lender at the bank for 13 years. He lives with his wife, Rose, in Remer.
'84
Duane Wolfe writes a regular column that appeared on PoliceOne.com, an online source for news, training information and products for law enforcement agencies. One recent article outlines 11 ways police officers can improve their job performance. Wolfe spent 25 years as a peace officer in Minnesota before retiring in 2014. He now is a full-time instructor in the law enforcement program at Alexandria Technical College. He and his wife, Lynn (Rauker, '86), live in Kensington … Chris Tower retired from teaching in the Edina public schools and has relocated with his wife, Betsy, to their cabin on Lake Movil near Bemidji. Chris is staying busy as farm manager at the Bemidji Community Food Shelf. Tower will also become involved at BSU as an adjunct professor and student teacher supervisor. The couple has two adult children.
'82
James Schwarz retired as an industrial technology teacher in New Ulm. Schwarz taught a variety of subjects during his 33 years in the district, from middle-school industrial technology to advanced woodworking in the high school. During his tenure he also coached eighth-grade football for 15 seasons. He and his wife, Sarah, live in New Ulm … David Gregory has been hired as director of corporate and foundation relations with the University of North Dakota Alumni Association Foundation. His wife, Sandra (Christensen, '83), is an educator in Grand Forks, N.D., where they live.
'81
Louise Oven retired after teaching elementary school for 34 years in the Pipestone schools. While most were spent teaching second grade, her final two were in a first-grade classroom. She lives in Brandon, S.D., with her spouse, Pam Oberembt, but they are eventually planning a move to Sioux Falls, S.D. … Craig Stubbins of Eden Prairie was inducted into the Bemidji High School Athletic Hall of Fame. A standout golfer who qualified for the state tournament in each year he competed on the varsity level and an alpine skier who three times finished in the top five at state, he is a software engineer with QLogic in Eden Prairie. He and his wife, Jayne, have three grown children. The oldest, Jesse, is a 2008 BSU graduate who lives in Bemidji and works in the information technology field … Larry Hutchins of Loretto retired as a senior marketing representative with Federated Insurance and moved into a new career as a senior vice president with the Christensen Group, one of the largest locally owned and independent insurance and employee benefits brokers in Minnesota. He earned 43 different company awards at Federated. He and his wife, Shelly, have two adult children and one in high school … Sarah Hoagberg retired after 20 years of teaching in the Kelliher Early Childhood Family Education program and the school readiness area for Clearbrook-Gonvick schools. She and her husband, Rod Skoe, live on a farm north of Clearbrook. The couple has two grown children … Greg Wood has retired after 32 years with Federated Insurance, where he served as a marketing representative, ARMS account executive, district marketing manager and senior marketing representative. He received 19 awards from the company. He and his wife, Valerie, live in Verona, Wis., with a pre-teen child.
'80
Sandy (Gould) Perkins is an office representative at the Pulkrabek State Farm Insurance Agency in Crookston, where she also is music director for a Presbyterian church and directs the area Women's Chorus. Her husband, James ('70), retired from teaching in 2007. The couple has two adult children … Jenny (Dubois) Bloedow retired after 35 years of teaching second- to sixth-grade classes at Reede Gray Elementary School in Redwood Falls. She plans to continue working with the Minnesota Reading Corporation. She and her husband, Fred, raised two children in Redwood Falls … Dave Thomas retired from teaching physical education on the high school and middle school levels for the Prior Lake-Savage Area district, where he also served as a mentor to staff in technology and as a dean. He plans to continue working with the Prior Lake swimming program, where he had served as head and assistant coach. He was also instrumental in rejuvenating the BSU alumni athlete B-Club. He lives in Savage with his wife, Terri.
'79
Jim Grafelman has joined GAI Consultants as an environmental specialist in its community development unit. A certified wetland scientist, Grafelman has 34 years of experience in environmental and regulatory science. He lives in Rhinelander, Wis. … Ed Jose is a pharmacy technician at Lakewood Health System Hospital Pharmacy in Staples. He also is a certified Minnesota instructor in pistol, home firearms safety, person protection and carry permit instructor. He recently spoke on the current gun laws in the state during a program in Staples, where he lives with his wife, Anita … Kathy (Christiansen) Wade has joined Winona Health as chief human resources officer. She previously held a similar position at Maple Grove Hospital … Ron Schoonover is a substitute teacher in the St. Cloud School District … John and Sue (Tousley, '76) Tibstra of Bemidji have retired and closed the Home Place, the cross country ski shop they operated for 26 years in Bemidji. The shop also sold and serviced bicycles until two years ago, when the Tibstras focused on skiing. The couple serves on the boards of the annual Finlandia Ski Race and the Bemidji Area Cross Country Ski Club … Dr. Dale Schmid worked as the visual and performing arts coordinator for the New Jersey State Department of Education while he completed his doctoral work in educational and organizational leadership at the University of Pennsylvania. His resume includes serving as a dance instructor on the college level and touring regionally as a dancer, actor, choreographer, director and teaching artist. He and his wife, Karen Stone, live in Philadelphia, Pa.
'78
Mary (Bergeron) Klamm is superintendent of the Staples-Motley School District. A recipient of a Bush Leadership Fellowship in 2004, she previously served in the same capacity for Menahga schools. She and her husband, Jim, have five children and were planning a move to the Staples or Motley area from their home in Park Rapids … Sally Soliday has been selected as the director of elementary education for the Rosemount-Apple Valley-Eagan district. A former teacher and elementary principal, she will oversee preschool through grade-five programs at the district's 18 elementary schools. She and her husband, Charles ('77), have a residence in Lakeville … Dean Dalen was named Alumnus of the Year at Northland Community and Technical College in Thief River Falls. He started working at the local vocational technical institute in 1981, assisting students in math and other subjects. In 2000, he became director of the Learning Center at what became NCTC and held that position until he retired in 2014. He and his wife, Renae, live in Thief River Falls and have two grown children.
'77
Joe O'Koren marked a lifelong career of education in Lanesboro when he retired last spring from his position as an industrial arts teacher for grades seven through 12. He also helped students prepare for their general education development certificates. He lives in Chatfield … Kim (Leier) Ramsey was nominated for the Woman of Achievement Award presented by the Owatonna Business Women's Organization. A substitute teacher in Owatonna for 23 years, she is active in Boy Scouts, Girl Scouts, Big Brothers Big Sisters, the Wee Pals Child Care Center and the Owatonna Learning Center. She and her husband, Dave ('78), live in Owatonna.
'76
Kirsti Trygstad retired from the Army Reserve as a colonel in October 2014. She has been a full-time Army Reserve civilian employee since 1989 and now works in the equal employment opportunity office located at Fort McCoy, Wis. She lives in Sparta, Wis. … Michael Rasch has been named vice president for enrollment management at Oak Hills Christian College near Bemidji. In his new position, he will oversee the admissions office, financial aid and athletics. He and his wife, Julie, live in Bemidji and have two grown children.
'75
Pam (Underdahl) Gunnerson retired this spring after dedicating four decades to teaching and working for students in the Norman County East district in the Twin Valley area. Most of that time was spent teaching Title I and grades one through four before she was named dean of elementary students three years ago. She and her husband, Charlie, live in Moorhead and have two grown children … Dr. Steven DeKrey has been named an honorary fellow of the Hong Kong University of Science and Technology (HKUST). Now president of the Asian Institute of Management, he was the HKUST Business School associate dean, director of master's programs and one of the major forces behind the school's MBA program, ranked as the best in the world six times since 2007. He lives in Hong Kong with his wife, Veronica … Cheryl (Skalsky) Flatt retired from teaching in 2013. She spent 35 of her 36 years in education at the Waubun-Ogema-White Earth School District, with 25 of those in kindergarten and the remainder in Title I. Her husband, John ('74), has enjoyed six years of retirement after teaching industrial technology for 20 years and serving as the school-to-work coordinator for 13 years in the Detroit Lakes School District. The couple, who met at the BSU Music Camp, celebrated their 40th wedding anniversary this year. They live in Detroit Lakes.
'74
Tom Anderson retired as manager at the northwest Minnesota region of the Minnesota Vocational Rehab Services Program located in Crookston, where he helped people with disabilities become employable and stay on the job. An avid river fisherman, he and his wife, Lenore, raised three children in Crookston … Bob Bird retired after 41 years teaching on the secondary level, three in Minnesota and the remainder in Alaska, where he also spent 13 years as a varsity hockey coach. He will now teach history at Kenai Peninsula College. Active politically, he has twice run for the U.S. Senate in Alaska. He and his wife, Rosemary, live in Kenai and have three grown children … Lyle Hanson finished his 35th and last year of teaching in the Clearbrook-Gonvick School District, the final being an SLC teacher in the high school. He and his wife, Vicki, live in Clearbrook and have three grown children … John Clark has been promoted to human resources director at the Shooting Star Casino, Hotel and Event Center in Mahnomen. He taught in a public school setting for 34 years before joining the human resource staff at the Shooting Star complex seven years ago. He lives in Mahnomen.
'73
Chris (Hanson) Starr was featured on Minnesota Public Radio in a segment that highlighted the lives and work of music educators throughout the state. Starr retired in January after 41 years as a music teacher in the Howard Lake-Waverly-Winsted district. The last 34 were spent in the classroom and directing choirs for grades six through 12. She has two adult children and lives in Norwood Young America … Mike Eastling has retired after a 35-year career in the Richfield Public Works Department, which he left as its director. During his tenure, he was named a Top 10 public works director in the nation by the American Public Works Association in 2011 and last year was named the Public Works Director of the Year by the organization's state affiliate. He has a home in Eagan … Dennis Moore retired recently after working 36 years in supply chain management, most recently with Enbridge Energy out of Duluth. He and his wife, Deb, recently moved to Champlin to be closer to children and grandchildren. It also allows him to continue his part-time position in guest services at Target Field for the Minnesota Twins … Dennis Winskowski has retired after nearly three decades as publisher of the Detroit Lakes Tribune. During his tenure, the paper won five Mills Trophies from the Minnesota Newspaper Association as the best weekly in the state. He and his wife, Carol, live in Park Rapids and have two adult children.
'71
Gordon Johnson received the Governor's Arts Award from the state of Montana for conducting and directing the Great Falls Symphony for 33 years. The Conductors' Guild president, he also served as the conductor and director of the Glacier Symphony in Kalispell for 15 years; had the same responsibilities at the Flathead Music Festival for nine years; and helped found the Montana Association of Symphony Orchestras and its annual young artists competition. A 2009 BSU Outstanding Alumnus, he lives in Great Falls with his wife, Ruth … James Luense was inducted into the Coaches Hall of Fame in St. Ansgar, Iowa. He was a high school counselor and football coach before retiring in 2001. He and his wife, Carlene, raised two grown children from their home in St. Ansgar.
'69
Gail Nucech was inducted into the Hibbing High School Athletic Hall of Fame this fall. One of the most successful high school volleyball coaches in Minnesota, Nucech has also been named to halls of fame at BSU, the Minnesota Volleyball Coaches Association and Greenway High School. She led the Hibbing Volleyball program to 23 appearances in the state tournament, which they won in 1975. Her 884 wins are the most ever compiled by a Minnesota high school coach. She and her husband, Dennis, live in Hibbing.
'68
Carol (Bren) Dunn retired after teaching fifth-grade reading and language arts at Pequot Lakes Middle School for 26 years. Although stepping away from the classroom, she expects to stay busy by making wool rugs and giving lessons in the craft from her home studio as well as the North House Folk School in Grand Marais. She and her husband, Bart, raised four children in the Pequot Lakes area. … Bob Bernier has returned to instructing industrial technology courses at Red Lake County Central High School in Oklee, where he previously taught from 1999-2008. He and his wife, Emily, own Bernier's Custom Cabinets in Oklee, where they live and raised three children.
'65
Mike Shaw received the Jordan Commercial Club Honored Guest Award presented annually to a resident who consistently gave time and energy to the community. Shaw retired in 2000 after a 35-year career as a business teacher and coach at Jordan High School. Now the mayor of Jordan, he served 25 years on the city council. He and his wife, Lori, live in Jordan … Larry McDowell of Thief River Falls was presented with the Pro Bono Service Award from the Legal Services Corporation in Washington, D.C. A private attorney with Wurst & McDowell in Thief River Falls, he specializes in real estate, probate and estate administration. He has been a volunteer with Legal Services of Northwest Minnesota since it was formed in 1976, first as a lawyer and the last 12 years as the president of its board of directors.
'64
Al Clark has been inducted into the Arlington (Texas) Chamber of Commerce Business Hall of Fame. A 2007 BSU Outstanding Alumnus, Clark moved to Texas in 1979 as a State Farm Insurance agent and built one of the country's most successful agencies during his tenure. Active in the city's chamber, he was a founding member of the Arlington Chamber Foundation, which supports the organization's strategic and financial development. He lives in Arlington with his wife, Shalyn.
'63
Beverly (Schinderle) Pfeilstifter retired 15 years ago after a career teaching elementary education. She and her husband, Chuck, maintain a home in Racine, Wis., and a winter residence in The Villages, Fla.
'61
Neil McCormack retired as boys' golf coach at Rochester Mayo High School, an assignment he had filled for 48 seasons. He retired as a science teacher for the district in 1998. He helped form the Mayo girls' hockey team, which he coached for 11 years while guiding them to three state tournament berths. He lives in Rochester … Ron McKechney has been inducted into the Saskatchewan Baseball Hall of Fame. A retired educator, he spent nine years with the Estevan Maple Leafs before joining the Swift Current Indians. During his playing days, he helped teams win three league championships, earned several batting titles and was named league MVP. He lives in East St. Paul, Man., with his wife, Peg, and maintains a winter home in Bonita Springs, Fla. The couple has three sons, including Craig, a 1997 BSU graduate who operates a sheep ranch near Litchfield.
'57
Bob Ness is serving as a liaison for Colin Peterson, a Democrat who was recently sworn in for his 13th term as Minnesota's congressman from the seventh district. Ness is a former Republican state representative who also served as school superintendent in Detroit Lakes. He provides constituent services for Preston in 29 communities. His wife, Marianne (Johnson, '54), is a retired teacher and homemaker. The couple lives in Dassel.
'53
Willie Stittsworth has been inducted into the Ankeny High School Hall of Honor for his contributions to education after he left the Iowa school. Stittsworth is a professor emeritus at BSU, having served on the education faculty until his retirement in 1989. He and his wife, Arla, live in Bemidji, where they raised three children.
'52
Bill Howe earned the 2015 Charlie Naylor Lifetime Achievement Award from the Bemidji Area Chamber of Commerce. Howe, a retired president of Northern National Bank, has been active in numerous civic and community organizations during his years in Bemidji, where he has a residence.
'50
Truman Schoaff and his wife, Mary, recently downsized when they moved from a country home to a residence in Grand Rapids.
Other Alumni
Doug Bulver is a licensed minister who counsels youth, individuals and couples on life experiences in the Lakeville area.