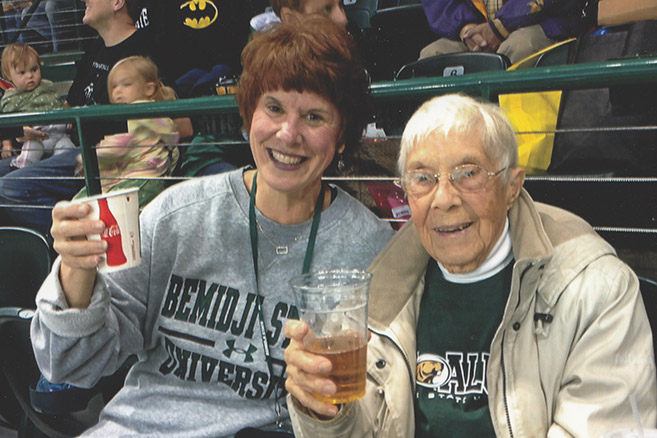 When Millie (Kortuem) Gjertson '45 visited Bemidji State in September after more than a decade away, her campus tour conjured more than classroom memories.
In her mind's eye, the 92-year-old saw several men whose names are now on the buildings.
Gjertson worked as a secretary for John Glas, C.R. Sattgast and A.C. Clark – first as a student and briefly full time before she completed her English degree.
She was taken aback by how much BSU had changed.
"Once I recovered from the demolition of Sanford Hall," Gjertson joked, "I could kind of settle down and enjoy the tour.
"There is still a friendly atmosphere that pervades the campus. I was happy to see that."
She and Wilfred, her late husband of nearly 54 years, lived in several towns during his career with the state employment service. She often was among those he placed in jobs.
Still living independently and enjoying interests and friendships, Gjertson cherishes the couple's north woods adventures and her lifetime of travel to all 50 states, including Hawaii in 2013.
She stays engaged with reading, plant care, church and the Vikings and indulges an eclectic generosity that will now permanently benefit BSU.
In October, Gjertson established a scholarship endowment to benefit a female junior or senior student.
"I checked with my financial adviser," she recalled, "and he said, 'Yes, we can swing that.'"