Dr. Jessica Durgan, a professor of English at Bemidji State University, will explore the life and work of writer Bessie Head on Feb. 17 as part of the university's Honors Council Lecture Series.
Before she died in 1986, Head was known as perhaps Botswana's most influential writer. South African by birth, she spent most of her life exiled to Botswana, where she wrote novels, short fiction and autobiographical works while her refugee status left her unable to obtain other work in the country.
Durgan's lecture, "Writing From Exile: Researching the Life and Works of Writer Bessie Head in South Africa and Botswana", begins at 7 p.m. in Hagg-Sauer Hall 112. BSU's Honor Council lectures are open to everyone free of charge.
Head sought asylum in Botswana and wrote about the history of her adopted country. Her last and least famous book, "A Bewitched Crossroad: An Africa Saga (1984)," is a fictionalized history of Chief Khama the Great's role in the founding of the Botswana Protectorate. Durgan has done research on Head's work in Botswana, and part of her lecture will focus on the process literary researchers use to conduct their work.
"In search of more information about 'A Bewitched Crossroad,' I traveled last summer to Serowe, Botswana, to conduct archival research," she said. "I believe I uncovered an as-yet-unknown source of inspiration for Head's historical novel in 'Ten Years North of the Orange River (1871),' the travelogue of Scottish missionary John Mackenzie."
Head wrote extensively to friends and colleagues overseas, and Durgan says these correspondences reveal that Mackenzie – a former colleague of hers – wrote to her from London in 1972 asking Head to research his great-grandfather's mission work in Botswana and his friendship with Khama the Great.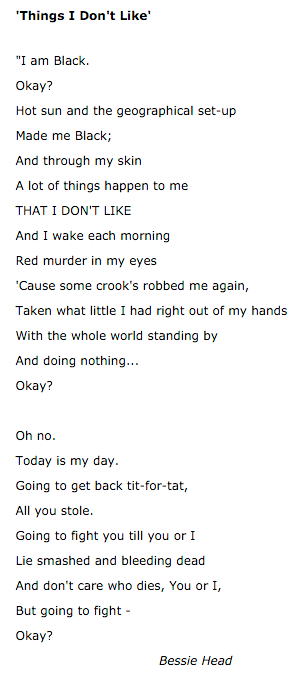 In addition to exploring Head's work, Durgan will also examine literary interactions between Africa and Western nations, both during the Victorian era and the 20th Century. Durgan will show how these connections, and Head's letters with Mackenzie, suggest that the inspiration for "A Bewitched Crossroads" may differ from current beliefs.
"Because 'A Bewitched Crossroads' is unique in its commitment to oral history and representing the African point of view, it may be problematic to suggest that the inspiration for Head's investment in the project is Western, rather than African, in origin," Durgan said.
About Dr. Jessica Durgan
Dr. Jessica Durgan is an assistant professor of English at Bemidji State University. She teaches courses in British literature, film and writing. She earned a bachelor's degree in film production at Chapman University before returning to school to study literature. She has a master's degree from Central Washington University and a doctorate from Texas A&M University.
About the Honors Council Lecture Series
The Honors Council Lecture Series is hosted by the Bemidji State University Honors Council. The council is the advisory group to the honors program composed of 12 faculty members representing each of the university's colleges. Student representatives are also elected to the council by their cohorts for one-year terms.
Contacts
• Kari Caughey, BSU honors program; (218) 755-3984, kcaughey@bemidjistate.edu
• Dr. Jessica Durgan, assistant professor of English; jdurgan@bemidjistate.edu
Bemidji State University, located in northern Minnesota's lake district, occupies a wooded campus along the shore of Lake Bemidji. Enrolling nearly 5,000 students, Bemidji State offers more than 80 undergraduate majors and 11 graduate degrees encompassing arts, sciences and select professional programs. BSU is a member of the Minnesota State Colleges and Universities system and has a faculty and staff of more than 550. University signature themes include environmental stewardship, civic engagement and global and multi-cultural understanding.