Works by illustrator Stefan Markov, who was considered Bulgaria's premier contemporary artist when he died in 2000 at age 60, will be on display at Bemidji State University's Talley Gallery beginning Feb. 18.
Markov, best known for his decades of layout and illustration work for the French magazine LIC, won numerous awards for his work in Bulgaria, the Netherlands and Egypt. His work has been exhibited in dozens of shows across Europe, Asia and North America and is included in numerous public and private collections.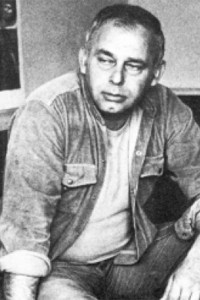 Stefan Markov
Photo attributed to vesti.bg
Born in Burgas, on Bulgaria's Black Sea coast, Markov's work often was influenced by the sea and by a deep connection to his home. His work, which is often described as technically complex, showed an eye for detail that he honed during his work as an illustrator. He worked in watercolor, gouache and mixed media on hand made paper, which he often adjusted based on the media of choice for a particular piece. All elements of the piece worked together to create the final product.
"Craftsmanship plays a role in the entire process of creating an artwork," he said.
Markov's show and all activities at the Talley Gallery are supported by the BSU Student Activity Fee Allocation Committee.
Stefan Markov, 1940-2000
Born in Burgas on the Black Sea coast of Bulgaria, Markov graduated in 1967 from the Fine Arts Academy in Sofia with a major in graphic art. He has received many international awards, among the "Boris Angelushev" award for illustration by the Union of Bulgarian Artists (1986), the Silver Medal at the International Biennale of the Graphic Arts in Varna (1991 and 1997), the jury's prize from the Graphic Arts Biennale in Maastricht, Netherlands (1993), and the special jury's prize from the International Triennial of Graphic Arts in Cairo (1997). He maintains permanent contacts with several galleries who organize independent exhibitions for his work: Hitsugi in Niigata, Japan, Nord-Est in Paris and Auvers-sur-Oise, France, Sofia's Irida. His works are exhibited in Japan, France, Russia, Germany, Austria, the United States, Finland, Sweden, and Portugal.
Opening Reception
An opening reception for the faculty show will be held from 1-4 p.m. on Feb. 18.
About the Talley Gallery
Located in Bridgeman Hall room 140 on the campus of Bemidji State University, the Talley Gallery is barrier-free and open at no charge to the public. The gallery is open Monday through Friday from 9 a.m.-4 p.m.
Contact
• Laura Goliaszewski, Talley Gallery director; (218) 755-3708, lgoliaszewski@bemidjistate.edu
Links
• Department of Technology, Art & Design: http://www.bemidjistate.edu/academics/departments/technology-art-design/
• Talley Gallery: http://www.bemidjistate.edu/academics/departments/technology-art-design/galleries/talley-gallery/
Bemidji State University, located in northern Minnesota's lake district, occupies a wooded campus along the shore of Lake Bemidji. Enrolling nearly 5,000 students, Bemidji State offers more than 80 undergraduate majors and 11 graduate degrees encompassing arts, sciences and select professional programs. BSU is a member of the Minnesota State Colleges and Universities system and has a faculty and staff of more than 550. University signature themes include environmental stewardship, civic engagement and global and multi-cultural understanding.