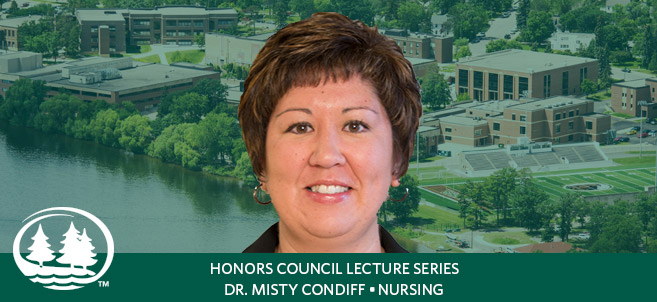 Dr. Misty Condiff, assistant professor of nursing at Bemidji State University, will examine the cultural experiences and health concerns of organ donation among American Indians from a health care provider's perspective Feb. 22 as a part of BSU's Honor Council Lecture Series.
Her lecture, "The Lived Experience of American Indian Organ Donors and Recipients: Stories of Cultural, Physical, and Spiritual Triumph", begins at 7 p.m. in Hagg-Sauer Hall 112. BSU's Honor Council lectures are open to everyone free of charge.
During the lecture, Condiff will examine the cultural beliefs toward organ donation among American Indian populations and why these beliefs affect the number of organs available, the process of obtaining them, and the published research surrounding them. She will examine the varied and conflicted emotions of American Indians toward donating an organ in life or death and to someone they known or to a stranger in order to help educate health care providers.
"I went into my R.N. to bachelor's in nursing program just expecting to end up with a bachelor's degree in nursing, and it was in that program here at Bemidji State that I discovered my passion for organ donation research," Condiff said.
About Dr. Misty Condiff
Dr. Misty Condiff is an assistant professor in Bemidji State University's Department of Nursing. Before joining the BSU faculty, she studied nursing at BSU taking an interest in organ donation, specifically among minority populations. Since earning her doctorate in nursing – making her one of just over a dozen American Indians with doctorates in nursing at the time – she has done extensive research into the experience of organ donation and transplantation among American Indian cultures.
About the Honors Council Lecture Series
The Honors Council Lecture Series is hosted by the Bemidji State University Honors Council. The council is the advisory group to the honors program composed of 12 faculty members representing each of the university's colleges. Student representatives are also elected to the council by their cohorts for one-year terms.
Contacts
• Kari Caughey, BSU honors program; (218) 755-3984, kcaughey@bemidjistate.edu
• Dr. Misty Condiff, assistant professor of nursing; mcondiff@bemidjistate.edu
Bemidji State University, located in northern Minnesota's lake district, occupies a wooded campus along the shore of Lake Bemidji. Enrolling nearly 5,000 students, Bemidji State offers more than 80 undergraduate majors and 11 graduate degrees encompassing arts, sciences and select professional programs. BSU is a member of the Minnesota State Colleges and Universities system and has a faculty and staff of more than 550. University signature themes include environmental stewardship, civic engagement and global and multi-cultural understanding.