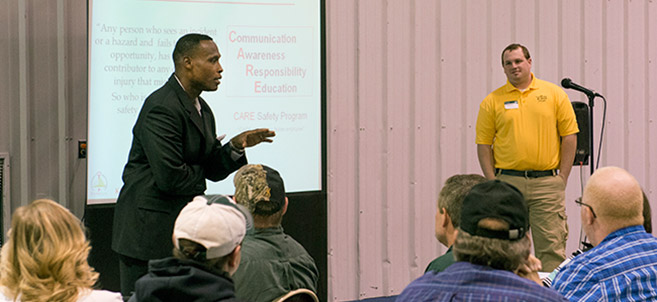 Early registration closes March 7 for the 11th annual Northern Minnesota Safety Conference, hosted by the Minnesota Safety Council and Optivation, a custom college and outreach training venture operated jointly by Northwest Technical College and Bemidji State University.
The conference will be held April 12 from 8 a.m. – 4 p.m. at Bemidji's Evangelical Covenant Church. Registrations made before March 7 will save $20 off the regular registration fee of $99. Registration includes lunch, refreshments and participant materials.
The Northern Minnesota Safety Conference is designed to benefit anyone looking to develop and improve his or her knowledge of contemporary safety issues. Those who are in business will benefit from the breakout sessions that have information to improve the safety skills of a company, department or individual employees. Conference attendees will hear regulatory updates from OSHA and other regulatory agencies, learn strategies for improving employee performance, identify potential opportunities to reduce insurance and liability costs, and meet vendors offering safety-related products and services.
About the Minnesota Safety Council
The Minnesota Safety Council is a member-based, private, not-for-profit organization dedicated to preventing unintentional injuries. The council's classes, seminars and consultation help employers develop safety programs, comply with regulations and keep their workers safe. The council also offers traffic programs for the workplace and the larger community, including defensive driving classes for mature drivers and interactive online programs for teens. It also serves as the lead agency for Safe Kids Minnesota, a statewide network of organizations involved in preventing childhood injury.
About Optivation
Optivation is a custom college and outreach training venture operated jointly by Bemidji State University and Northwest Technical College. It is designed to increase collaboration between the university, the college and the business and technology sectors of the northwest Minnesota region. Staffed by veteran business and entrepreneurial professionals, Optivation delivers targeted training and education to help organizations succeed in a changing world. Through its affiliations with BSU and NTC, Optivation is able to tap into an unparalleled network of people and technology across the state of Minnesota. Learn more at optivation.org.
Contacts
Links