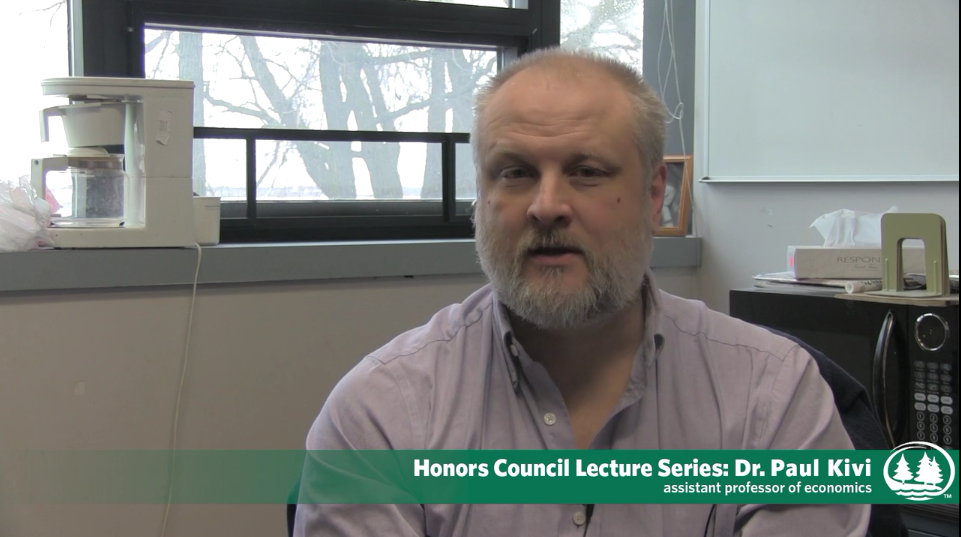 Dr. Paul Kivi, assistant professor of economics at Bemidji State University, will present a March 23 Honors Council Lecture which seeks to answer the question of whether BSU should de-invest in fossil fuels.
His presentation, "Should BSU Join the Rapidly Growing Divestment Movement?", begins at 7 p.m. in Hagg-Sauer Hall 112. BSU's Honor Council lectures are open to everyone free of charge.
During the lecture, Kivi will examine climate change induced by the burning of fossil fuels and the lack of government action in response to the growing issue, despite strong public concerns about the problem.
One growing solution that is under consideration is divestment –– removing funds from business activities that contribute to a social problem. In this case, Kivi is looking at the divestment of businesses that release carbon from the ground and into the atmosphere and the oceans. He will look into the pros and cons of BSU possibly becoming a part of this rapidly growing movement which according to MSNBC in Sept. 2015 had reached $2.6 trillion in funds committed to the cause.
"Obviously, by itself BSU is not big enough to make any sort of an impact, but when you join together with hundreds and potentially thousands, at the rate it is growing, of other organizations that would get people's attention, " Kivi said. "It's time for somebody to do something – and this is one way that BSU can do something."
About Dr. Paul Kivi
Dr. Kivi is an assistant professor of economics and environmental studies, with a doctorate from the University of Wyoming in economics and a graduate minor in environmental science, and a BSU graduate in economics and environmental studies. He has written articles published in Ecological Economics, Economics Letters, Journal of Economic Behavior and Organization, and the Journal of Agricultural and Resource Economics, and he is currently writing a textbook on Environmental Economics.
About the Honors Council Lecture Series
The Honors Council Lecture Series is hosted by the Bemidji State University Honors Council. The council is the advisory group to the honors program composed of 12 faculty members representing each of the university's colleges. Student representatives are also elected to the council by their cohorts for one-year terms.
Contacts
Kari Caughey, BSU honors program; (218) 755-3984, kcaughey@bemidjistate.edu
Dr. Paul Kivi, assistant professor of economics; (218) 755-4106, pkivi@bemidjistate.edu
Bemidji State University, located in northern Minnesota's lake district, occupies a wooded campus along the shore of Lake Bemidji. Enrolling nearly 5,000 students, Bemidji State offers more than 80 undergraduate majors and 11 graduate degrees encompassing arts, sciences and select professional programs. BSU is a member of the Minnesota State Colleges and Universities system and has a faculty and staff of more than 550. University signature themes include environmental stewardship, civic engagement and global and multi-cultural understanding.