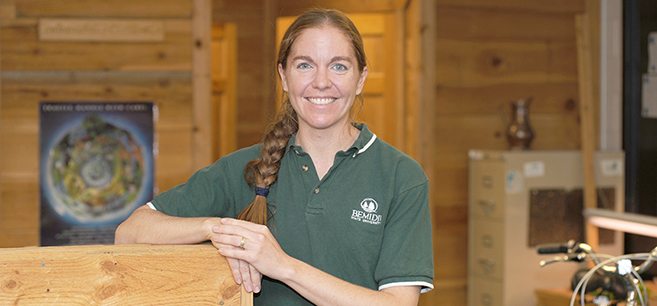 Erika Bailey-Johnson, sustainability coordinator at Bemidji State University for the last eight years, has been named to the Midwest Energy News 40 under 40 list of emerging leaders highlighting their work to accelerate America's transition to a clean energy economy, and also is featured in the Clean Energy Resource Teams' Women in Energy series.
Midwest Energy News 40 Under 40
In coordination with its fifth anniversary, Midwest Energy News announced a 40 Under 40 award program to recognize emerging leaders in the region for their work to accelerate America's transition to a clean energy economy. Bailey-Johnson was selected from hundreds of nominations representing leaders and innovators from all sectors of the energy economy — industry, government, regulatory, business, academic and advocacy.
The 40 Under 40 list was guided by a selection advisory committee of nearly two dozen professionals representing all sectors of the energy economy. A group of 26 promotional partners collaborated with Midwest Energy News to solicit nominations and promote the program.
Clean Energy Resource Teams Women in Energy series
The Clean Energy Resource Teams' Minnesota Women in Energy series highlights influential women who are part of Minnesota's energy efficiency and renewable energy industries. CERTs is highlighting these leaders throughout March in conjunction with Women's History Month. In the feature, Bailey-Johnson recalls the path that led her to BSU's sustainability coordinator position, explores a typical day on the job and shares advice for young women who are considering careers in energy.
"Be confident in your ability to use both your head and your heart," she said. "Choose the high road when everyone's looking and when no one is looking. There is absolutely no doubt that we need to change our energy infrastructure. We cannot continue to use fossil fuels, period. Many women have a strength in building relationships and having empathy. We need to use these skills to create the new narrative that will make the transition more palatable."
The entire feature is available on the CERT website.
"I am honored to be considered in the same pool as these fabulous folks," Bailey-Johnson said. "I think, more than any other skill set, I have gotten really good at creating an awesome team. I wouldn't be on any of these lists without (assistant sustainability coordinator) Anna Carlson or the fantastic students and colleagues I've worked with over the years."
About Erika Bailey-Johnson
Erika Bailey-Johnson is in her eighth year as the first sustainability director at Bemidji State University and Northwest Technical College, and she directs the Ganawendakamigaawigamig (Office of Earth-Caretaking) or Sustainability Office. Bailey-Johnson began her career as a science teacher, teaching with her husband for two years in Mexico and three years in Kuwait before coming to Bemidji. In addition to her role as sustainability coordinator, she helped found the Bemidji Sustainability Committee and teaches sustainability courses. She frequently speaks at regional and national conferences on topics including carbon footprint reduction and BSU's unique sustainability model, which includes an emphasis on integrating traditional and indigenous voices. In 2014, Bailey-Johnson was named to Prairie Business Magazine's 40-under-40 list of business professionals who exemplify a high level of talent in the upper Midwest region and are under 40 years of age. She holds a bachelor's degree in biology from the University of Minnesota, Morris and a master's degree in environmental studies from Bemidji State.
Contact
Erika Bailey-Johnson, sustainability coordinator, Bemidji State University; (218) 755-2560, ebaileyjohnson@bemidjistate.edu
Links
Bemidji State University, located in northern Minnesota's lake district, occupies a wooded campus along the shore of Lake Bemidji. Enrolling nearly 5,000 students, Bemidji State offers more than 80 undergraduate majors and 11 graduate degrees encompassing arts, sciences and select professional programs. BSU is a member of the Minnesota State Colleges and Universities system and has a faculty and staff of more than 550. University signature themes include environmental stewardship, civic engagement and global and multi-cultural understanding.