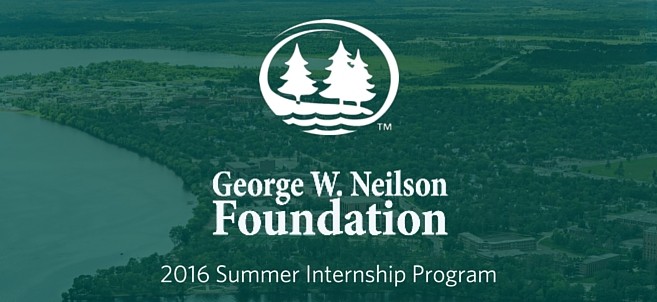 Seventeen Bemidji-area employers will host more than two dozen Bemidji State University students for paid internships during the summer of 2017 as part of the university's continuing internship partnership with the George W. Neilson Foundation.

Bemidji State students, learn more about Neilson Foundation internship opportunities by contacting Career Services.
Support from the foundation provides up to 50 percent of an intern's funding, up to $2,500, with the participating business contributing the remaining 50 percent.
The internship partnership launched in the summer of 2012 to promote academic development and to encourage employers to provide local, paid internship opportunities for BSU students. Originally planned to launch with 10 internships, high employer demand led to 13 positions being created at 12 businesses. Since its inception, the program has funded nearly 70 internships.
About the Neilson Foundation
The George W. Neilson Foundation supports community development projects by making grants to programs and projects that improve the lives of the area's children, adults and senior citizens. The foundation concentrates its giving program in the city of Bemidji and the surrounding area. Following the wishes of contributor Katharine Neilson Cram, the foundation supports northern Minnesota and the Bemidji area, where she spent the summers of her youth and lived throughout her later life.
Employer – Internship Title
Bank Forward – Customer Service Intern
Camp Thunderbird – Nursing
First National Bank Bemidji – Human Resources Intern
Iverson Corner Drug, Inc. – Pre-Pharmacy Intern
Jon Labraaten State Farm – Marketing & Customer Service Intern
Karvakko Engineering – Field Intern
Knife River Materials – Project Manager Intern, Heavy Equipment Intern
Nortech Systems – Accounting Intern, Industrial/Manufacturing Intern
Peterson Sheet Metal – Plumber Helper, General Laborer, Apprentice Plumber, HVAC Service Technician
Potlatch Corporation – IT Intern
S&J Development LLC – Construction Apprentice
Sanford Medical Center – Nursing – Quality Control
Venuworks of Bemidji, LLC – Operations Intern, Finance Box Office Intern, Marketing Intern
Great Northern Holdings Corp./Papa Murphy – Management Intern
RMS of Bemidji, Inc. – Insurance Client Relations Intern
The Skin Company & Spa – Management & Marketing Intern
Western National Bank – Banking Intern
Contact
• Molly Aitkin-Julin, internship and employment coordinator, Bemidji State University; (218) 755-2038, maitkin@bemidjistate.edu
Bemidji State University, located in northern Minnesota's lake district, occupies a wooded campus along the shore of Lake Bemidji. Enrolling nearly 5,000 students, Bemidji State offers more than 80 undergraduate majors and 11 graduate degrees encompassing arts, sciences and select professional programs. BSU is a member of the Minnesota State Colleges and Universities system and has a faculty and staff of more than 550. University signature themes include environmental stewardship, civic engagement and global and multi-cultural understanding.