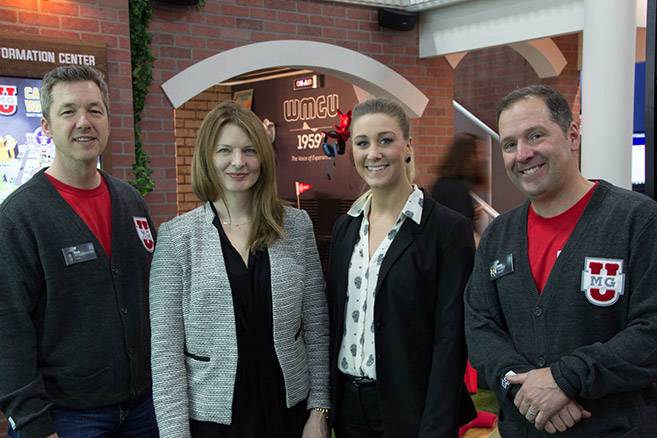 Ashley Kiecker, a senior in Bemidji State University's art and design program, has won the 2016 MG Exhibit Design Excellence Undergraduate Scholarship. Kiecker was selected based on projects included in a design portfolio as well as a brief written essay on the skills she believes are most important for being a successful designer.
"From my experience in the exhibit industry, I think that the most important skills for the design process are passion, dedication and teamwork," Kiecker said in her application. "The success of a design cannot be present without bottomless passion, countless hours of dedication and the endless willpower of a team behind the idea."
As the recipient of the scholarship, Kiecker was recognized at EXHIBITORLIVE 2016: The 28th Annual Training Conference for Trade Show Exhibit and Event Managers and Marketers, Feb. 28-March 3 in Las Vegas. She also received travel expenses paid for attending the conference
The Hector, Minn., native will graduate in May 2016 with a bachelor of science degree in art and design with emphases in exhibit design and digital design. She is actively involved at BSU as president of the university's Design Guild and a member of the BSU volleyball team, where she was an Academic All-Northern Sun Intercollegiate Conference selection in 2013. She also volunteers on the BSU Art Committee and at in various industry functions.
About Exhibitor Media Group

Exhibitor Media Group publishes EXHIBITOR magazine, a monthly publication featuring best practices in trade show marketing, and sponsors learning events such as EXHIBITORLIVE, the industry's top-rated conference and exhibition for trade show and corporate event marketing; EXHIBITORFastTrak accelerated learning conferences; and EXHIBITOR eTrak professional online learning. Exhibitor Media Group is the founder and sponsor of Certified Trade Show Marketer, the world's only university-affiliated professional certification program. For more information, visit http://www.exhibitoronline.com.
Contact
Dr. Bonnie Higgins, professor and department chair, Department of Technology, Art & Design; (218) 755-2790, bhiggins@bemidjistate.edu