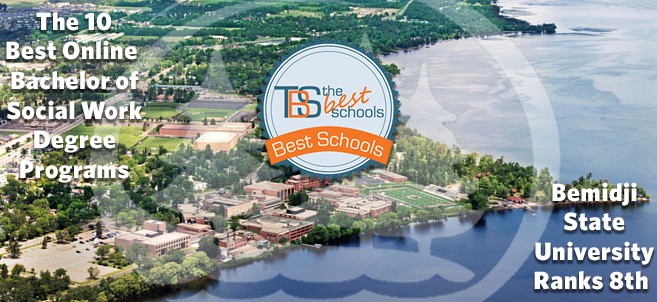 Bemidji State University's online bachelor's degree in social work has been ranked eighth-best in the nation in a ranking of programs released by TheBestSchools.org.
Bemidji State appeared on the site's 10 Best Online Bachelor of Social Work Degree Programs list, stating that the program "provides a theoretical foundation and practical experience to prepare graduates for generalist social work practice or graduate studies."
TheBestSchools.org creates its lists to empower students to make informed decisions about their education.
About BSU's online programs
Students in Bemidji State's online Bachelor of Social Work program have access to the same rigorous, fully accredited degree program as on-campus students. The program is delivered in an engaging and challenging online learning environment that utilizes an innovative learning management suite. Courses are taught by highly credentialed on-campus faculty who focus on giving students personal attention and feedback that will bring the benefits of the classroom to the online experience.
The online bachelor of social work is attained through a cohort-based largely online format, with once a month on-campus class. Students must also complete a 480-hour internship in a social service organization as their senior capstone course.
BSU offers a variety of online courses and degree programs that can be completed without stepping foot on campus. BSU offers bachelor of science degrees in accounting, elementary education, business administration and criminal justice; bachelor of applied science degrees in technology management and applied engineering; and a RN to baccalaureate program in nursing. BSU also offers online graduate programs in education and special education and launched an online MBA program this spring.
Links
The story on TheBestSchools.org: http://www.thebestschools.org/rankings/best-online-bachelor-social-work-degree-programs/
Contact
Dr. Cheryl Byers, Department of Social Work; (218) 755-2836, cbyers@bemidjistate.edu