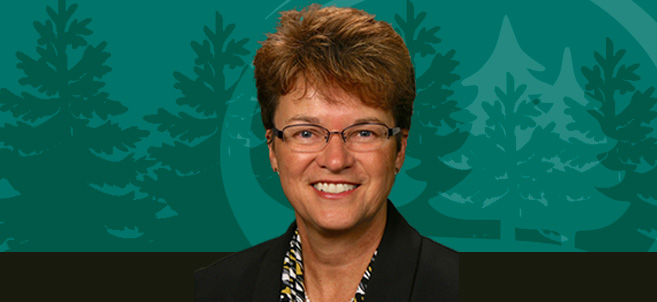 I am truly honored to be here today. I'm extremely grateful to Chancellor Rosenstone for his recommendation, and to the Trustees for placing their confidence in me as the 11th president of Bemidji State University and Northwest Technical College. I want to thank president Hanson for his welcome and for the positive working relationship that I am sure that we will enjoy.
President Hanson, as you know, has provided exceptional leadership for BSU and NTC over the past six years with numerous accomplishments that have really served to strengthen both institutions. President Hanson and I had the opportunity to first meet last Wednesday, and we have really begun to start the transition now that will continue over the next two months to ensure a smooth hand-off. The process begins this afternoon, as I have requested some brief introductory meetings with faculty and staff, union leaders, student leadership and members of the cabinet.
As you know the selection of a president of a university or college is an extremely important activity for both institutions and the individual who is appointed. I have to say that I am very pleased with all that I have learned in my research about the community and the two institutions since I first heard about this opportunity last August. I have to say, I have had a lot of friends and relatives that were saying, "you know what that might be the place for you," and I have to say I agree very much, so I am pleased very much to be here.
While I have much more to learn, your commitment has inspired me, and I look forward to developing lasting relationships that will enable us to work collaboratively to advance both BSU and NTC for the betterment of the region and for the students whom we serve.
I was extremely impressed with the thoroughness of the search process that was used to get to this point. I want to thank the search committee that included members of both institutions as well as community members for a very careful screening that you completed. But just as important I want to acknowledge in the numerous open forums –– and there were a lot of them, I had to say –– you all asked some really excellent questions that challenged me and helped me to think about how we can best work together towards our common goals. I heard some of your concerns and I am beginning to understand where your passions lie.
In my meeting with students here at BSU, I learned about the keen interest in sustainability. And I was asked if I knew about the football homecoming tradition. I said that I was aware of the tradition of the team jumping into Lake Bemidji when they win the Homecoming game, but I was a bit surprised that the president took part in this ritual. Scott Faust, who was my host for the day, assured me that this was true. It did ask, "give me the names of those presidents," and they could say "well, President Hanson has done it" and I learned this morning that he started it. So, thank you President Hanson. So, Scott assured me that it was true, but that it really only involved wading into the lake. Right? Yes? Ok, up to your knees. I can deal with that. But it was pretty funny. I was in St. Paul last week and a similar story was shared, only the water was described as significantly deeper and, I am sure, much colder. I want to wish the team the best this coming season and I will hope for a very warm day on Oct. 15 when we play Minot State.
One of my early tasks as president will be to get to know you better and to learn the stories of success at both BSU and NTC. I must also understand the opportunities and challenges that we face. Each institution has its own culture, and I will rely upon you to work with me to become more knowledgeable about the points that we share in common as we develop strategies to strengthen the relationship between the two institutions and the communities that we serve.
My learning will continue as I become engaged in the community. The Bemidji Pioneer has been an excellent resource for me as I have been learning about the community and both institutions. I was pleased to read about your Native American traditions and connections, the number of legislative visits to the region, the strong focus on academic development and tourism, Beaver Athletics, upcoming events such as the Bemidji Dragon-Boat Festival and, who could forget, Bemidji Days at the Capital. I do have to know where I get the plaid vest?
I stated early that there are a number of areas that must be the focus of both institutions: strengthening enrollments with a focus on student success and access, expanding upon already existing tribal relationships, enhancing campus climate to show an appreciation for diversity and helping all students to feel welcomed and supported, and strengthening and growing the relationship between the community and businesses and the college and university.
As I stated in an interview last week, I am eager to get to know both of the institutions as well as the community and I look forward to arriving on campus in early July to begin this very important journey with you. I share today's event with my husband, Neil, who for 27 years has been my partner and strongest advocate. We are both pleased to become part of the Bemidji community. I want to thank all of you for being here today and for your support of and commitment to Bemidji State University and Northwest Technical College.
Thank you.