Dr. Faith Hensrud will join the Bemidji community as president of Bemidji State University and Northwest Technical College on July 1.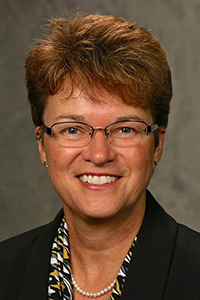 Succeeding Dr. Richard Hanson, she becomes Bemidji State's 11th president and the second woman to serve in the role. Hensrud has spent more than 20 years at the University of Wisconsin-Superior, serving as provost and vice chancellor for academic affairs since 2012.
Dr. Steven Rosenstone, chancellor of the Minnesota State Colleges and Universities system, nominated her from among three semifinalists chosen by a search advisory committee with a nationwide scope. The MnSCU Board of Trustees unanimously approved her appointment.
During his formal remarks at the board's April 20 meeting, Rosenstone called Hensrud "a tested leader with a unique range of experiences."
"She has the support of students, faculty and staff at Bemidji State and NTC," he said. "She has the support of stakeholders in the community."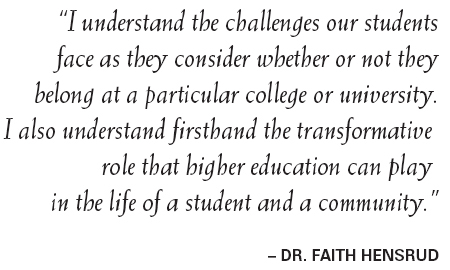 As provost at UW-Superior, Hensrud has been the university's chief academic officer, managing a $13 million budget and working with 130 faculty in 12 academic departments. She also has overseen the Lake Superior National Estuarine Research Reserve, the Lake Superior Research Institute and the Transportation and Logistics Research Center and Great Lakes Maritime Research Institute.
Previously, Hensrud was the school's interim provost and vice chancellor for academic affairs and dean of faculties from 2010 to 2012; associate vice chancellor for academic affairs and outreach from 2006-10; leader of distance education and continuing  education programs and activities from 2002-06; and an associate professor since 2006. She started at UW-S in 1995 as a lecturer in the Department of Business and Economics.
Rosenstone highlighted the fact that Hensrud previously taught at Wisconsin Indianhead Technical College, also in Superior.
"Someone with both university experience and experience teaching in a technical college is a rare gem indeed," he said.
Hensrud is also a U.S. Army veteran. She served on active duty with the 24th Transportation Battalion at Ft. Eustis, Va., from 1986-89 and as a member of the U.S. Army Reserve from 1989-2000 before retiring with the rank of captain.
While in the Army, she met her future husband, Neil Hensrud, who recently retired from UW-S as an associate professor of business. The couple has two grown children.
She holds a bachelor's degree in human adaptability from the University of Wisconsin-Green Bay, a master's degree in management from the College of St. Scholastica and a doctorate in educational policy and administration from the University of Minnesota.
As a first-generation college student who grew up on the Keweenaw Peninsula in Upper Michigan, Hensrud said she is deeply committed to providing an affordable, welcoming learning environment where students of all backgrounds can succeed.
"I understand the challenges our students face as they consider whether or not they belong at a particular college or university," she said. "I also understand firsthand the transformative role that higher education can play in the life of a student and a community."