Girls who will be starting grades 6-12 this fall can spend two weeks this summer learning computer coding skills at a free Girls Who Code camp at Bemidji State University and Northwest Technical College.
The camp runs Monday through Thursday, June 13-23, from 9 a.m. until 3 p.m. each day. Camp will be held in Room 322 of Northwest Technical College, June 13-16, and Benson Hall 420 at Bemidji State University, June 20-23. There is no session on Friday, June 17. To register for the camp, prospective campers or their parents are asked to email NMnGirlsWhoCode@gmail.com with the camper's name and contact information.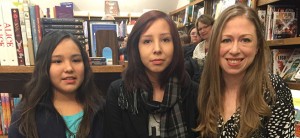 Girls Who Code meet Chelsea Clinton
Jennifer Theisen and two members of the 2015 Girls Who Code club met Chelsea Clinton at a Nov. 2015 book signing in St. Paul. Clinton mentioned the girls in her book, "It's Your World," which aims to help people understand the world around them and show how anyone can make a difference.
"This is our second year for the Northern Minnesota Girls Who Code Club, and interest from young ladies in the region is through the roof," said club organizer Jennifer Theisen, a developer and analyst with Information Technology Services at BSU and NTC. "The camp is a great opportunity to get together with other girls and make games, awesome designs and drawings, and to just have fun learning a new skill set that will carry them all the way through to their careers. If campers come with a good attitude and excitement to learn new things, the camp will provide technology and adventure."
Girls Who Code supports coders of all skill levels in a go-at-your-own-pace setting with support from the instructor and from campmates. The camp will include instruction in programming languages such as Python and JavaScript, HTML and cascading style sheets, an introduction to Application Programming Interfaces and reusable code libraries. Campers will learn computational thinking, how to develop and implement algorithms, Object-Oriented Programming techniques, engineering design processes and techniques for conducting technical research.
In addition to coding skills, girls also will learn about women in the technology field, practice leadership skills and learn how to present in front of groups.
Campers who have completed 40 hours of classroom work at their current skill levels will participate in a graduation ceremony on the last day of class open to friends and family.
Bemidji's Girls Who Code camp is hosted by Bemidji State University and Northwest Technical College with support from a GirlsBEST Grant from the Women's Foundation of Minnesota. The Red Lake School District is providing transportation to campers from Red Lake and Ponemah.
About Girls Who Code
Girls Who Code is a national nonprofit working to close the gender gap in technology and engineering sectors. The organization seeks to educate 1 million girls in computer science by 2020. Girls Who Code is an after-school program for girls in middle and high school to learn computer science in a collaborative, engaging and intensive manner. Coders learn from professional engineers and computer science undergraduate and graduate students. Each year, students cover 40 hours of curriculum on topics ranging from artificial intelligence to video game development to mobile application development.
Contact
• Jennifer Theisen, developer/analyst, Bemidji State University; (218) 755-2110, jtheisen@bemidjistate.edu
Bemidji State University, located in northern Minnesota's lake district, occupies a wooded campus along the shore of Lake Bemidji. Enrolling nearly 5,000 students, Bemidji State offers more than 80 undergraduate majors and 11 graduate degrees encompassing arts, sciences and select professional programs. BSU is a member of the Minnesota State Colleges and Universities system and has a faculty and staff of more than 550. University signature themes include environmental stewardship, civic engagement and global and multi-cultural understanding.
---
2016-B-L-068