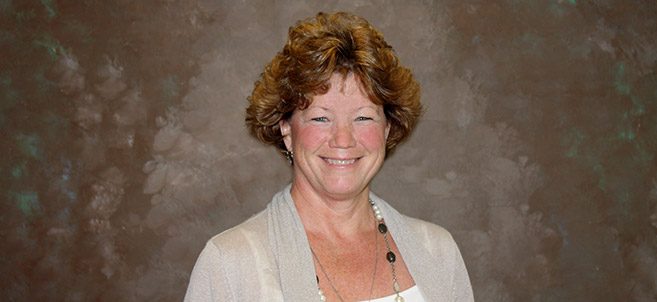 Marla Patrias has been named executive director of Bemidji State University's BSU Alumni & Foundation.
"I'm excited that Marla will be taking on this new role with BSU Alumni and Foundation," said Dr. Faith Hensrud, president-elect of Bemidji State University and Northwest Technical College. "She has a long history with Bemidji State University, she has been intimately involved in the successful Imagine Tomorrow campaign, and she has a deep knowledge and expertise about our alumni. She's going to be a terrific executive director."
Patrias has been with BSU Alumni & Foundation for nearly two decades in a variety of roles, first as director of major gifts and planned giving and later as director of alumni relations, a position she held for 11 years. In 2012, she was named chief development officer and she is currently chief administrative officer.
"This organization and Bemidji State University have become a very important part of my life, personally and professionally," Patrias said. "I have served under many talented leaders and am grateful for all I've learned from them. It is an honor and a privilege to be selected as the next executive director for university advancement and follow in their footsteps.
"We have a strong team at the Alumni and Foundation and I look forward to working with them in this new role to continue the great progress we've made over the past several years in growing philanthropic support for BSU."
Patrias will succeed Rob Bollinger, whose June retirement coincides with the conclusion of BSU's first capital campaign. The Imagine Tomorrow campaign exceeded its initial goal of $35 million and has helped the BSU Alumni & Foundation more than double its annual scholarship support to Bemidji State University students.
Before joining BSU Alumni & Foundation, Patrias had a lengthy career working in Alaska politics, first as special assistant to the mayor and legislative liaison in Soldotna, Alaska's Kenai Peninsula Borough and later as director of external relations for the state's Office of the Governor. Throughout her career she has worked as a paid campaign manager for seven political campaigns ranging from mayor to state senate to governor. In 1994, she managed the successful gubernatorial campaign for Tony Knowles, who served as Alaska's seventh governor from 1994-2002.
She has been active in the Bemidji community as a board member for the Boys and Girls Club of the Bemidji Area since 2013 and a member of the Bemidji Chamber of Commerce public affairs committee since 2007. She also has worked with the Bemidji Area United Way, Relay for Life, the Bemidji Youth Hockey Association and the Boys and Girls Club Youth Soccer program.
Patrias has a bachelor of science degree in elementary education from Oregon State University.
Contact
Marla Patrias, executive director, BSU Alumni & Foundation; (218) 755-2876, mpatrias@bemidjistate.edu
Maryhelen Chadwick, communications and marketing specialist, BSU Alumni & Foundation; (218) 755-2122, mchadwick@bemidjistate.edu
Bemidji State University, located in northern Minnesota's lake district, occupies a wooded campus along the shore of Lake Bemidji. Enrolling nearly 5,000 students, Bemidji State offers more than 80 undergraduate majors and 11 graduate degrees encompassing arts, sciences and select professional programs. BSU is a member of the Minnesota State Colleges and Universities system and has a faculty and staff of more than 550. University signature themes include environmental stewardship, civic engagement and global and multi-cultural understanding.
---
2016-B-L-070