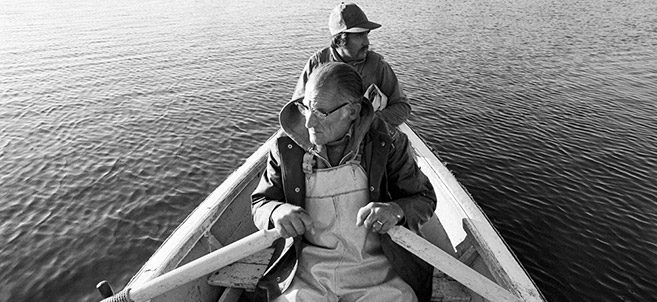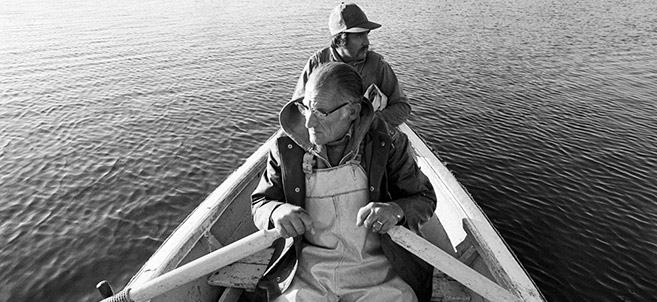 Photographer Milton Moore will share a visual tale of New England's fishing industry changed by time in "Working Men, Working Boats," an exhibit opening Oct. 4 in Bemidji State University's Talley Gallery.
An opening reception for the exhibit will be held from 2-4 p.m. on Oct. 4, with a gallery talk from Moore beginning at 2:15 p.m. The reception and gallery talk are open free to everyone.
"I made these photographs more than 30 years ago, and time has swept much away," Moore said. "Many of these boats have sunk. Many of these men are gone. The fisheries I photographed exist now as shadows of what they were, wrecked by environmental disaster, overregulation and over-fishing."
Moore shot these photos while working as a photographer for the Cape Cod Times, living and fishing in the port of Chatham.
"These images reflect were two very different communities and fisheries: The small-boat, solitary Yankee endeavor that was Chatham inshore fishery, and the ancestral dragger fleet of Provincetown, with boats manned by Portuguese brothers, cousins and the father-in-law visiting from Madeira," he said.
About Milton Moore
Milton Moore was a newspaper photojournalist, photo editor, writer and designer on the New England shoreline for 40 years. He spent 13 working the waterfront on the Massachusetts outer beach of Cape Cod for the Cape Cod Times as a photojournalist, Sunday editor and director of photography. He left the Times in the mid-1980 to become managing editor of "Soundings," a Connecticut-based national boating monthly. From there, he joined "The Day" in 1991, where he was director of photography before leaving daily journalism in 2015.
With a degree in Journalism from Boston University's School of Public Communications, Milton taught photojournalism at Cape Cod Community College and digital photography at Mitchell College in New London. He has been an annual convention seminar leader in photography for the New York Press Association and the New England Press Association.
About the Talley Gallery
Located in Bridgeman Hall room 140 on the campus of Bemidji State University, the Talley Gallery is barrier-free and open at no charge to the public. The gallery is open Monday through Friday from 9 a.m.-4 p.m.
Contact
Laura Goliaszewski, Talley Gallery director; (218) 755-3737, lgoliaszewski@bemidjistate.edu
Links
Bemidji State University, located in northern Minnesota's lake district, occupies a wooded campus along the shore of Lake Bemidji. A member of the colleges and universities of Minnesota State, Bemidji State offers more than 80 undergraduate majors and 11 graduate degrees encompassing arts, sciences and select professional programs. Bemidji State has an enrollment of approximately 5,000 students and a faculty and staff of more than 550. University signature themes include environmental stewardship, civic engagement and global and multi-cultural understanding.
---
2017-B-L-018