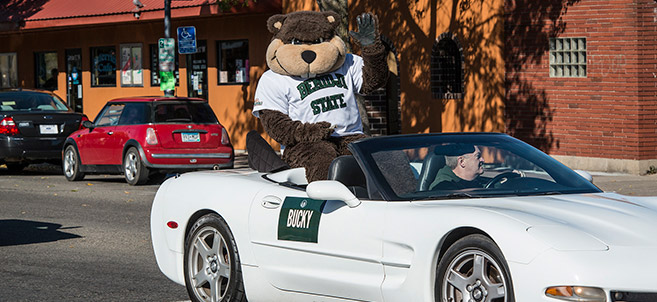 The Inauguration and Investiture of President Faith Hensrud will kick off 2016 Homecoming activities, scheduled for Oct.14-16 on the campus of Bemidji State University.
Hensrud will officially take her oath of office in a 1 p.m. ceremony Oct. 14 in the BSU Gymnasium. Later that evening, BSU Alumni & Foundation will recognize this year's alumni award winners and celebrate the conclusion of the successful Imagine Tomorrow fundraising campaign at its annual Honors Gala, which begins with a 5:30 p.m. social hour at Bemidji's Sanford Center.
The gala will recognize 2016 Outstanding Alumni Tracie Curb-Crowser '90, Mark Ploen (1980-84) and Dr. Bruce Sutor '86 and Young Alumni Award recipient Dr. Abby (Stritesky) Meyer '01. It also will recognize generous donors and others who helped make Imagine Tomorrow a success.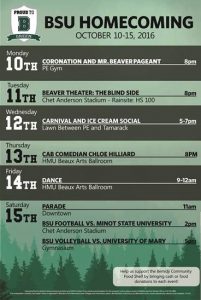 Student Homecoming Events
(click to enlarge)
Saturday will be filled with activities, beginning with a Homecoming Parade through downtown Bemidji. The parade leads into the Homecoming football game at 2 p.m., where the Beavers will tackle Minot State University at Chet Anderson Stadium. The Beavers look to continue one of college football's finest traditions – a plunge into Lake Bemidji following a Homecoming victory. The day concludes with the Beaver Block Party in downtown Bemidji beginning at 8:30 p.m.
A tour of the Bemidji State campus will also take place on Oct. 15, beginning at 12:30 p.m. at the Alumni Gate in front of Deputy Hall.
Homecoming Parade
The BSU cross country team will warm up the Homecoming Parade route at 11 a.m. with the Beaver Mile, which will follow Beltrami Avenue from 2nd to 15th streets. Entries are still being accepted for floats, musical units, student organizations and community groups to join the parade. Registration is available online.
The parade will feature President Hensrud, distinguished alumni, alumni award winners, and more. This year's parade Grand Marshall is Willie Stittsworth '53, who taught in BSU's professional education and health/ physical education departments for 22 years, from 1967-89, and has been a long-time supporter of and volunteer with BSU Alumni & Foundation.
Football Game
Football-related activities begin with tailgating in Diamond Point Park, where fans are invited to bring their favorite food and beverages or enjoy food provided by BSU Alumni & Foundation with a free-will offering. Tailgate party attendees must be 21 to consume alcohol.
A post-game football alumni reunion will take place in the Beaux Arts Ballroom in the Upper Union, followed by a traditional Football Alumni Social at the Elks Club in downtown Bemidji.
Beaver Block Party
Homecoming celebrations will peak at the Ninth Annual Beaver Block Party and Street Dance in downtown Bemidji. Barricades will close Beltrami Avenue between 3rd and 4th streets for dancing to the Front Fenders from 8:30 p.m. to 12:30 a.m. Alumni are encouraged to get involved with planning and executing this popular event. The Block Party has a $5 admission charge, which supports BSU scholarships, and attendees must be 21 or older.
Carl O. Thompson Concert
The Carl O. Thompson Concert wraps up Homecoming weekend Oct. 16. The 3 p.m. concert in Bangsberg Recital Hall features the university's performing ensembles and special guests, as well as the instrumental and vocal Carl O. Thompson Scholarship winners Lynnea Iverson (oboe) and Leandra Craigmile (soprano).
A complete list of Homecoming activities is included below.
Homecoming Activities Schedule
FRIDAY, OCTOBER 14
11:30 a.m. Beaver Pride Lunch, Walnut Dining (Upper Deck). $8
1 – 3:30 p.m. Inauguration and Investiture of BSU President Faith Hensrud, BSU Gymnasium. Reception following in the Physical Education complex.
3:07 p.m. Women's Hockey vs. Ohio State, Sanford Center.
5:30 p.m. Alumni and Foundation Honors Gala Sanford Center. BSU Alumni & Foundation event honoring distinguished alumni, President's Society donors and Legacy Society members, with a special celebration of the conclusion of the Imagine Tomorrow Campaign. Dinner and dancing. Reservations required.
7 p.m. Women's Volleyball vs. Minot State, Bemidji High School.
SATURDAY, OCTOBER 15
9 a.m. BSU Alumni and Foundation Annual Meeting, Northwest Community Foundation (201 Third St. NW).
10 a.m. Women's Softball Alumni Game, Email Coach Rick Supinski (rsupinski@bemidjistate.edu) by Sept 15.
10 a.m. Homecoming Parade Lineup, Line up off Second Street and Minnesota Avenue. Groups can enter floats or walking units. Prizes will be awarded. Register online.
11 a.m. Homecoming Parade, North on Beltrami Avenue from Second Street to 15th Street.
12 p.m. Men's Basketball Alumni Game, BSU Gymnasium. Contact Head Coach Mike Boschee (mboschee@bemidjistate.edu).
12 p.m. Beaver Bash Pre-game Tailgating, Diamond Point Park. Bring your own food/beverages or enjoy what is provided with a free-will offering. Must be 21 or older to consume alcohol.
2 p.m. Beaver Football vs. University of Minot Chet Anderson Stadium. Adult general admission $12, Senior citizen (62 and over) and youth (age 2 to 12th grade) $5, child (2 and under) free.
3:07 p.m. Women's Hockey vs. Ohio State, Sanford Center.
5 p.m. Women's Volleyball vs. University of Mary, BSU Gymnasium.
5 p.m. Alumni Football Reunion, Beaux Arts Ballroom. Appetizers and cash bar.
8:30 p.m. – 12:30 a.m. 8th Annual Beaver Block Party & Street Dance, Downtown Bemidji (between 3rd and 4th streets). Organized by the Bemidji Area Alumni Chapter. Featuring live music from the Front Fenders. 21 or older. $5

SUNDAY, OCTOBER 16
3 p.m. Carl O. Thompson Memorial Concert, Bangsberg Fine Arts Complex. Adults $10. Seniors $5 and students free.
Contact
Links
Carl O. Thompson Memorial Concert