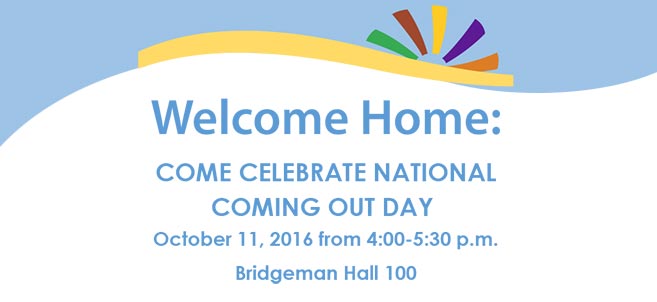 In celebration of National Coming Out Day on Oct. 11, Bemidji State University will host an event for students, staff, faculty and members of the Bemidji community who identify as lesbian, gay, bisexual, transgender, queer, questioning, intersex, asexual or allies to come together and share stories and ideas for change.
The event will take place from 4:30-5 p.m. in Bridgeman Hall 100, and light refreshments will be served. In conjunction with Homecoming, which takes place at BSU from Oct. 14-16, the National Coming Out Day event will reinforce Bemidji State University's role as a safe, welcoming home for all people.
Traditionally, individuals use National Coming Out Day to voluntarily self-disclose their sexual orientation and/or gender identity to close friends and loved ones, to help reduce homophobia and raise awareness for LGBTQ+ issues, communities and civil rights. This day also provides a safe opportunity for community unity.
On the anniversary of the 1979 National March on Washington for Lesbian and Gay Rights, the Human Right Campaign first observed National Coming Out Day as a reminder that one of the most basic tools is the power of coming out.
The event is hosted by Student Affairs, Housing and Residential Life, the Hobson Memorial Union, Student Senate, the gender and women's studies program, Phoenix and the Office of Diversity and Inclusion.
Links
Contact
Bemidji State University, located in northern Minnesota's lake district, occupies a wooded campus along the shore of Lake Bemidji. A member of the colleges and universities of Minnesota State, Bemidji State offers more than 80 undergraduate majors and 11 graduate degrees encompassing arts, sciences and select professional programs. Bemidji State has an enrollment of approximately 5,000 students and a faculty and staff of more than 550. University signature themes include environmental stewardship, civic engagement and global and multi-cultural understanding.
For more, visit bemidjistate.edu or find us at BemidjiState on most of your favorite social media networks.
2017-B-L-022