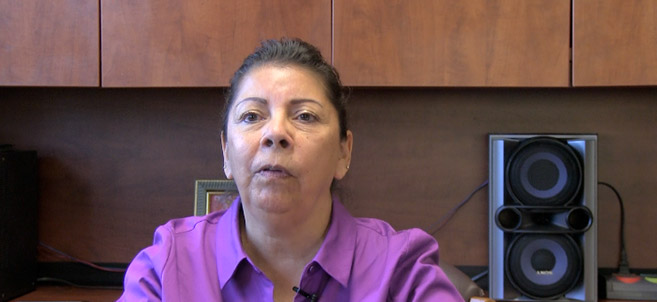 Through a community-wide effort supported by students, faculty and staff at Bemidji State University, the City of Bemidji will recognize the federal Columbus Day holiday as Indigenous Peoples'/Treaty Day, beginning this year.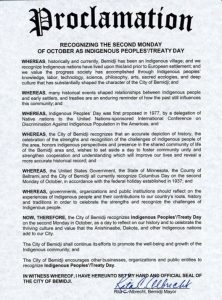 City of Bemidji Proclamation
Click to enlarge
At the Oct. 3 meeting of the Bemidji City Council, Bemidji Mayor Rita Albrecht signed a proclamation recognizing that "historically and currently, Bemidji has been in indigenous village," and that indigenous peoples lived in Bemidji prior to European settlement. The proclamation also acknowledged the progress society has accomplished through the knowledge, labor, technology, science, philosophy, arts, sacred ecologies and deep culture of indigenous people that have substantially shaped the city of Bemidji's character.
The local effort was supported by students in Bemidji State's Federal Indian Law course, taught by Dr. Vivian Delgado, BSU's current interim assistant dean of the College of Arts and Sciences, and by the BSU Sustainability Office through its partnership with the community group Ebiyang. Delgado's students, who traditionally worked on a semester-long project with representatives from native nations at Red Lake, White Earth or Leech Lake, decided instead to pursue Treaty Day recognition with the city of Bemidji.
"Treaties are the heartbeat of Indian law," Delgado said. "A lot of the rights of indigenous people are guaranteed to them by treaty, so the students thought promoting treaties was a really big thing. Very few people in the area are aware that there are several treaties regarding the Ojibwe, and it's actually the treaties that give Ojibwe people rights used for gathering and hunting in the northern part of the State of Minnesota – and most people don't know that."
She said the Treaty Day proclamation will help educate people in the Bemidji region about the existence and importance of those treaties.
"These treaties are the law of the land, and they're still out there and they're so important to native people," Delgado said. "By communicating and sharing the history with non-native people, I think we can start moving forward and really enacting what these treaties were meant to do."
Columbus Day remains a federal holiday established by the U.S. Government in 1937. While the idea to replace Columbus Day with a day celebrating native peoples began to gain attention in the late 1970s, the City of Bemidji joins a growing movement of that has gained momentum over the last several years among American cities large and small. The state of South Dakota has recognized the day as Native American Day since 1990, and Berkeley, Calif., is thought to have celebrated the country's first Indigenous Peoples Day in 1992. Other cities in Minnesota recognizing Indigenous Peoples Day include Grand Rapids, Minneapolis, Red Wing and St. Paul.
Contact
Dr. Vivian Delgado, interim assistant dean, College of Arts & Sciences; (218) 755-2528, vdelgado@bemidjistate.edu
Links
Bemidji State University, located in northern Minnesota's lake district, occupies a wooded campus along the shore of Lake Bemidji. A member of the colleges and universities of Minnesota State, Bemidji State offers more than 80 undergraduate majors and 11 graduate degrees encompassing arts, sciences and select professional programs. Bemidji State has an enrollment of approximately 5,000 students and a faculty and staff of more than 550. University signature themes include environmental stewardship, civic engagement and global and multi-cultural understanding.
---
2017-B-L-025