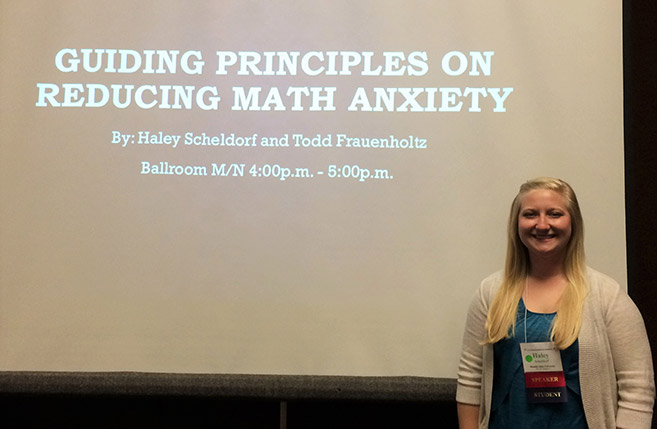 Research by Bemidji State University senior Haley Scheldorf is helping Minnesota's K-12 students overcome mathematics anxiety. She spoke about her work in at the Minnesota Council of Mathematics' annual spring conference, held in May in Duluth, Minn., with a presentation called "Guiding Principles on Reducing Math Anxiety."
Scheldorf, a mathematics major from Chokio, Minn., initially started researching math anxiety after meeting with a number of BSU students who disliked math.
"Typical small talk would occur, and I would say that I was majoring in mathematics education. One thing a majority of the people I met had in common was their response: 'I hate math'," she said. "Curious, I would ask a couple of questions to see why they dislike mathematics, and a majority of the responses fell under the definition of math anxiety."
This sparked her interest in researching methods to reduce math anxiety. Her presentation was the culmination of the thesis project required as part of her participation in Bemidji State's Honors Program.
"As a future educator, I wanted to research ways to shed a better light on mathematics for the next generation — which meant investigating researched-based methods to reduce math anxiety," she said.
Scheldorf hopes to inform other teachers and prospective teachers about math anxiety and give them tools needed to build up a student's confidence. Her goal was to find out what successful teachers do to reduce math anxiety, and then help those who have been less successful in helping their students conquer their fear of math.
"Each student is unique, so having multiple methods to help teachers, accompanied with the research to back up the methods in one place, is useful," she said.
Scheldorf says she has found ways to put her research to use in her own classrooms.
"The top way that I found to reduce anxiety is to let the students express their feelings towards mathematics in a productive manner," Scheldorf said. "One way that I tried in my student teaching experience was to have students fill out a survey on the first day where they were able to get out all of their negative feelings and then are able to move forward.
Dr. Todd Frauenholtz, professor of mathematics at BSU, accompanied Scheldorf to the conference. He said Scheldorf's earlier presentation on the same issue at the April, 2016, Minnesota Council of Teachers of Mathematics conference was a "packed house," indicating that teachers were interested in learning more.
"Math anxiety is a problem in Minnesota K-12 classrooms," he said. "Haley shared her research findings with teachers, so I am hopeful this will impact some of Minnesota's K-12 students. However, it is a bigger problem that needs much more attention and effort to solve."
Contact
Links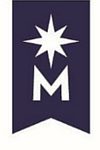 Bemidji State University, located in northern Minnesota's lake district, occupies a wooded campus along the shore of Lake Bemidji. A member of the colleges and universities of Minnesota State, Bemidji State offers more than 80 undergraduate majors and 11 graduate degrees encompassing arts, sciences and select professional programs. Bemidji State has an enrollment of more than 5,100 students and a faculty and staff of more than 550. University signature themes include environmental stewardship, civic engagement and global and multi-cultural understanding.
---
2017-B-L-032