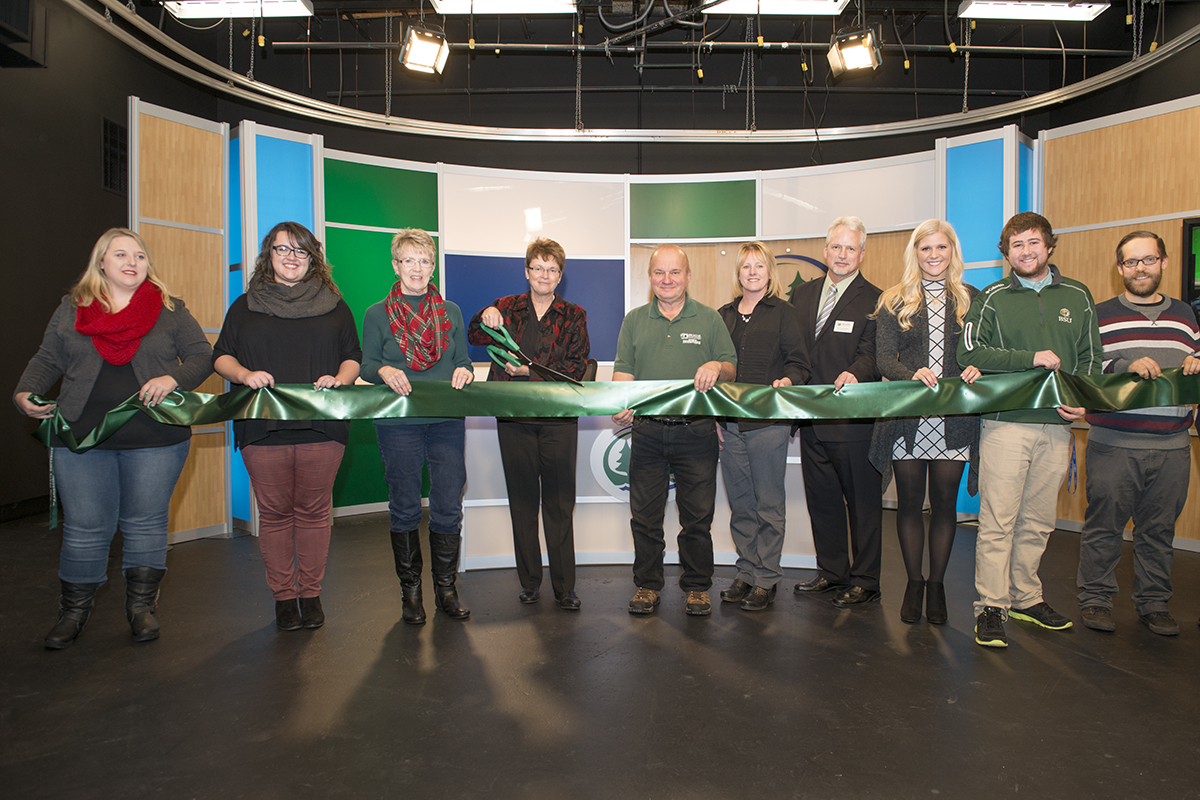 Bemidji State University President Faith C. Hensrud, Provost Dr. Michael Anderson, Dr. Virgil Bakken, chair of Bemidji State's newly renamed Department of Integrated Media, and others today unveiled the university's new Student Media Center at a ribbon-cutting ceremony in Deputy Hall.
The Student Media Center combines radio, video, television, online and print distribution channels in a single learning environment, re-imagining space on Deputy Hall's second floor formerly occupied by Lakeland Public Television.
The center provides a fast-paced learning environment that mirrors the multimedia complexity of modern journalism and marketing communications.
"We've had a number of remodeling and upgrades that have been completed throughout the institution," Hensrud said. "Wherever they occur it's truly transformational – and this renovation, as well, will be for our students here these programs."
Hensrud said BSU students now have a high-technology learning environment that is specifically designed to prepare them for the ever-changing new media landscape.
"The new Student Media Center reflects a challenging new expectation for media professionals – the ability to effectively employ multiple communications channels to achieve a desired outcome, whether it be journalism, entertainment or marketing," she said.
Bakken said that while students and faculty alike were still getting used to the Department of Integrated Media's new name, the name and the collaborative nature of the Student Media Center combine to emphasize the department's mission.
"I think that it implies something, and it challenges us to be diverse and to collaborate, to share to include and create media that serves a diverse target audience," he said.
The $1 million project was supported by a $250,000 contribution from BSU Alumni and Foundation using unrestricted funds donated to the university by the Joseph and Janice Lueken Family Foundation.