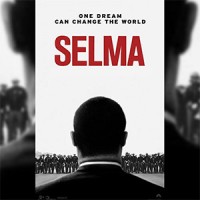 In celebration of what would have been the 87th birthday of Dr. Martin Luther King, Jr., Bemidji State University will host a screening of the film, "Selma," along with a conversation about the film's historical context and lessons from the film that can be applied today, on Jan. 17.
The 2014 film, which won 58 awards — including an Academy Award for achievement in musical score — and was nominated for 90 others, chronicles King's work during the civil rights movement, which included the march he led from Selma to Montgomery, Ala., in March of 1965. The publicity surrounding the marches helped lead to the passing of the Voting Rights Act that summer.
Dr. John Ellis, assistant professor, will open the event at 6 p.m. in Hagg-Sauer Hall 100 with a 20-minute lecture on the film's historical context. Following the 128-minute feature, Dr. Rucha Ambikar, assistant professor of sociology, will provide contemporary context for the film and lead a question-and-answer session. Ambikar will also discuss how the film speaks to current campus climate issues being dealt with across the country and social justice movements such as Black Lives Matter.
The event is open to all and is free of charge.
Calendar
Jan. 17 – 6-9 p.m. – Hagg-Sauer Hall 100, BSU campus – "Onward from Selma," a film screening and conversation at Bemidji State University. Includes introductory presentation from Dr. John Ellis, a screening of the 2014 film, "Selma," and a post-screening presentation and Q&A with Dr. Rucha Ambikar. Free.
Contact
Links
Bemidji State University, located in northern Minnesota's lake district, occupies a wooded campus along the shore of Lake Bemidji. A member of the colleges and universities of Minnesota State, Bemidji State offers more than 80 undergraduate majors and 11 graduate degrees encompassing arts, sciences and select professional programs. Bemidji State has an enrollment of more than 5,100 students and a faculty and staff of more than 550. University signature themes include environmental stewardship, civic engagement and global and multi-cultural understanding.
For more, visit bemidjistate.edu or find us at BemidjiState on most of your favorite social media networks.
2017-B-L-048
—bsu –
—