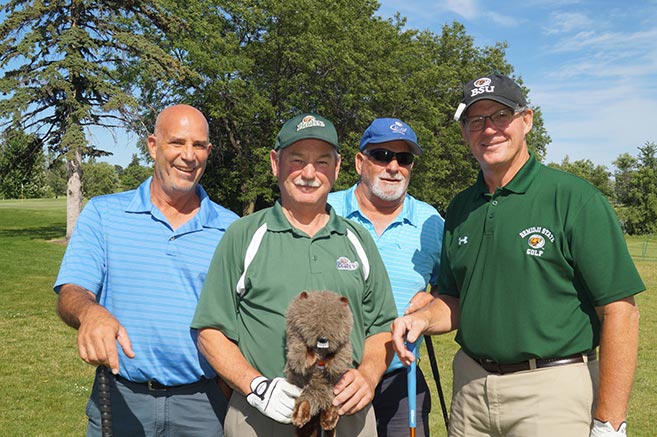 New president and officers named for Alumni & Foundation Board
The Alumni & Foundation Board of Directors approved a leadership change at its annual meeting on Nov. 18 at Bemidji State.
Ben McAninch '99 became president, replacing Carol Russell '71, who is now immediate past president. Peggy Ingison '74 is taking on the dual roles of president elect and treasurer, and Tom Anderson '70 is the new vice president.
Eligible students have until Feb. 1 to seek Alumni Relative Scholarships
First-year, returning and transfer students with a BSU alumni relative who has contributed to the university through the BSU Alumni & Foundation may apply for an Alumni Relative Scholarship.
Awards of $1,000 are allocated in payments of $500 for each semester of the academic year. Apply at http://bit.ly/ARSAPP or call (218) 755-3989 for more information. The application deadline is Feb. 1.
Don't miss North Star College Cup or the fun at McGovern's Pub
The new Twin Cities Alumni Chapter is gearing up for the North Star College Cup on Jan. 27-28 at the Xcel Energy Center in St. Paul.
The Beavers will take on St. Cloud State at 4 p.m. on opening day of the four-team tournament. The University of Minnesota Duluth and Minnesota will play at 7 p.m. The championship and consolation games will be played at 4 and 7 p.m. Saturday.
Ticket information is available at the Sanford Center or by calling (218) 441-4031. McGovern's Pub (225 Seventh St. W) will be BSU's pre- and post-game gathering place.
Athletes, coaches and backers to join B-Club Hall of Fame
The B-Club Athletics Hall of Fame will welcome its 2017 inductees on Feb. 18 in the Lakeside rooms at the Sanford Center.
Individual inductees will be Lora (Weiers) Angileno '88, women's basketball (1983-88); John Backes '74, football/track & field (1970-1974); Malachy McCarthy '82, men's swimming (1977-81); and Robert Eckert '79, wrestling (1975-79).
William "Charlie" Scanlon '74, men's hockey (1971-75), will be honored with the Alumni Coaching Achievement Award for his success as a high school soccer coach. The BSU Coaches Hall of Fame will welcome Donna Palivec into its ranks. The 1966-67 men's basketball team has earned its place in the Team Hall of Fame, and Willie Stittsworth '53 and Cindy Holter both will be celebrated for their contributions to and support for BSU Athletics.
Visit bsualumni.org for brunch tickets.
President Hensrud will attend 2017 Southwest events in March
New BSU President Faith Hensrud will head southwest this spring to meet alumni and friends at the Alumni & Foundation's annual Southwest events.
Activities are scheduled for March 3 in Tucson and Scottsdale, Ariz. The Tucson luncheon will be at Teresa's Mosaic Café at 11:30 a.m. A BSU Hockey viewing party is set for 5:30 p.m. on March 3 in the 18 Degrees Grill at the Ice Den in Scottsdale. Golf (optional), and a luncheon will take place March 4 at the Apache Wells Country Club on March 4.
Call (218) 755-3989, email alumni@bemidjistate.edu or visit bsualumni.org.
Feb. 1 is nomination deadline for 2017 alumni award honors
Nominations are due by Feb. 1 for several awards that recognize alumni for their contributions to Bemidji State, their professions or their communities.
Outstanding Alumni, Young Alumni and Alumni Service Awards are presented annually at the Homecoming Honors Gala to recognize individuals who have made outstanding contributions to their industries and communities.
Online applications are available for the following categories at bsualumni.org.
Alumni & Foundation adds six to alumni and fundraising teams
These individuals have joined the BSU Alumni & Foundation staff in recent months:
• Jana Wolff, director of annual giving, academics. She previously worked for Gonzaga University in Spokane, Wash.
• Stephanie Common, office administrative specialist senior. She previously was assistant to the president and CEO of Carondelet Health Network in Tucson, Ariz.
• Nadine Gessner, accounting officer. She previously worked in health care financial management and investment advisory services in the Brainerd Lakes area.
• Mike Mulry, director of engagement marketing. He previously worked at WeWIN, a cause marketing technology company based in New York City.
• Kim Smith, administrative assistant, Alumni Association. She previously was resource development coordinator at the Boys and Girls Club of the Bemidji Area.
• Stephanie Winter, administrative assistant, foundation. She previously was sales manager at the Country Inn & Suites in Bemidji.