Bowl title caps big season for Beaver Football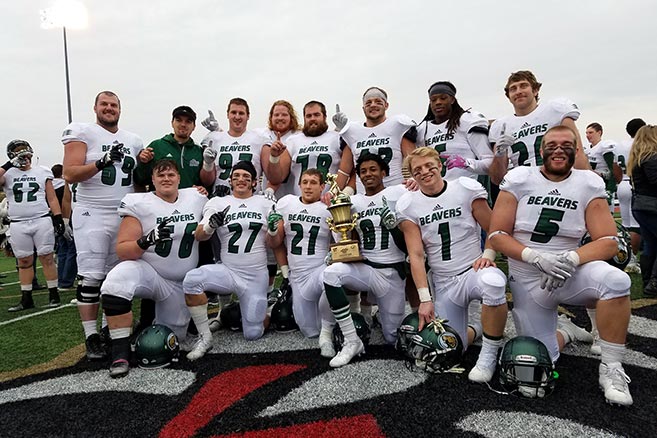 Bemidji State Football claimed its first postseason victory by beating Washburn University on Dec. 3 in the Mineral Water Bowl. Following an 8-3 regular season in which the Beavers finished second in the NSIC North Division and narrowly missed the NCAA Playoffs, BSU earned its second bid to the game in Excelsior Springs, Mo., the only sanctioned NCAA Division II postseason bowl matchup. Sophomore QB Jordan Hein completed 16 passes for 261 yards and four touchdowns, while Gena Adams scampered for 159 yards and Kameel Al-Khouri pulled in two interceptions. Hein was named the game's Most Valuable Offensive Player and Al-Khouri garnered the Defensive MVP award.
In addition to matching a program-record nine wins, the 2016 team averaged 524.9 yards per game to establish school records for total offense (6,299 yards), rushing yardage (2,775) and passing yardage (3,524), while averaging 45-plus points per game. They also capped the season with 17 players selected for 2016 All-Northern Sun Intercollegiate Conference honors. Gena Adams, Jesse Hein and Brandon Schindler were named to the NSIC North Division All-Conference First Team Offense, while Damon Benham, Alex Burgess, Jamison Evans, Gunner Olszewski and Trysten Ross were named First Team Defense. BSU's All-Conference Second Team selections were Jordan Hein, Blake Holder, Jake Krause and Matthew Valentine on offense, Jake Wirsching on defense and Juwaan Richard for special teams. Seniors Kameel  Al-Khouri, Vince Dinkel and Blake Petrich joined the All-NSIC Honorable Mention team.

Jordan Hein received additional honors as one of 42 student-athletes across the country nominated for the 2016 Harlon Hill Award, annually given to the NCAA Division II College Football Player of the Year. A junior from Perham, he broke multiple BSU career records, including total passing yards (6,377), total touchdowns (82) and passing touchdowns (63). Hein also set the BSU single-season passing efficiency record (165.3), established the program's single-season passing yardage record (3,007) and passed for a program-record 31 touchdowns. He finished the season ranked among the top 20 in the nation in seven categories, which included finishing second in passing yards per completion. The 2016 Harlon Hill winner was announced Jan. 6 in Florence, Ala.

Gena Adams, the team's leading rusher, also turned heads in the classroom. The senior business administration major was named to the 2016 College Sports Information Directors of America College Division Academic All-America® First Team. He is the first BSU football player to earn the honor since since Brian Leonhart, a tight end with the National Football League's Arizona Cardinals, received it in 2012. In addition to leading the team with 1,154 rushing yards, setting a program record with 7.9 yards per carry, and accounting for 12 touchdowns, Adams has a 3.87 cumulative GPA.
Tronick and Yost in the ranks of BSU Volleyball elite

Senior outside hitters Amanda Tronick (pictured) and Jessica Yost finished their collegiate careers among the greatest in BSU Volleyball history. Tronick and Yost each recorded her 1,000th kill during the 2016 campaign, becoming the ninth and 10th BSU players to do so. In addition, Yost became the third player in BSU history to collect 1,000 career digs and 1,000 kills. The Wadena native finished her career as BSU's all-time leader with 1,381 kills. Following the season, NSIC coaches voted Yost to the All-NSIC Second Team, making her the first BSU player to earn a spot on the team since Bethany Thompson in 2012.
Soccer sends seven players to All-NSIC team

A record seven members of the Bemidji State Soccer team were selected to the All-Northern Sun Intercollegiate Conference Team. The honors capped a 2016 season in which they posted a 13-4-1 overall record and finished third in the league standings, owning an 11-3-1 mark in league play. Senior Christine Szurek (pictured) headlined the first-team group and was also chosen the league's Defensive Player of the Year. In addition to Szurek, Sarah Stram and Raquel Thelen were named to the first team, Catherine Arneson, Bayley Ertl and Miranda Famestad each earned a second-team spot, and Rachael Norton collected third-team honors. NSIC colleagues selected Head Coach Jim Stone as the conference's Coach of the Year.
In addition, for a third straight year, the 2016 team was selected for the National Soccer Coaches Association of America College Team Academic Award. BSU, which carried a 3.65 cumulative team grade point average to rank 16th in the nation, was one of seven NSIC women's teams and 578 teams from all collegiate levels nationwide to earn the honor.
Otto joins U.S. Hockey Hall of Fame as member of 1996 World Cup team
Joel Otto, who played for the Beavers from 1981-84, was inducted into U.S. Hockey Hall of Fame in November as a member of the USA team that won gold in the 1996 World Cup of Hockey.
Team USA finished the tournament 6-0-1-0 in the tournament and outscored its opponents, 37-18. Otto played in all seven of Team USA's games and scored three points — including a goal and two assists — to help lead Team USA to victory.
Otto, originally from Elk River, holds BSU's second-highest BSU single season-scoring record, with 75 points. In 1984, he began a 14-year professional career, first with the Calgary Flames then with the Philadelphia Flyers. He is now an assistant coach with the Calgary Hitman of the Western Hockey League.