Enrollment continues upward trend in 2016
For the second straight year, Bemidji State University's total enrollment has grown by more than 2 percent. The head count on the 30th day of classes, the traditional date for counting official fall enrollment, was 5,120 students – the most since 2011 and the fourth highest in 17 years.
A 107-student year-over-year gain stemmed from across-the-board increases in undergraduate students, graduate students and incoming freshmen.
The number of undergraduates on campus grew 1.2 percent to 4,795, graduate students were up 18.6 percent to 325, and BSU's freshman class grew 9.2 percent to 809. More than 1,300 students are living in BSU's residence halls this year, an 89.6 percent occupancy rate that is the highest in decades.
Bemidji State's fall 2016 enrollment is also becoming more diverse, with non-white students now making up 21 percent of the student body. American Indian student enrollment has grown by 19 students to 134, 3 percent of all students. In addition, there also was year-over-year growth in the number of black students (101, a gain of 11), Latino students (121, a gain of 7) and multi-racial (164, a gain of 20). The university has significantly more international students, with a 22-student increase over 2015 to 115 students. International students now make up more than 2 percent of BSU's student body.
U.S. News again ranks BSU among top tier in Midwest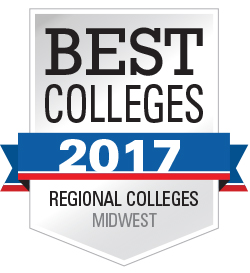 For the ninth consecutive year, U.S. News and World Report has named Bemidji State one of the best colleges and universities in the Midwest.
In the magazine's annual review of America's Best Colleges, released Sept. 13, BSU tied for 35th among public institutions in the region and tied with seven other institutions for 115th among all colleges and universities, public and private, in the region.
The magazine also tapped BSU for its Short List on affordability, naming it one of the most affordable colleges or universities in the nation for out-of-state students.
The university offers its $8,386 in-state rate for tuition and fees to all students across the country. BSU ranked seventh on the U.S. News Short List, which is separate from the publication's overall rankings.
360 Center of Excellence wins grant from National Science Foundation
The 360 Manufacturing Center of Excellence, a BSU-led consortium with 14 Minnesota two-year colleges, in September was awarded a $2.25 million grant from National Science Foundation Advanced Technological Education Regional Center. This grant will support efforts to increase graduates in advanced manufacturing programs at 360-partner colleges through 2019.
The 360 consortium was founded in 2006 as an education and industry collaboration to recruit, educate and train workers for dynamic careers in manufacturing through the Minnesota State system.
Mitchell Hamline partnership offers streamlined law degree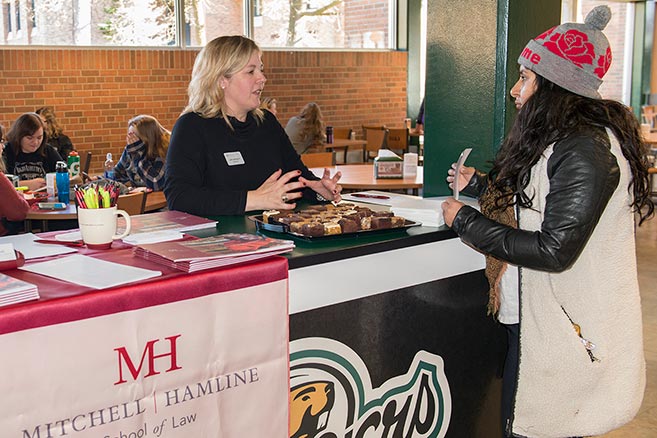 Thanks to a new transfer partnership with the Mitchell Hamline School of Law in St. Paul, Bemidji State students can complete their undergraduate and law degrees in a total of six years, rather than the traditional seven. The agreement was signed Nov. 4 by President Faith Hensrud and Mark Gordon, president and dean of law at Mitchell Hamline.
"This is a tremendous opportunity for our students who are interested in going into the field of law, to be able to start here in Bemidji and then transfer to get a degree at each institution," Hensrud said. "It's a great opportunity for them to get their educational footing started and then go on to get a law degree."
The "3+3" transfer program will require BSU students to complete a minimum of 92 undergraduate credits before transferring to Mitchell Hamline. There, students will complete both their final year of undergraduate coursework and their first year of law school, transferring between 12 and 28 upper-level credits back to BSU to complete their bachelor's degree. After this crossover year, students will then spend two additional years at Mitchell Hamline, allowing them to complete both their undergraduate and law degrees in six years.
New Student Media Center in Deputy will be hub for multimedia learning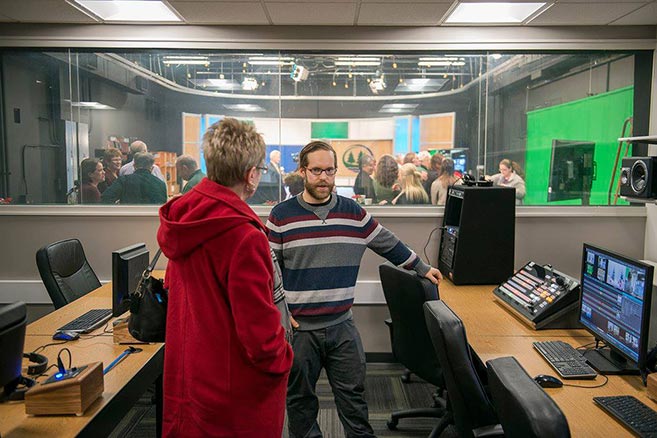 A ribbon-cutting and open house on Dec. 7 officially opened Bemidji State's. new Student Media Center in Deputy Hall, part of the newly renamed Department of Integrated Media, previously Mass Communications.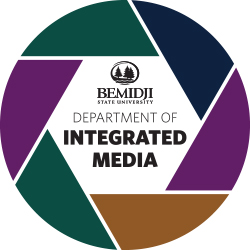 The media center includes a larger television studio and control center, a new radio broadcast booth and two interactive classrooms. It will serve as a hub for the student-run Northern Student magazine, FM 90, the Headwaters Film Festival, KBSU-TV and students in a course called News Team, which will produce breaking news content.
President Faith Hensrud said the facility will help students prepare to succeed in the media job market.
"The new Student Media Center reflects a challenging new expectation for media professionals: the ability to effectively employ multiple communications channels to achieve a desired outcome, whether it be journalism, entertainment or marketing," Hensrud said.
The $1 million facility, which occupies space vacated when Lakeland Public Television relocated to its new building in April 2015, was supported by a $250,000 contribution by the BSU Alumni & Foundation Board from funds donated by the Joseph and Janice Lueken Family Foundation. The remainder came from the university budget.
Alumni who won election Nov. 8 will serve at local, state levels
At least seven Bemidji State alumni won election Nov. 8:
• Rita Albrecht '01, third two-year term as mayor of Bemidji.
• Bob Dettmer '73 of Forest Lake, seventh term, District 39A in Minnesota House of Representatives.
• Dr. John Gonzalez '99, associate professor of psychology, board member, Bemidji Area Public Schools.
• Ron Johnson '75, fifth term, Ward 3, Bemidji City Council.
• Michael Meehlhause '12, second term, Ward 1, Bemidji City Council.
• Marion O'Neill '92 of Maple Lake, fourth term, District 29B, Minnesota House.
• Torrey Westrom '98 of Elbow Lake, fifth term, District 12, Minnesota Senate.
Minnesota P.E. teachers can earn DAPE licenses online at BSU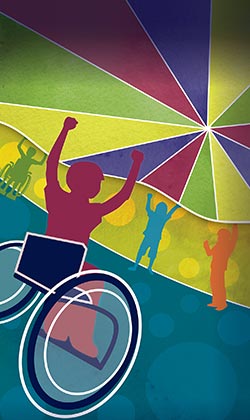 Minnesota physical education teachers or undergraduate students majoring in physical education can earn Developmental Adapted Physical Education (DAPE) licensure at Bemidji State through a new online program.
DAPE licensure certifies physical education teachers to instruct students with special needs in ways that meet individual education program goals in the physical education or movement setting.
"The majority of K-12 physical education and health teaching positions that become available require that applicants have a current DAPE licensure," said Dr. Jim White, professor and chair of the Department of Human Performance, Sport and Health. "Students who earn this licensure are also earning teaching degrees in P.E. and health and are optimally positioned to compete for K-12 teaching positions."
Interested students must apply to BSU as graduate students, although courses may be taken for undergraduate or graduate credits. Graduate-level credits may be applied to future graduate programs. For more information, call the School of Graduate Studies, (218) 755-2027.
Tunnels renamed "Beaver Trail" and get new signs to guide users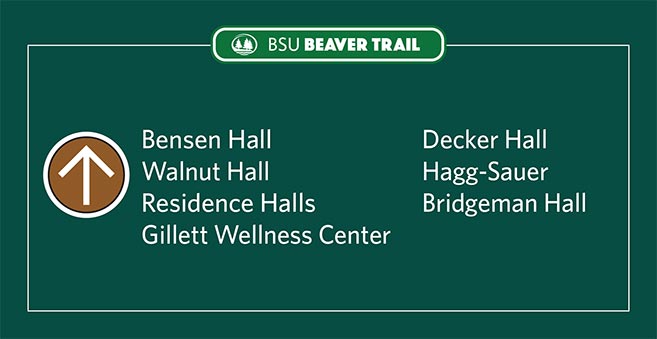 New directional signage installed in November throughout the Bemidji State tunnel and skywalk network have given the system a new name – "The Beaver Trail."
A cross-campus task force on wayfinding and campus branding identified the tunnel signage replacement as an urgent priority because both students and visitors rely on the underground network in inclement weather.
The green directional signs, soon to be complemented by "you are here" maps, give the network a more distinctive name than "the tunnels."
Renewal of food-service contract leads to extensive improvements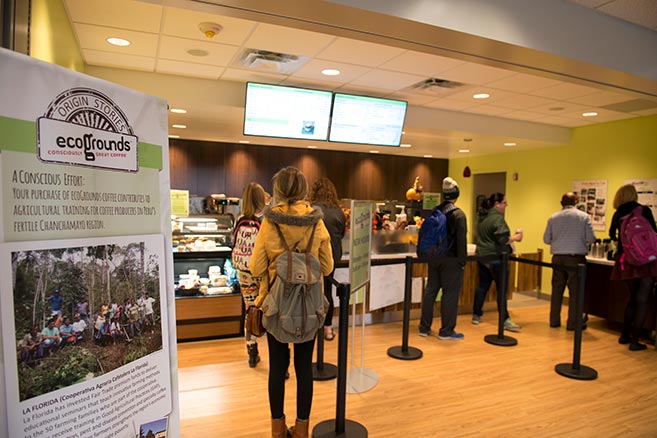 A five-year renewal of Bemidji State's food services contract with Aramark, completed in spring 2016, has brought a number of changes to dining facilities across campus.
The most significant changes came to the Lakeside Food Court in the lower Hobson Memorial Union, which was entirely remodeled. The remodel focused on changing traffic patterns and reducing the amount of time spent standing in lines. Customers can now select their food station and pay there, rather than going to another checkout line. The area also received new wall murals designed by BSU's Office of Communications and Marketing. Wally's Dining Center and the Upper Deck snack bar also received updated signage.
The upper Hobson Memorial Union has welcomed a new coffee bar, ecoGrounds, to its lounge area overlooking the Central Plaza. The shop replaces the Java City stand in the Lower Union and makes coffee more centrally available to the entire campus. EcoGrounds, a subsidiary brand of Java City, serves Fair Trade-certified coffees and teas and reinvests in the communities that grow its beans.
Aramark also has added a new clinical dietician to its campus staff, Jean Swailes, who will oversee a new allergen-free food station in Wally's and is available for individual nutrition counseling.
Minnesota State system honors Hanson as president emeritus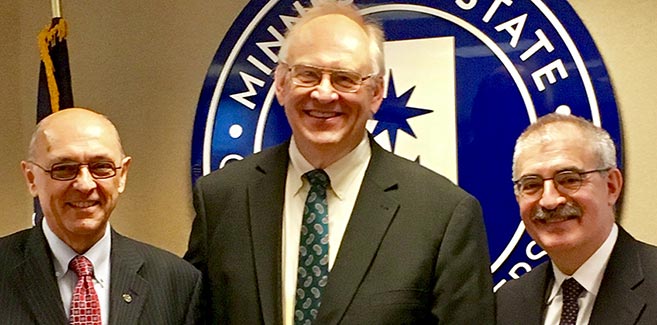 Dr. Richard A. Hanson, who served six years as president of Bemidji State and Northwest Technical College from 2010-2016, was granted president emeritus status by the Minnesota State Colleges and Universities Board of Trustees on Oct. 19.
Hanson's tenure in Bemidji included leadership of BSU's first-ever comprehensive fundraising campaign, Imagine Tomorrow, which concluded in June and surpassed its $35 million goal. He also placed renewed emphasis on international recruitment and education abroad and championed BSU's distinction as a north woods campus that offers residential students a transformative
college experience.
Students succeed in push for Bemidji to mark Treaty Day
A community-wide effort spearheaded by Bemidji State students convinced the City of Bemidji to recognize the federal Columbus Day holiday as Indigenous Peoples'/Treaty Day.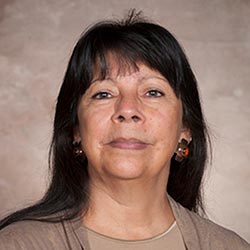 The local effort was supported by students in BSU's Federal Indian Law course, taught by Dr. Vivian Delgado, BSU's current interim assistant dean of the College of Arts and Sciences, and by the BSU Sustainability Office through its partnership with the community group Ebiyang.
Delgado's students, who typically have worked on a semester-long project with representatives from native nations at Red Lake, White Earth or Leech Lake, decided instead to pursue Treaty Day recognition with the city of Bemidji.
On Oct. 3, Bemidji Mayor Rita Albrecht signed a proclamation recognizing that "historically and currently, Bemidji has been an indigenous village" and that indigenous peoples have substantially shaped the city's character.
System drops "MnSCU" acronym in favor of "Minnesota State" brand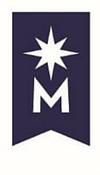 The system of 30 colleges and seven universities that form the Minnesota State Colleges and Universities will now be known collectively as "Minnesota State."
The system's Board of Trustees of Minnesota in June approved the change, seeking to shed the acronym "MnSCU, which lacks meaning and fails to highlight the breadth of institutions that comprise the nation's fifth-largest system of higher education.
The move does not change the legal name, which is written in state statute, but it does include new visual branding elements to help distinguish Minnesota State schools from other colleges and universities in the state.