Fall / Winter 2016
Towns are in Minnesota unless noted. Alumni names appear in bold. Send CLASS NOTES information and photos to alumni@bemidjistate.edu or call toll free: 1-877-BSU-ALUM.
Class of 2016
| | |
| --- | --- |
| | Ashley Kiecker of Kenosha, Wis., has joined the team at MG Design, which designs, fabricates, builds and ships booths and displays to trade shows around the world. Kiecker works in the exhibit design area of the company, which is based in Pleasant Prairie, Wis. … |
| | Adam Langan of Baxter is a fourth-grade teacher at the elementary school in Nisswa … |
Channing Kimble began working as a patrol officer in the Roseau Police Department this fall. He makes his home in Warroad … Alexandra Stene has begun teaching language arts and science to fifth- and sixth-graders at Heron Lake-Okabena Elementary School. The new teacher and her daughter live in Okabena.
Class of 2015
| | |
| --- | --- |
| | Matt Prapavessis has joined the Greenville Swamp Rabbits, an affiliate of the New York Rangers of the NHL. A defenseman, Prapavessis previously played for the Rochester Americans of the American Hockey League and Elmira of the ECHL. He lives in Oakville, Ont., but will relocate to South Carolina for the upcoming season … |
| | Jennifer Von Ohlen is a reporter for the Enterprise Dispatch, a newspaper serving Dassel and Cokato. Von Ohlen, who resides in Cokato, also works as a paraprofessional librarian at Dassel-Cokato High School … |
McKenzie Leslie has begun teaching fourth grade at the elementary school in Frazee … David Rysdam is a high school social studies teacher in Luverne, where he lives with his wife, Jennifer, and their six children. Rysdam has also accepted coaching assignments in seventh-grade volleyball, eighth-grade girls' basketball and seventh- and eighth-grade baseball … Kathryn Wadsten is an associate in the commercial services department of CliftonLarsonAllen, a professional services accounting firm. She will work out of the company's office in Brainerd, where she lives.
Class of 2014
| | |
| --- | --- |
| | Haylie Anderson is teaching fourth grade in the Tri-County school district, which services towns in the Karlstad area. She will also serve as the junior varsity volleyball coach. Anderson had previous classroom experience in Newfolden … |
| | Krissy (Denzel) Anderson began working last summer as manager for the Laurentian Chamber of Commerce, which serves four cities on Minnesota's Iron Range. She will coordinate events as well as implement marketing and sales efforts for the organization. She and her husband, Jason, live in Virginia … |
| | Molly Arola has been named head coach of the Alexandria High School girls' hockey team. A physical education teacher at Discovery Middle School in the district, she had prior coaching experience at the 2015 Girls' National Invitational Tournament in Edina and the U15 Girls' National Development Camp in St. Cloud. She lives in Alexandria … |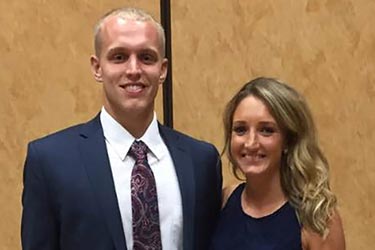 Jake Schalow will teach physical education and coach the boys' basketball team this winter at the high school in Merrill, Wis., where he lives. In August, he married Morgan Lee ('16), a professional recruiter at QPS, a firm in Wausau, Wis., that specializes in technical, industrial, professional and office staffing … Cal Oldenburg is a treatment specialist assigned by the Advanced Engineering and Environmental Services company to assist with the operations of the New Town, N.D., water treatment plant. He lives in Watford City, N.D. … Al Reszel recently completed a 517-mile bike ride from Minneapolis to Chicago to raise awareness and funds for the Breast Cancer Research Foundation. His wife, Terry, is a cancer survivor. Reszel earned a BSU education degree after serving as a business executive and corporate trainer for 29 years. He has been teaching special education for the past five years at Yellow Medicine East High School in Granite Falls. The couple have two adult children and make their home in Richmond … Jessie Voeller is in her second year of teaching second grade at Golden Lake Elementary in Circle Pines.  A resident of Arden Hills, she also coached U15 soccer in Mahtomedi … Ian Olson is a farm bill assistant and technician with the Yellow Medicine Soil and Water District in Clarkfield. Olson is responsible for implementing local conservation aspects of the federal farm bill … Mitchell Beekman will instruct high school social studies and advise the student council in the Luverne district. He and his wife, Dani, live in Ellsworth …Shannon Welin is the first-grade teacher at Lake of the Woods Elementary School in Baudette, where she had prior experience as a substitute. She is from Roseau … Kayla (Weiss) Good teaches first grade in the Mora Public School District after serving in a fifth-grade classroom for two years in Braham. She and her husband, Aaron, live in Pine City.
Class of 2013
Emily Erickson will coach the Hibbing/Chisholm high school girls' hockey team. A resident of Coleraine, Erickson teaches math in the Hibbing school, where she had been JV coach prior to moving to varsity … Casey Reierson has been hired to coach the Bemidji High School girls' hockey team. Reierson teaches fifth grade at J.W. Smith Elementary School in Bemidji, where he lives with his wife, Hailey, and one young child … Jill Ollmann brings three years of experience in the Lake Park-Audubon school district to her kindergarten position at Frazee, where she will also coach junior high volleyball. A resident of Perham, she and her husband, Andrew, have two young children … Jenna (Bangerter) Nordmann is teaching early childhood family education in the Sauk Rapids-Rice school system. She and her husband, Jesse, live in Sartell with one young child.
Class of 2012
| | |
| --- | --- |
| | Grant Huttel of Duluth was hired by Johnson Insurance Consultants, where he will work in health and life insurance, as well as group employee and benefit products … |
Drew Fisher retired from playing professional hockey and joined Federated Insurance in Owatonna, where he is in training. Fisher played professional hockey for five seasons, first in the United States and later in the United Kingdom. He lives in Owatonna with his wife, Jena, and their young child but will be assigned to an office in North Dakota … Lisa Simon is teaching visual arts for fifth- through 12th-grade classes in Isle. A former graphic design artist, she taught in the Indus school system prior to starting her position in August … Scott Nordquist of Halstad recently had duties as K9 handler when he was teamed with a German shepherd in the Norman County Sheriff's Office. Handler and dog recently completed training in the Twin Cities that included tracking, apprehension and drug searching. Nordquist has been with the department for two years.
Class of 2011
| | |
| --- | --- |
| | Tara Johnson is a financial services support technician at AgCountry Farm Credit Services in Fergus Falls, where she lives. She will outline multi-peril crop insurance to farmers, ranchers and rural customers … |
| | Mark Thode displayed his photography during an exhibit in the Southwest Minnesota Arts Council Art Gallery in Marshall. The collection featured photographs depicting the landscape of the southwestern Minnesota prairie. Thode is a graphic artist who owns a photography business in Pipestone … |
Ian Lowe has signed a contract to continue playing hockey for the Wichita (Kan.) Thunder, an ECHL team affiliated with the Ottawa Senators of the NHL. Lowe is beginning his fifth year with the Thunder, which he captained last year. When not playing hockey, he works for BRACE, an industrial painting company. He and his wife, Candace, have two preschool children.
Class of 2010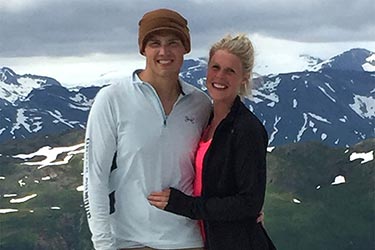 Alexis Meskill has moved from the Climax-Shelly High School to Isle to teach English and language arts on the middle and high school levels. She and her husband, Ken, have two children … Chris McKelvie will be an assistant hockey coach in the Army program at West Point, N.Y. Prior to coaching, McKelvie played professionally for the Albany Devils, an American Hockey League affiliate of the NHL's New Jersey Devils. He and his wife, Courtney, live in New Windsor, N.Y., with one young child … Erin (Sullivan) Rehnblom was selected as a Teacher of the Year within the Elk River Area School District and advanced to the final round for the state award. She teaches first grade at Otsego Elementary School. Her husband, Collin, works as an account manager at Surescripts, a medical software routing company. They live in St. Michael … Chance Goudge is in his second year teaching social studies and first year as assistant varsity softball coach at the high school in Aitkin.
Class of 2009
| | |
| --- | --- |
| | Jessica Strom traveled to the University of Wurzburg in Germany last summer to present a poster program "Manipulatives in Mathematics Education" to an international group of math teachers. Strom teaches math at Win-E-Mac High School near Erskine. She lives in McIntosh with her husband, Toby, and two children … |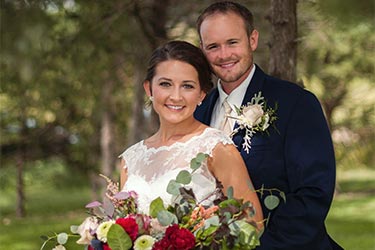 Tyler Bennett was named senior loan officer and branch manager for the Alexandria office of AgCountry Farm Credit Services, which provides farmers, ranchers, rural customers and agribusinesses with credit and financial assistance. His wife, Robyn (McGrady '10), is the benefits administrator for American Business Solutions in Glenwood. The couple lives in Kensington.
Class of 2008
Jenni Knutson of Crookston married Joey Perreault in September. Knutson teaches early childhood family education in the Crookston school district and also has been assigned to the school readiness program, where she will measure children's

 

cognitive, social and emotional preparation.
Dawn (Anderson) Schoonmaker earned the life, health and accident producer license and will serve clients at the Crossing Groups office of Thrivent Financial in Grand Rapids. Schoonmaker and her husband, Arthur, have three children ranging in age from one to eight. They live in Goodland …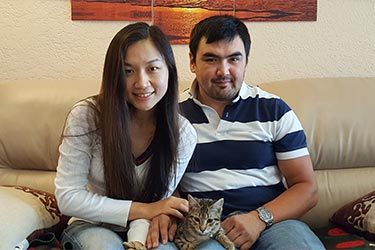 Naomi (Shien Yuin Yong) and her husband Alvin E. ('05) Hymes live in Bellevue, Wash. She operates the business Mindsofpiano, where she teaches piano and violin to 25 students. Alvin is a customer service agent for Alaska Airlines at Sea-Tac Airport in the Seattle area … Dr. Jaimie (Weiss) Kueber joined Whelan Eye Care clinic in Bemidji as an optometrist this year after working in retail optical and private practice. She received the COVD Award for Excellence in Vision Therapy from Indiana University and a 2016 Optometrist Excellence in Patient Care Award. She resides in Park Rapids with her husband, Thomas, and three children.
Class of 2006
| | |
| --- | --- |
| | James Scholly has been selected to serve as coordinator of the Clear Lake Watershed in Iowa, where he will help homeowners implement water quality management practices. He and his wife, Bri, recently relocated to Ventura, Iowa. |
Class of 2005
| | |
| --- | --- |
| | Bryce Stordahl has been hired as a project manager in the Bemidji office of Kraus-Anderson Construction. He will manage multimillion-dollar commercial construction for industrial and institutional business. He lives in McIntosh with his wife, Andrea, and two children under the age of 3 … |
Andrew Chapin is an insurance agent for the Duluth branch of Farmers Insurance. He previously served as an auditor at AIM Healthcare for nine years. He and his wife, Bonnie, have three young children and live in Duluth … Emily (Berg) Schiffler brought nine years of experience in elementary classrooms to her assignment as a third-grade teacher in the elementary school of the Sauk Rapids-Rice district. She and her husband, Justin, have two preschoolers.
Class of 2004
| | |
| --- | --- |
| | Jennifer Dagenais-Brunder is an interior designer for LHB, a company in Duluth that provides diverse services in support of construction projects, including engineering, architecture, designing and surveying. Dagenais-Brunder previously worked as an interior designer focusing on residential property before moving to her new job, which will encompass projects for government, health care and education. She lives in Duluth … |
| | Josh Peterson of Bemidji has moved from his freelance journalist position to a job as multimedia journalist and social media coordinator for Lakeland Public Television. His previous television experience included stints at KCCO-KCCW in Alexandria, WDAZ in Grand Forks, N.D., and WCCO in Minneapolis … |
| | Sara (Wilson) Zimmerman of Bemidji joined AirCorps Aviation of Bemidji as its business coordinator, which includes such areas as human resources, safety compliance and marketing … |
Britt Buerskin has been hired as a plan examiner for the City of Duluth, where she lives. Her previous experience included working as a project manager, designer and drafter with a construction company … Joshua Mailhot is an emotional behavior disorder specialist in the Onamia school system. His past teaching experience was in North Carolina and Minnesota. He and his family live in Brainerd.
Class of 2001
| | |
| --- | --- |
| | Tessa Larson is teaching middle and high school Spanish in the Caledonia school system. She lives in Caledonia with her partner, Mark Lawler … |
| | Trisha Zimmerman has been hired as development and marketing manager for the Second Harvest North Central Food Bank in Grand Rapids. She previously served as a program assistant at the Blandin Foundation. She and her husband, Paul, live in Bovey with two pre-teen children … |
Rita (Hutchinson) Albrecht has been named northwest regional director by the Minnesota Department of Natural Resources. As director, she will serve as the DNR's commissioner to the region, coordinate the work of the management team in implementing resource and policy decisions, and serve on the department's senior management team. She and her husband, Mike, have a daughter, Julie Beyerl, who graduated from BSU in 2005. Julie works in the office of the Minnesota Senate's majority leader caucus. Rita and Mike live in Bemidji, and Julie and her husband, Anton, reside in Minneapolis.
Class of 2000
Sheree Hansen has retired after working for 29 years at Nisswa Elementary School. While she started as a second-grade teacher, she retired as a media specialist and interventionist. A resident of Brainerd, she and her husband, Randy, raised two grown children … Clayton Lilleby has been promoted to vice president of sales and manager in the Fargo, N.D., branch of First Community Credit Union … Chad Davis is manager of both floor and online sales at Brekken's Clothiers in Brainerd. A member of the Brekken team for 10 years, he and his wife, Cindy, make a home in Brainerd for their three pre-teenaged children.
Class of 1999
Mary Thompson has been named a Childhood Immunization Champion for her efforts to promote childhood immunization in Minnesota. The Center for Disease Control and the CDC Foundation jointly present this award to one recipient in each state, the District of Columbia and eight U.S. territories to recognize an individual's contribution toward improving public health through childhood immunization. A registered public health nurse from Caledonia, Thompson was noted for her innovative approaches to creating a culture where immunizations are a priority in schools. She and her husband, Doug, live in Houston … Jennifer (Hayes) Huisman teaches middle and high school art in Luverne, where she lives with her husband, Brant, and their four children.
Class of 1998
| | |
| --- | --- |
| | Becky Ylitalo was named Teacher of the Year in the Badger school district. She teaches English from grades seven through 12 and also directs school plays. Yitalo authored the children's book, "Gretchen and the Grumpybugs." She lives in Roseau with her husband, Leslie, and a blended family of four teenagers … |
Sharon (Voigt) Hintgen retired after teaching mathematics for 24 years at Minnesota State Community and Technical College in Fergus Falls. She also advised Mu Alpha Theta, a society to promote interest in math and recognizing student achievement. Hintgen and her husband, Tom, have two adult sons and live in Fergus Falls.
Class of 1997
| | |
| --- | --- |
| | John Vukmanich became principal at North Woods School in Cook. Vukmanich has 14 years' experience in education, including as dean of students and assistant principal at the high school in Virginia, where he lives with his wife, Cari, and three elementary-aged children … |
Joshua Stevenson has been named administrator for Cass County in northern Minnesota. He previously served the county as a forest resource manager, human resource director and land commissioner. He and his wife, Stephanie, live in Backus and have three children.
Class of 1996
Laine (Blumer) Larson was selected as superintendent of Brainerd public schools. She previously served the Thief River Falls district in that capacity.

 

She and her husband, Warren, live in Brainerd and have two adult children …
Eric Gorghuber was named IT senior director at American Solutions for Business in Glenwood. He will direct business solutions that include the company's proprietary software, be involved in key strategic initiatives, and lead the adoption of new programs. He lives in Garfield with his wife, Bonita, and an elementary-aged child … Chris McLean joined Thrivent Financial's office in Thief River Falls, where he will discuss financial strategies, provide customer service and outline products for clients. He resides in Thief River Falls … Janelle Breitbarth retired from teaching in the Chisholm school district for 25 years, with the last 14 spent leading a mathematics classroom. Her resume includes teaching in both Indiana and Illinois. She and her husband, Steve, raised three adult children and reside in Chisholm … Gary Jensrud was named Teacher of the Year at S.G. Reinertsen Elementary School in Fargo, N.D., where he lives. He had previous teaching experience in Prior Lake, Dilworth and Glenwood before taking over fifth-grade classroom duties at Reinertsen … Andy Sawatzke is the new principal at Maple Lake Elementary School. His experience includes 20 years in education, most recently as an assistant principal in Big Lake. He resides in Monticello with his wife, Lisa, and four school-aged children.
Class of 1995
| | |
| --- | --- |
| | Shawn Crowser of Cloquet recently became a lending sales manager at Hermantown Federal Credit Union. He has previous experience in personal banking and investment resources at a number of financial institutions … |
Allyssa Stenson received a 2016 Excellence in Nursing Award within the Fargo, N.D., Veterans Administration Health Care System. A registered nurse at the Bemidji-based outpatient clinic, Stenson was one of two registered nurses within the system recognized for active engagement with patients and demonstrated excellence in care.
Class of 1993
Alvin Hymes serves as the corporate controller for Robert Bell and Associates, an employee-owned business in Anchorage, Alaska, which provides civil and mechanical engineering services. A major component of their work supports the oil industry of Alaska's North Slope. He and his wife, Molly, live in Eagle River. The couple has two children, including son Alvin E. Hymes ('05), a customer service agent for Alaska Airlines in Bellevue, Wash … David Gooch has assumed principal duties at Bagley High School after leaving his assistant principal position at the high school in International Falls. He and his wife, Amber, have two children and live in Bemidji.
Class of 1991
| | |
| --- | --- |
| | Jayne Dusich was inducted into the NSIC Hall of Fame. Dusich was the first woman to win back-to-back conference cross country champions and set BSU records in eight track and field events while being named an All-American. She and her husband, Dan, operated a business in Ely, where they lived, until retiring after 38 years. She remains active as a coach for the Ely boys' and girls' cross country teams and the girls' track team … |
Debbie Blowers retired after teaching 24 years in the Motley elementary school, primarily in first grade. She will stay busy on the family farm with her husband, Dick, and with substitute teaching. The couple lives near Motley and has two adult children.
Class of 1990
| | |
| --- | --- |
| | Terri Forseth was named 2016 Teacher of the Year in the Bemidji Area Public Schools. Forseth taught fourth grade at Central Elementary but also has experience in second and third grades. She lives in the town where she grew up, Bemidji … |
Larry and Melanie (Niedermann, '82) Wolfe both retired after lengthy terms as the top financial officials in Cass County. Larry left after 22 years as the county's chief financial officer, while Melanie worked in the office for 34 years, most recently as director of business management for health, human and veteran's services. Larry will continue to operate an accounting service for small businesses, in which Melanie may also become involved. The couple has one college-bound child and lives in Walker.
Class of 1989
| | |
| --- | --- |
| | Paul Cyr was inducted by the Minnesota Wrestling Coaches Association into the David Bartelma Wrestling Hall of Fame. A teacher and principal at the consolidated New Richland-Hartland-Ellendale-Geneva district, Cyr coached his wrestling teams to a 445-304-12 record, 11 conference titles and four state tournament appearances. Named Section Coach of the Year five times, he lives in Oklee and remains active as a wrestling referee … |
John Lund is vice president of North American sales for Tennant Company, which creates and markets products to create cleaner, safer and healthier work environments. He lives in Minnetonka with his wife, Brenda. Their oldest son, Ben, is majoring in criminal justice at BSU. They have a teenager living at home.
Class of 1988
| | |
| --- | --- |
| | Mike Laughlin is the general ledger accounting manager for the American Society of Anesthesiologists in Schaumburg, Ill., were he also lives. He supervises the compilation of financial statements and data for the society and its eight related organizations. |
Class of 1987
| | |
| --- | --- |
| | Marcia (Moline) Bahr is director of marketing and communications at Mankato Clinic, where she handles media relations, advertising and website content. She also serves as president of the Mankato Clinic Foundation. He husband, Brett ('89) is controller for Brenton Engineering. The couple has two young adult children and lives in Mankato … |
|   | Ron Kuschel published the e-book "23 Days in the Life of a Park Ranger," a work of fiction based on his experiences from more than 36 years as a park or forest ranger with the Minnesota Department of Natural Resources. It is available through Amazon. He retired in 2011 after holding the position of regional part operations supervisor in Grand Rapids. He now lives in Land O' Lakes, Fla. … |
John Urquhart has graduated from the FBI National Academy in Quantico, Va., where he underwent training in advanced communication, leadership and fitness. Urquhart started out as a patrol officer in Coon Rapids 27 years ago and now oversees the investigation division as a captain. He and his wife, Deb (Schlitz, '86), have two adult children and live in Coon Rapids … Jeff Hall has retired as a team leader at the Department of Veterans Affairs in Duluth. A member of the Army Reserve for 28 years before retiring in 2005, he was deployed to the Persian Gulf as a platoon leader and later to Bosnia as an operations officer. Hall lives in Wrenshall.
Class of 1986
Russ King performs nationally and internationally in cabaret venues as Miss Richfield 1981 in shows that feature a mix of comedy, singing and dancing.

 

From Minneapolis, he presents annual Christmas shows in the Twin Cities areas and has appeared on stages across the United States and in Singapore, Hong Kong and New Zealand.
Class of 1985
| | |
| --- | --- |
| | Barb Schlichting authored "The Blood Spangled Banner," a novel that featured Dolley Madison in the first installment of a series of First Lady mysteries. A second work, "If Words Could Kill," features Mary Lincoln and is in production. From Bemidji, Schlichting and her husband, Bob, have two grown children … |
| | Jeff Sebenaler retired last May as chief of the Minnetonka Police Department, which he joined in 1990 after serving as a police officer for six years in Thief River Falls. He and his wife, Andrea, have two young adult children … |
John Kennedy has taken over as general manager of the Peninsula Oilers, a member of the Alaska Baseball League based in Kenai. Kennedy is a retired math teacher who played for and coached the Oilers during various times since 1982. His wife, Linda (Sandercock, '84), retired recently after working for various non-profit organizations for more than 20 years. The couple resides in Soldotna, Alaska, and has two adult children … Kelly McCalla of Owatonna will serve as interim vice president of academic and student affairs this year at Riverland Community College, which includes campuses in Austin, Albert Lea and Owatonna. He had been Riverland's dean of the arts, humanities and social sciences division prior to moving to the VP position. His wife, Celeste ('87, Novak), is a former corrections officer and now a stay-at-home mom with the couple's two children.
Class of 1984
Joel Viss was inducted by the Minnesota Wrestling Coaches Association into the David Bartelma Wrestling Hall of Fame. A junior high science teacher in Chatfield, he coached the high school's wrestling team to more than 400 wins and three state tournament appearances, including a championship in 2014. A three-time section Coach of the Year and the 2014 Class A State Coach of the Year, he previously had been inducted into the Region One Wrestling Hall of Fame. He and his wife, Margaret, have two children. They live in Chatfield.
Class of 1983
| | |
| --- | --- |
| | Colleen (Walker) Falk is serving a term as chair of the Bemidji Area Chamber of Commerce. A business consultant and planner at Fieldstone Financial, she has also served 27 years as an adjunct instructor at Northwest Technical College in Bemidji. She and her husband, Tim, are owners of Anytime Fitness Clubs in Crookston and Grand Forks. The Bemidji residents have two grown children … |
Brad Goodwin retired last spring after teaching and coaching in the Belgrade-Brooten-Elrosa school district for 32 years. He was hired in 1984 to teach physical education, health and science, as well as serve as the boys' head basketball coach, boys' head track and field coach, and junior high volleyball coach. He and his wife, Amy, live in Brooten … Paul Jenkins received the Teacher of the Year Award from the Eagle Valley School District, where he taught for 31 years until retiring in November. In addition to teaching fourth and fifth grade, he coached the high school baseball team for 28 seasons, winning five conference Coach of the Year Awards. His wife, Joan (Anderson, '82), works in the admissions office at Central Lakes College in Brainerd, where the couple resides. They have two adult children … Kim (Babula) Zerr works at KinderCare Learning Center with school-aged children up to 12th grade. Zerr and her husband, Jeff, have three children. Two of her daughters are enrolled at BSU and following their mother's footsteps in women's basketball. Hanna is a senior guard who appeared in 27 games and averaged 11 points per outing last year, and Haley is a sophomore forward who played in 13 games in her first season. The Zerrs live in Shakopee … Doug Shequen retired as a sixth-grade teacher in the Motley school system, where he also coached volleyball and baseball. He lives in Staples … Randy McIntire continues to teach art and physical education at Tracy Area High School, but he has stepped down after 33 years as a football coach for Tracy-Milroy-Balaton, including 20 as co-head coach for the team, which last year won the section championship. He will continue to coach the girls' and boys' golf squads.
Class of 1982
| | |
| --- | --- |
| | Beth Baker has retired after teaching junior high band in Osseo for 33 years. Baker, who lives in Brooklyn Park with her partner, Laura Johnson, is the daughter of retired BSU faculty member Bob Baker … |
| | Steve Reyes was named vice president for the central region of Olympic Steel, a leading national metals service center. Reyes' responsibilities now include oversight of the Minneapolis coil and plate divisions, operations in Mexico and warehouses in Minnesota and Washington. Based in Minneapolis, he will maintain his existing management duties for Iowa, Oklahoma and Texas. |
Class of 1981
| | |
| --- | --- |
| | Mike Turnbull had his book "A Guide to Middle School & Beyond" published by Rivershore Books. It is intended for children, parents, teachers and counselors. Turnbull also completed a trilogy of anecdotes and stories: "Random Thoughts of a Stupid Man," "More Random Thoughts of a Stupid Man" and "Still a Stupid Man." A coach and instructor at Hibbing Community College who will retire in 2017, he and his wife, Pam (Loe, '83), live in Hibbing, where she runs the Mitchell-Tappan House Bed & Breakfast. The couple has two grown children … |
| | Mark Van Every has been named supervisor of Black Hills National Forest in South Dakota. Van Every has worked for the U.S. Forest Service in a variety of capacities for 33 years. In South Dakota, he will be overseeing 1.2 million acres. He and his wife, Janelle, are relocating to Custer. They have three grown children … |
Deb Wanek was given a three-year contract extension as superintendent of schools in Pelican Rapids. Prior to the 2007-08 academic year, when she started in Pelican Rapids, she was superintendent for six years at Henning. She also had experience as a principal and teacher in Fergus Falls.
Class of 1979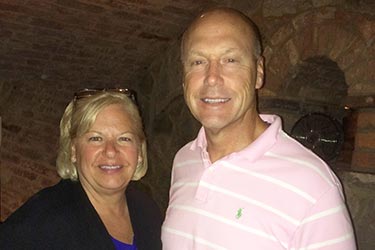 John Diesch has been named executive vice president for manufacturing at LSB Industries, a company based in Oklahoma City, Okla., that produces and sells chemical products for the agricultural, mining and industrial markets. Diesch has extensive management experience in major agricultural chemical companies. He and his wife, Debbie (Noreen, '80), have two children.
Class of 1978
| | |
| --- | --- |
| | Becky (Dahlen) Tischer was named the Adult Honoree by the Arthritis Foundation of Minnesota for her work representing the foundation by spreading awareness of the severity of rheumatoid arthritis and assisting in fundraising efforts. She retired from teaching business and technology in Willow River schools and lives in Frederick, Wis., with her husband, Gerry. They have two adult children … |
Dean Downer of Massena, Iowa, retired from CAM Community Schools in Anita, Iowa, after a teaching and coaching career that spanned 38 years. Downer taught middle and high school industrial arts and was named the 2015 Middle School Shop Teacher of the Year. As a football coach for 25 seasons, he amassed a 136-63 record and won 12 conference or district titles.
Class of 1977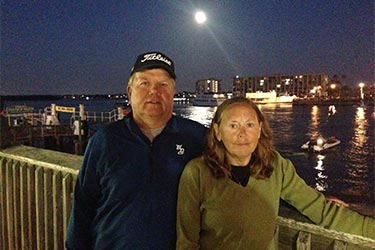 Kerry Bidle was inducted into the Minnesota High School Golf Coaches Association Hall of Fame. Bidle, who taught social studies and special education at Virginia High School before becoming the athletic director in 2007, coached the boys' golf team to five appearances in the state tournament and had two golfers win state titles during his tenure. He was named section Coach of the Year five times and earned the state Coach of the Year award in 2007. Ann, his wife, was a math teacher in the district who retired in 2012. The couple resides in Virginia, where they raised two grown children … David Galovich of Crosby was inducted into the Mesabi Range College Hall of Fame. Galovich retired after teaching social studies and physical education for more than 30 years. He continues to coach basketball, having led Erskine, St. Michael-Albertville and Crosby-Ironton teams to 666 wins. His success with the C-I Ranger includes nine conference titles and eight trips to the state tournament. In 2004 he was named Class AA Coach of the Year and in 2015 was cited as one of Minnesota's top 100 boys' and girls' coaches of all time. He was inducted into the Minnesota High School Basketball Coaches Hall of Fame in 2005.
Class of 1976
Jim Radke joined the Ministry Medical Group as a physician assistant providing general orthopedic care at the company's facilities in Stevens Point, Wis. Board certified, Radke works closely with the orthopedic team in diagnosing problems, selecting treatment plans and following through on recovery. He has two adult children and lives in Stevens Point.
Class of 1975
| | |
| --- | --- |
| | Susan Amos Palmer has retired after 38 years developing communications and marketing efforts for Metropolitan State University. During her tenure, the campus in grew from one building in St. Paul to provide instruction in four locations and more than 20 instructional sites across the Twin Cities. As the publication and news service director, she was responsible for news releases, newsletters, brochures, catalogs and other printed materials. She was also the commencement coordinator. She and her husband, Rod, live in Arden Hills and have three children … |
| | Mike Ellingsen was the featured speaker at a meeting of the South Central Artisans in Hutchinson, where he presented a show and lecture on quilts from the land of the Jolly Green Giant. A retired music teacher and choir director in Blue Earth schools, he is well known as an instructor and lecturer to quilt guilds throughout Minnesota. He teaches at the Calico Hatch in Hayward, is a founder of the Blue Earth Valley Quilters and just finished a term as president of the Prairie Star Quilt Guild. He lives in Blue Earth with his wife, Sue. They have two grown children. |
Class of 1974
| | |
| --- | --- |
| | David Barnum was inducted into the Crookston High School Hall of Fame. A member of the Minnesota High School Coaches Association Hall of Fame, he taught science and drivers education in Crookston while also coaching he girls' track team. He guided his squads to four state true team championships and twice was named the Minnesota Girls' Track and Field Coach of the Year. His wife, Mary (Spurlin), is retired after working as both a technologist and an insurance specialist in the medical field. The couple has three grown children, including Eric, who graduated from BSU in 2002. David and Mary live in Nevis. David commutes to Park Rapids, where he manages Summerfield Place Apartments … |
| | Glen Hasselberg was inducted into the Minnesota Interscholastic Athletic Administrators Association Hall of Fame last spring. Hasselberg is the former athletic director and current golf coach for the Staples-Motley school system. As an activities administrator, he ran section tournaments in nine sports as well regional competitions for speech, drama and music. He was named the Subsection Athletic Director of the Year three times. He and his wife, Rebecca, live in Staples, where they raised five children… |
| | Peggy Ingison is senior director of administration and support services at the Minnesota Historical Society. Ingison previously served as the organization's chief financial officer and is now responsible for facilities and risk management, technology, finance, human resources and volunteer as well as intern functions. She lives in St. Paul … |
| | Rick Koivisto was inducted into the Minnesota Girls' Basketball Coaches Hall of Fame. Koivisto retired from teaching fourth grade in 2008 and from coaching in 2012 in the Red Lake County Central school system. During his tenure at the high school in Oklee, he amassed a 507-312 record, winning seven conference championships and one section title. He was named Section 8 Coach of the Year in 2009. He and his wife, Janet, live in Plummer and have two adult children. |
Class of 1973
Barry Froiland retired as manager of the information system and billing services for the city of Thief River Falls. He started in the city's billing office in 1974, and his position grew over time to encompass technology needs, from computers to televised meetings. He and his wife, Susan, raised three adult children and have purchased a winter home in Arizona while maintaining a year-round residence in Thief River Falls.
Class of 1970
| | |
| --- | --- |
| | Carmen Fumia was selected as the Titan of Taconite, a title bestowed on an individual who has made significant contributions to the city of Hibbing. The title includes serving as an ambassador of Hibbing and being actively involved in the town's Winter Frolic celebration. A teacher and school counselor who retired in 1993, he remains involved with many civic and local organizations, from hospice to the Elks Club. He and his wife, Shirley, have five children … |
Don Cavalier retired after a 40-year career serving the University of Minnesota Crookston. He initially directed the school's placement office and added duties in alumni relations, counseling, diversity and other programs. He also was the university's head baseball coach. He and his wife, Mary, live in Crookston and have two adult children.
Class of 1968
| | |
| --- | --- |
| | Eileen Lien of Gonvick has been named the First Lady of Clearwater County, an honor recognizing the extraordinary efforts of women within their communities. An elementary education and reading teacher for 30 years, she embarked on an active life volunteering for such organizations as Samhold Lutheran Church, the Good Samaritan Home, Clear Waters Life Center, the Gonvick Lions Club and Gonvick Public Library. She and her late husband, Frank, have three children. |
Class of 1964
Dr. James Belpedio recently retired as a professor of history and government at Becker College in Worcester, Mass. During his 42-year career at Becker, Belpedio published more than 40 articles and presented more than 40 papers at regional, national and international conferences. He and his wife, Lesta, live in Worcester and have four grown children.
Class of 1957
Vern Nolting was featured in a newspaper article as he supported two of his grandchildren during the Fargo, N.D., Marathon. Nolting was filling in as a cheerleader for his son-in-law, who died from cancer. Nolting retired in the early 1990s following a career in education that he concluded as a counselor at Minnesota State University Moorhead. He and his wife, Jean, had three children and live in Moorhead.
Other Alumni
Keith Johanneson was inducted into the IDEA Hall of Fame, which recognized the accomplishments of innovators who have inspired others in the region with their entrepreneurial vision, leadership and achievement. He is president of Johanneson Companies, which owns and operates supermarkets, convenience stores, liquor outlets and hardware businesses in many communities. In addition, the company operates a number of Pace Development entities that design, build and manage retail shopping centers, offices and warehouses. He lives in Bemidji … Gary Warren of Fertile was inducted into the Proctor High School Hall of Fame. Warren is assistant athletic director for facilities and operations at the University of Minnesota Crookston.