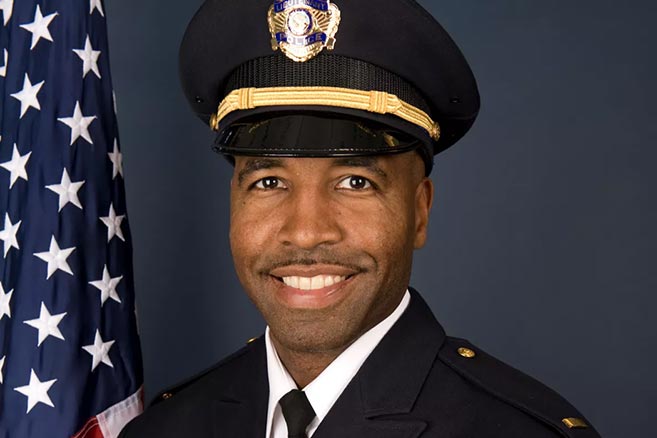 When Keith Cross graduated from Bemidji State University in 1992, he knew where he wanted to go and what he wanted to do there.
Cross grew up on the "East Side," an area of Aurora, Ill., where drug use and gang shootings ran rampant at the time. The temptation for most was to flee.
"I wanted to work in the community in which I grew up," he said.  Impressed by a police officer who visited one of his classes when he was a youngster, Cross was determined to pursue a career in law enforcement.
After receiving his degree in political science, he briefly worked as a police officer in Carol Stream, Ill., and Milwaukee, Wis., before joining the Aurora force in 1994.  He soon became part of a new unit intended to establish better police-community relations in the Chicago suburb.
"The new program was successful," Cross recalled.  "It was a very powerful tool for us."
He then became a resource officer at two middle schools, where he became more integrated into his old neighborhood.
"This was probably the most gratifying job I've had as an officer," Cross said.  "I felt I really made an impact on some young people."
The department noted his success, promoting him to sergeant in 2005, lieutenant in 2008 and commander in 2016, a position below only the chief and deputy chief on the command staff.  He now supervises about 200 officers in the city of 200,000 and leads the crisis intervention and hostage negotiator teams.
"I've had an opportunity to realize my dream, and I couldn't have asked for a more rewarding career," said Cross, who lives in Aurora with his wife, Deanna, and one child.