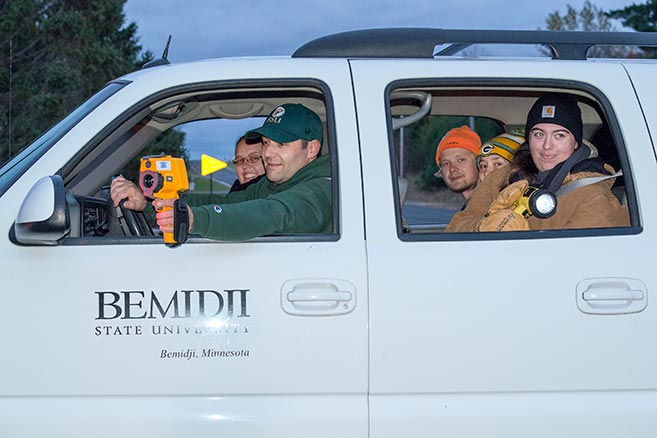 University Scholars, 2016-17
Bemidji State's first group of University Scholars was announced by former President Richard Hanson at the 2016 Commencement on May 6. They were chosen for outstanding teaching, service or scholarship over three successive years, as judged by their academic department and immediate supervisor. The scholars are: Dr. Joann Frederickson, professor of business; Dr. John Gonzalez, professor of psychology; and Dr. Marty J. Wolf, professor of computer science.
Newly tenured faculty, 2016-17
Dr. Mahmoud Al-Odeh

, associate professor of technology, art and design

Dr. Porter Coggins

, associate professor of professional education

Dr. Keith Gora

, associate professor of psychology

Andrew Graham

, assistant professor of technology, art and design

Dr. Andrew Hafs

, associate professor of biology

Dr. Brian Hiller

, associate professor of biology

Dr. Donna Pawlowski

, professor of speech communication and English

Dr. Susan Rickers

, associate professor of social work

Dr. Janine Wahl

, associate professor of professional education

Dr. Young Seob Son

, associate professor of business administration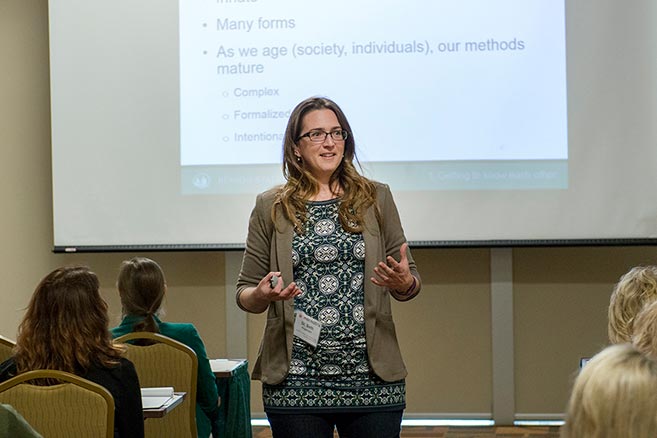 Erika Bailey-Johnson (pictured), sustainability coordinator, presented at the annual Association for the Advancement of Sustainability in Higher Education conference, Oct. 9-12, in Baltimore, Md., on "Sustainability, Diversity, Equity and Inclusion Across the Curriculum," "Assessing Course Impact: Three Models of Sustainability Evaluation," and "Campus Resilience: Prioritizing Goals and Strategies Through Collaborative Gaming." Dr. Laurie Desiderato, professor of psychology, collaborated on the third of those.
Dr. Joann Fredrickson (left) and Dr. Kelly La Venture, professors of business, received Quality Matters peer-review certifications for online courses

 

—

 

Fredrickson for her Organizational Behavior course and La Venture for her Marketing Management course in BSU's MBA program.
Dr. Mahmoud Al-Odeh, associate professor of technology, art and design, has been named director of BSU's Student Scholarship and Creative Achievement Conference, an annual celebration of academic achievement that will be held April 5. He also organized a 2016 Global Technology Management Conference held at BSU on May 26-28.
Dr. Drago Bilanovic, professor of environmental, economic, Earth and space studies, presented "A global facility for microalgal reduction of atmospheric carbon dioxide" at the Green Chemistry-Gordon Research Conference held July 31-Aug. 5 in Stowe, Vt. He also published several papers: "Preparation of biodegradable xanthan–glycerol hydrogel, foam, film, aerogel and xerogel at room temperature" in the journal Carbohydrate Polymers along with two co-authors; "Rust dissolution and removal by iron-reducing bacteria; a potential rehabilitation of rusted equipment" in the journal Corrosion Science with three co-authors; and "Cross-linking Xanthan and Other Compounds with Glycerol" in the journal Food Hydrocolloids with two co-authors. In addition, Bilanovic and three co-authors wrote "Co-cultivation of microalgae and nitrifiers for higher biomass production and better carbon capture," which has been accepted for publication in the journal Bioresource Technology.
Dr. Angela Fournier, associate professor of psychology, and BSU alumna Sara Fritsch co-authored "It can W8: A community intervention to decrease distracted driving" in the the Journal of Prevention and Intervention in the Community. Fournier also published "The Human–Animal Interaction Scale: Development and Evaluation" in the journal Anthrozoös, recapping her work with collaborators to develop the Human-Animal Interaction Scale, which can be used to describe and quantify behaviors performed by humans and nonhuman animals during their interactions.
Dr. Todd Frauenholtz, professor of mathematics, led a group of 13 students to the Minnesota Council of Teachers of Mathematics' annual spring conference, April 29-30 in Duluth. The conference allowed BSU students to interact with current mathematics teachers. The trip was supported by BSU grants from the President's Mini-Grant program and the NASA Space Grant.
Dr. Janice Haworth,

professor of music, spent six weeks teaching at Changzhi University in Shanxi Province, China, this summer. She taught a group of 11 Chinese percussion majors to play traditional rhythms of Guinea in West Africa. They concluded with a public presentation and concert.

The largest gallery in Bemidji's new Watermark Art Center has been named for Dr. Marley Kaul, professor emeritus of visual arts, and Dr. Sandy Kaul, who directed BSU's Talley Gallery for more than 20 years. Kaul, a nationally renowned acrylic and egg tempera painter, taught at BSU for more than 30 years. The gallery will be more than 2,000 square feet and feature windows providing views of Lake Bemidji. The naming was made possible by a gift from an anonymous donor during the center's capital campaign.
Pete McDonnell, systems, distance learning and circulation librarian at the A. C. Clark Library, edited a book titled "The Experiential Library: Transforming Academic and Research Libraries Through the Power of Experiential Learning." McDonnell also wrote its preface and final chapter, "Conclusion: An Experiential Librarian's Creed."
Dr. Denise Meijer, assistant professor of nursing, presented a poster "Community Health Nursing in a Global Setting" during the International Rural Nursing Conference in Rapid City, S.D., in July. She also led a group of BSU nursing students on a trip to experience nursing in South Africa.
Dr. Carla Norris-Raynbird, associate professor of sociology and gender and women's studies, presented "Moving Away from Dichotomy? Trends in Gender Studies Programs in the U.S." at the International Journal of Arts and Sciences conference, Nov. 29-Dec. 2 in Freiburg, Germany.
Dr. Donna Palivec,

professor emerita of human performance, sport and health, received the George Hanson Developmental Adapted Physical Education Award at the fall conference of the Minnesota Society of Health and Physical Educators, Nov. 11-12 in Wayzata. The award recognizes outstanding service and contributions by a professional in elementary, secondary, higher education or other area of developmental-adapted physical education.

Dr. William "Bill" Scheela,

professor emeritus of business administration, wrote the following articles: a chapter on Thailand with two co-authors in the book "Angel Financing in Asia Pacific;" "Business Angels in Emerging Economies: South East Asia," in the "Handbook of Research on Business Angels;" and "Born-Global Start-ups in Emerging Economies" in "Global Entrepreneurship: Past, Present & Future," the most recent volume in the book series, "Advances in International Management."

Dr. Marty J. Wolf, professor of computer science, has joined the editorial advisory board for the Journal of Information, Communication and Ethics in Society. As vice chair for its Committee on Professional Ethics, he is helping lead an update of the code of ethics and professional conduct for the Association for Computing Machinery. Wolf also published and presented several papers at the annual meeting of the International Association for Computing and Philosophy, June 14-17 in Ferrara, Italy.