Though Dr. Faith C. Hensrud became president of Bemidji State University on July 1, her work actually began weeks before, even as she wrapped up her provost duties at the University of Wisconsin-Superior.
After being formally introduced as president-elect of BSU and Northwest Technical College on April 25, Hensrud began a two-month orientation and briefing ahead of her first day, which fell on the Friday before Fourth of July.
"It was my assumption I would show up on July 1st, and 'here you are; you're president,'" she said, "so it was great they would give me that chance to get up to speed."
Hensrud used her lead time to learn as much as she could about the university and college, get acquainted with her direct reports and their responsibilities and talk frequently with her predecessor, Dr. Richard A. Hanson, and his executive team.
"It was a lot of conversations, questions and just learning at that point," she said.
Hensrud completed two executive-level staff hires before she officially took office. In mid-June, she promoted Marla Patrias from chief administrative officer for the BSU Alumni & Foundation to executive director for university advancement, and tapped Dr. Michael Anderson, formerly of Wayne State (Neb.) University, as interim provost and vice president for academic and student affairs. In late August, she announced that Paula Langteau would serve as interim dean of Northwest Technical College.
Hensrud has seen opportunities in the turnover of several senior administrators – not only to round out her executive leadership team, but also to recruit people enthusiastic about helping implement her vision for both institutions.
"While you don't necessarily have people with history with the institutions, you have the opportunity to bring in someone with fresh ideas and fresh eyes," she said. "I have that right now with the people I have hired as interim (provosts) – it's quite positive, and I'm pleased with the way both of them are working out."
The new president also has moved quickly to connect with leaders in the Bemidji-area community and gather input for how BSU and NTC can best fulfill their vital roles in the region. Among her many activities were a gathering with business leaders at a Bemidji Chamber After Hours mixer; cheering BSU's Education Cup-winning team at the Lake Bemidji Dragon Boat Festival; meeting hundreds of people at BSU Community Appreciation Day; joining the Greater Bemidji Economic Development board and Rotary Club of Bemidji; cutting the ribbon to unveil BSU's new University Heights housing partnership; and waving to the BSU Homecoming Parade crowd from a 1976 Beaver green Cadillac convertible purchased for the occasion by her husband, Neil, who is an avid automobile collector.
Hensrud was officially invested into her presidency during an Oct. 14 inauguration ceremony held in conjunction with Homecoming. Invoking the event's theme of "Building Bridges, Transforming Lives," she challenged both BSU and NTC to build bridges to the future through transformative teaching and service to students and the Bemidji region.
Her intense preparation and first two months on the job helped her establish a short list of initial priorities she would pursue as president. During the traditional President's Welcome Breakfast before the start of fall classes, Hensrud asked faculty and staff to join with her in strengthening efforts to recruit and retain students from the Bemidji region's native nations; elevate student academic success; and continue BSU's focus on sustainability and connection to the north woods environment.
"I was listening to what people were saying at both institutions. They asked questions, and that led me to the conclusion that these are significant priorities for the community and the institutions," she said. "Since I've been here, my thinking has not changed significantly, because I am hearing the same things yet today."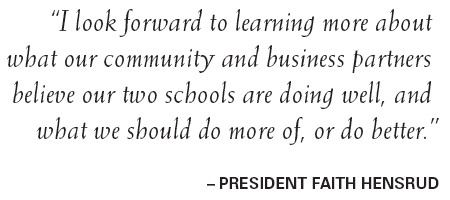 Hensrud met with presidents of each of the region's four tribal colleges – representing the Leech Lake, White Earth, Red Lake and Fond du Lac nations – at an on-campus ceremony in early August. Since that meeting, she has visited those four colleges, joined by Anderson and Bill Blackwell, Jr., director of BSU's American Indian Resource Center. She said those visits are helping strengthen BSU's existing partnerships with the tribal colleges, which already have led to initiatives such as a shared video-conferencing network made possible by a U.S. Department of Agriculture grant in 2014.
A firm believer in taking the long view, Hensrud intends to launch a strategic planning initiative covering both BSU and NTC this month. Her goal is to establish clear direction and goals for both schools while making sure they remain responsive to change over time.
"You have to be flexible and nimble enough so you can react when you need to," she said.
Groundwork for the strategic planning process will include a series of topic-specific listening sessions to gather feedback from Bemidji-area stakeholders in business, workforce development, education, government, social services and the environment.
"I look forward to learning more about what our community and business partners believe our two schools are doing well, and what we should do more of, or do better," Hensrud said.
---
Written by Andy Bartlett