Student to Watch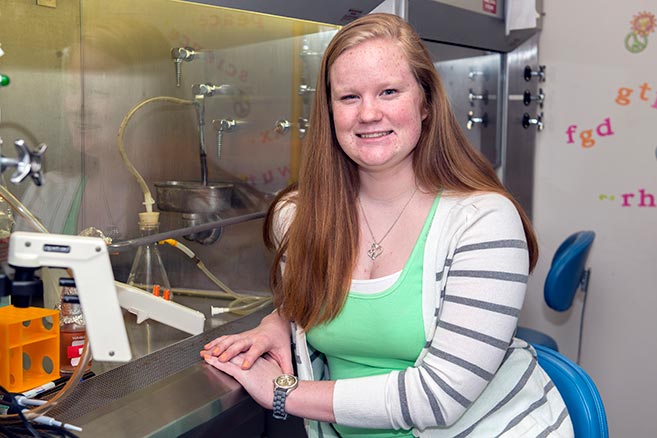 Amanda Kooiker enjoys the methodology of lab work, setting up experiments, testing hypotheses and making contributions that may eventually improve people's lives.
A junior biology major from Pipestone, Kooiker spends 10-15 hours a week in labs at Bemidji State University. She appreciates the connections she finds from classroom to lab to real life.
"In high school, we didn't go so in depth, so to come here and go into some more complicated biology has really opened my eyes to how much there is to learn," said Kooiker, who plans to pursue a medical-related career.
A standout student, she earned the BSU Campus Honor and Presidential Honor scholarships and another scholarship sponsored by the National Science Foundation.
"I've gotten more opportunities here than I ever imagined," said Kooiker, whose scholarships allow her to concentrate fully on experiences related to her studies. As a peer academic adviser, she also helps freshmen adjust to college academics.
Last summer, she completed an internship at the Rochester Mayo Clinic working in an osteoporosis lab.
At Bemidji State, she has been an undergraduate assistant to Dr. Mark Wallert, associate professor of biology, whose research relates to non-small cell lung cancer. Kooiker lost two grandparents to lung cancer, so she finds the work meaningful.
"I've had several family members with cancer, so cancer research has always interested me most," she said. "That's also motivated me to want to help others."
Kooiker has been invited to present her work in April at the American Society of Biochemistry and Molecular Biology National Meeting in Chicago, a five-day event attended by up to 14,000 scientists. She is the main author of one abstract and a contributor on two others.
"To be part of three different presentations at the national meeting is pretty much unheard of," Dr. Wallert said. "It makes her competitive with the best biology students across the country."
This spring, Kooiker will work part-time as a pharmacy technician as she considers whether to continue with research, pursue pharmacy or possibly attend medical school.
One of the advantages of pharmacy or medicine, she noted, is that they offer more career options in small towns and more opportunities to interact with patients. Those personal relationships are important to her, which is part of the reason she chose to attend BSU.
"I'm not just a number here," Kooiker said. "I'm a face, and that's what I wanted.