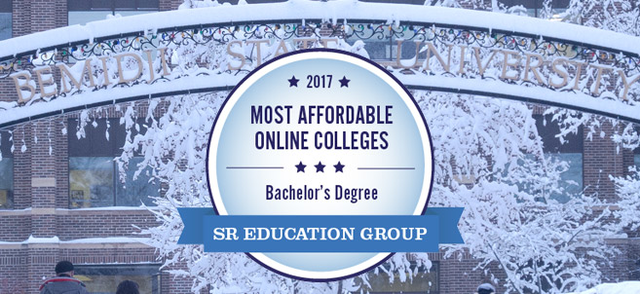 OnlineU has ranked Bemidji State University's online degree program among the 25 most affordable online colleges for bachelor's degrees in the nation.
The website ranked BSU's program 20th on its list, "The 25 Most Affordable Online Colleges for 2017."
Each school in this list offers at least 10 online bachelor's degree programs and tuition under $10,000. Bemidji State offers more than 14 online bachelor degrees with tuition of only $8,620.
To develop the 2017 Most Affordable Online Colleges overall ranking, OnlineU researching and calculated annual tuition rates from 739 schools' official websites, and provided unbiased rankings based off of affordability, accessibility, and quality.
BSU's extended learning opportunities make it easier and more affordable to complete coursework off campus, with a variety of flexible options allowing students to complete bachelor's degrees entirely online.
Bemidji State's Center for Extended Learning is dedicated to assisting off-campus students, beginning with the the application process and connecting them with the programs and services they may need.
Contact
Links
Bemidji State University, located in northern Minnesota's lake district, occupies a wooded campus along the shore of Lake Bemidji. A member of the colleges and universities of Minnesota State, Bemidji State offers more than 80 undergraduate majors and 11 graduate degrees encompassing arts, sciences and select professional programs. Bemidji State has an enrollment of approximately 5,000 students and a faculty and staff of more than 550. University signature themes include environmental stewardship, civic engagement and global and multi-cultural understanding.
For more, visit bemidjistate.edu or find us at BemidjiState on most of your favorite social media networks.
2017-B-L-055
–bsu–
—