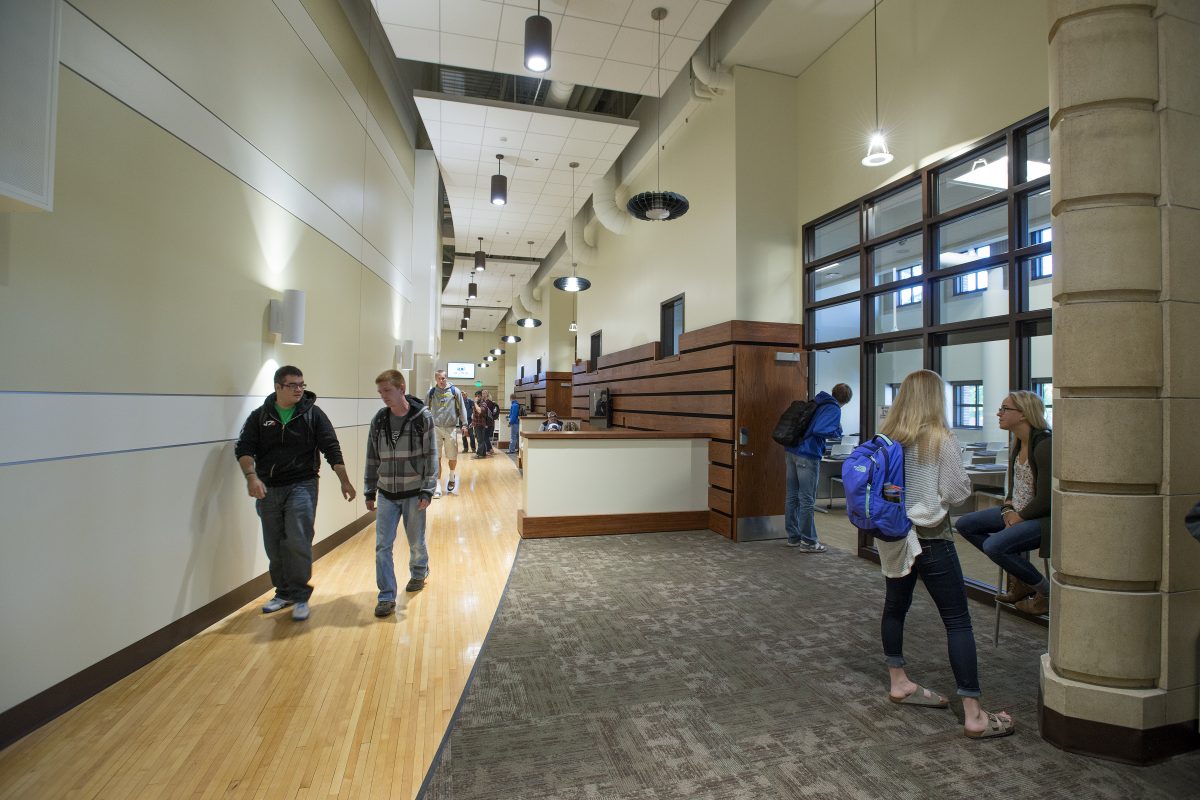 Bemidji State University's renovation of and addition to Memorial Hall was one of three finalists for the State of Minnesota's Buildings, Benchmarks, and Beyond (B3) programs contest, "2016 Best of B3 Design."
The finalists were announced at the second annual Best of B3 Recognition Luncheon at International Market Square in Minneapolis. There, a committee made up of staff from the Center for Sustainable Building Research and the state's departments of administration and commerce selected winners in a number of categories including sustainability, indoor environmental quality for classroom and workplace, benchmarking, leadership and design.
The renovation of Memorial Hall was completed during the summer of 2015 as the new home for BSU's business administration and accounting programs. The 75-year-old building is now a state-of-the-art learning center made possible by $13.79 million in bonds approved by the Minnesota Legislature and strong support from the community.
Even though the building is one of the oldest on campus, it is now the university's most advanced and energy efficient. The renovations helped the building earn LEED certification, using 20 percent less energy and 40 percent less water than conventional buildings.
The University of Minnesota Crookston's new UMC Wellness Center won the Best of B3 Design award, with phase 2 of the state's Department of Human Services St. David's Center for Child & Family Development project in Minnetonka joining Memorial Hall as a finalist for the honor.
The Best of B3 awards are given to organizations and projects that have shown leadership in improving their sustainability through their participation in the B3 programs.
The State of Minnesota's Buildings, Benchmarks, and Beyond (B3) programs were developed for and are required on State-funded projects in Minnesota in an attempt to increase energy efficiency and sustainability. Minnesota is leading the nation by requiring 70% more energy efficient state buildings in an effort to be carbon-neutral by 2030.
Links
Bemidji State University, located in northern Minnesota's lake district, occupies a wooded campus along the shore of Lake Bemidji. A member of the colleges and universities of Minnesota State, Bemidji State offers more than 80 undergraduate majors and 11 graduate degrees encompassing arts, sciences and select professional programs. Bemidji State has an enrollment of approximately 5,000 students and a faculty and staff of more than 550. University signature themes include environmental stewardship, civic engagement and global and multi-cultural understanding.
For more, visit bemidjistate.edu or find us at BemidjiState on most of your favorite social media networks.
2017-B-L-056
–bsu–