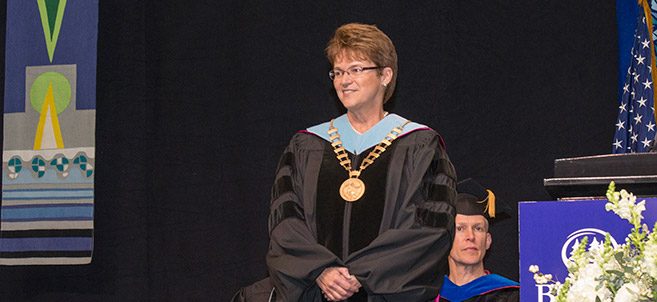 Dr. Faith C. Hensrud, president of Bemidji State University and Northwest Technical College, has joined the American Council on Education's "Moving the Needle: Advancing Women in Higher Education Leadership" campaign, which will pursue a goal of seeing women hold 50 percent of chief executive positions at institutions of higher education by 2030.
The American Council on Education launched the campaign in Jan. 2016 to encourage colleges and universities to increase awareness and sign a statement of support to advance women into senior leadership positions in higher education. Hensrud joins a group of more than 100 leaders who recognize a generational turnover in higher education leadership as a pivotal opportunity to advance women into chief executive positions at America's colleges and universities.
By signing the commitment, Hensrud has committed Bemidji State University and Northwest Technical College to:
nominate qualified women to the highest positions of leadership in higher education wherever and whenever possible,
provide opportunities for emerging women leaders to gain access to the skills and experiences necessary to advance,
educate others, including boards, on the benefits of a gender-diversified leadership, and
empower leadership teams at both BSU and NTC to sponsor women leaders.
"I am grateful for the opportunities and mentoring I received along the way in my career, from both men and women," Hensrud said. "I want to help other women share their talents, knowledge and experience in higher education leadership. We have much to contribute when it comes to serving students and elevating the work of our institutions."
The campaign notes that while they now earn the majority of all college degrees, women have made little progress when it comes to attaining chief executive positions at colleges and universities. According to research done by the council, as of 2011 only 27 percent of college and university presidencies were occupied by women.
Bemidji State University and Northwest Technical College are part of the Minnesota State system of colleges and universities, which has established itself as a national leader in pursuing gender equity in chief leadership positions. In the summer of 2016, the system hired six new presidents, and five – including Hensrud – were women. Overall, that group of hires brought the system's total of women presidents to 14 out of 30 – 47 percent, or nearly double the 27-percent national average reported by the council.
Additionally, the Minnesota State system also is making impressive gains in racial and ethnic diversity within its presidential ranks. As of August 2016, 30 percent of the system's 30 president were from underrepresented groups, compared to the national average of 13 percent, according to the American Council on Education, and compared to 19 percent of Minnesota's population, according to the Minnesota Demographic Center.
"As presidents, we must offer our sponsorship and mentorship and recognize that every presidential vacancy is an opportunity to advance women," said Molly Corbett Broad, president of the American Council on Education. "The presidents that have already signed on have sent a powerful signal about the importance of this issue and this campaign."
The Moving the Needle campaign is overseen by the Inclusive Excellence Group of the council's leadership division, which offers programs that support and advance higher education leaders.
"For decades, ACE has demonstrated a commitment to advancing women along the higher education pipeline," said Kim Bobby, director of the Inclusive Excellence Group. "The Moving the Needle call to action is a bold new initiative to increase awareness and join together in a collective effort to increase and sustain gender parity in higher education leadership."
About the American Council on Education
Founded in 1918, the American Council on Education is a coordinating body for the nation's higher education institutions, representing more than 1,600 college and university presidents and related associations. It provides leadership on key higher education issues and influences public policy through advocacy.
For more information, visit acenet.edu or follow on Twitter @ACEducation.
Contact
Office of the President, Bemidji State University and Northwest Technical College; (218) 755-, president@bemidjistate.edu
Links