Student to Watch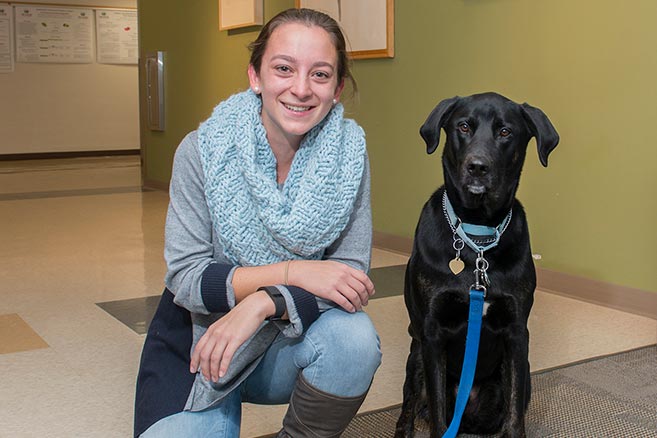 Illinois native Sarah Stram first heard about Bemidji State University when she was recruited as a high school soccer player in 2012.
She and her dad drove 10 hours from the Chicago suburb of Elk Grove Village to visit the campus.
"We didn't even know how to pronounce 'Bemidji,'" Stram said.
She did know she wanted to play soccer and study pre-veterinary medicine. When she learned she could do both at BSU, she committed.
"Bemidji was the only place that I visited," Stram said. "I've always loved small towns. And being on a team, you automatically have 20 best friends."
She excelled athletically and academically. Even with a double major in chemistry and biology, she finished a semester early, graduating this December, and was recognized as BSU's Outstanding Analytical Chemist. She also received the American Chemical Society Undergraduate Award.
In addition, Stram was named to the College Sports Information Directors of America College Division Academic All-America® First Team. She was also the first Beaver to be named First-Team all-NSIC for three consecutive seasons.
Growing up the youngest of four children, Stram often hung out at her father's veterinary hospital. Eventually, she started helping at the clinic and decided to pursue veterinary medicine. She also inherited one of her father's former patients, Miller, a black Lab mix, who moved to Bemidji State with her.
"I've always loved animals," said Stram, who enjoyed daily runs with Miller as he chased squirrels and ducks along the shore of Lake Bemidji.
While she liked working with her father in Illinois, Stram said she hopes to practice veterinary medicine in a more rural area, maybe Wisconsin or Minnesota —  "someplace without tollways," she quipped.
Stram, who already has completed an internship at a veterinarian emergency care center, will do an externship this month at an equine hospital in North Carolina. With her applications already submitted to veterinary schools, she awaits her next move. By mid-December, two institutions had already invited her for interviews, the first step in the acceptance process.
"Sarah is a hard-working student, very intelligent, dedicated and an excellent leader in the classroom and the lab  —  the same strengths she demonstrates on the soccer pitch," said Dr. Kenneth Traxler, chair of the Department of Chemistry. "She's a complete package."
For Stram, graduating from Bemidji State is bittersweet. She and Miller will miss their lives in Bemidji, a place without tollways and traffic jams and with plenty of wide-open spaces.