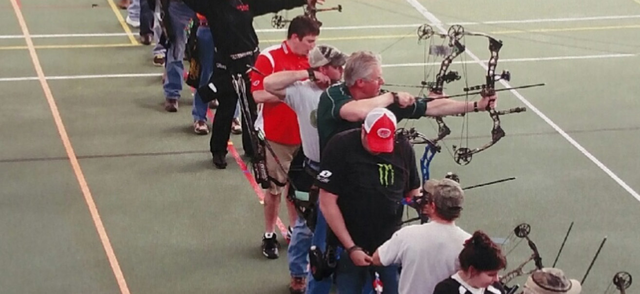 Hundreds of archery enthusiasts from across the upper Midwest will fill Bemidji State University's John S. Glas Fieldhouse April 1–2 for the Minnesota State Archery Association's State Indoor championships.
The tournament gathers more than 1,000 archers who qualified for the championships in a series of 31 regional competitions held all across Minnesota and southern Ontario, Canada, in January. Competitors are placed into flights of around 20 archers who qualified with similar regional scores.
The tournament is open free to the public and concessions will be available.
Tournament participants can practice in the field house from 5-9 p.m. March 31 and competition begins April 1. Competitors will shoot in two lines on both Saturday and Sunday, with 9 a.m. and 1 p.m. start times each day. The winner of each flight will receive a plaque.
Friday evening also will include a Vegas 330-format money shoot, a double-elimination tournament which carries a separate $25 entry fee for competitors. Participants are given 2:30 to shoot three arrows at 20-yard targets per round over 10 rounds, with a maximum score of 330 points. There are cash prizes for the top three individual finishers and top three team finishers of $400 for first place, $250 for second and $150 for third in each category, depending on the number of competitors. Individuals will shoot in two lines at 4:30 and 6, with the team competition to follow.
The state association will present its annual recognition awards at a Saturday evening banquet in BSU's Beaux Arts Ballroom. A social hour begins at 6 p.m. with the banquet to follow at 7.
The MSAA State Indoor is being hosted by the Bemidji Archery Club, which also hosted the event in 2012. The event is the first of five MSAA tournaments that will be held in 2017, including an MSAA Field event July 22-23 which also will be hosted by the Bemidji Archery Club.
Calendar
April 1–2 – Minnesota State Archery Association State Indoor championship, hosted by Bemidji Archery Club at Bemidji State University. Location: John S. Glas Fieldhouse, BSU campus. Admission: free. Information: Ed Turner, Bemidji Archery Club, hoytshootered@yahoo.com
Contact
Links
Bemidji State University, located in northern Minnesota's lake district, occupies a wooded campus along the shore of Lake Bemidji. A member of the colleges and universities of Minnesota State, Bemidji State offers more than 80 undergraduate majors and 11 graduate degrees encompassing arts, sciences and select professional programs. Bemidji State has an enrollment of more than 5,100 students and a faculty and staff of more than 550. University signature themes include environmental stewardship, civic engagement and global and multi-cultural understanding.