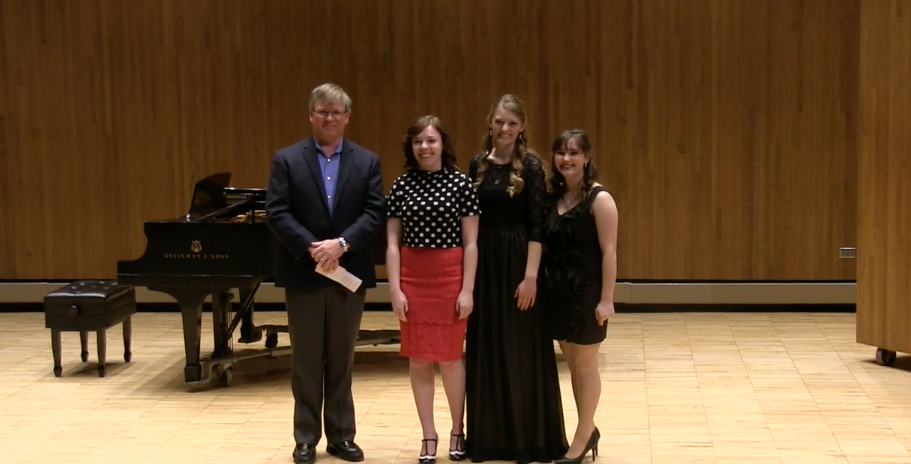 Three Bemidji State University vocal music students have won scholarships in the BSU Department of Music's annual Don and Ione DeKrey Memorial Scholarship Competition.
A total of 13 students participated in the 31st annual competition, held March 25 in BSU's Bansgberg Fine Arts Complex. This year's winners were:
Kari Norheim, a sophomore majoring in music from Alexandria, MN. Norheim sang "Soupir" by Henri Duparc.
Lindsay Marketon, a senior majoring in music education and music from Howard Lake, MN. She sang "Where're You Walk" by George Frideric Handel.
Katilynn Meine, a senior majoring in music from Mentor, MN. Meine sang "Meinn Herr Marquis" by Johann Strauss.
Each year, after scholarship recipients are announced, the competition concludes with a group performance by previous winners of the award. As this year's scholarship recipients, Norheim, Marketon and Meine will be invited to participate in future DeKrey alumni performances.
The award was established by Dr. Donald DeKrey to honor his late wife, Ione, and her love for music. Ione was a Bemidji State University alumna, graduating in 1975 at age 44. Donald DeKrey and his four children, Steve DeKrey, Betsey Tower, Dr. Dan DeKrey and Nancy Glenn, started the event by pooling memorial money following Ione's death. For the DeKreys, the scholarship competition has become an important living memorial and a way to give students an opportunity to perform in a competitive situation. Family members attend the competition and assist with judging along with a panel of Bemidji State music faculty.
Since the competition began in 1987, 69 BSU music students have won DeKrey scholarships valued at more than $30,000. The competition expanded in 2008 and now supports three recipients per year.
"It means a lot to me to be able to come back next year and for years to come," Norheim said.
All three winners expressed their sincere gratitude to the DeKrey family after winning the scholarship.
"This DeKrey scholarship, it is just amazing that they offer it," Meine said. "I would have loved to have met the mom, Ione. She sounds like an amazing woman and it's so awesome that this family appreciates the music the way I do. I just want to say thank you to the family again because this is such an opportunity."
Contact
Bemidji State University, located in northern Minnesota's lake district, occupies a wooded campus along the shore of Lake Bemidji. A member of the colleges and universities of Minnesota State, Bemidji State offers more than 80 undergraduate majors and 11 graduate degrees encompassing arts, sciences and select professional programs. Bemidji State has an enrollment of more than 5,100 students and a faculty and staff of more than 550. University signature themes include environmental stewardship, civic engagement and global and multi-cultural understanding.