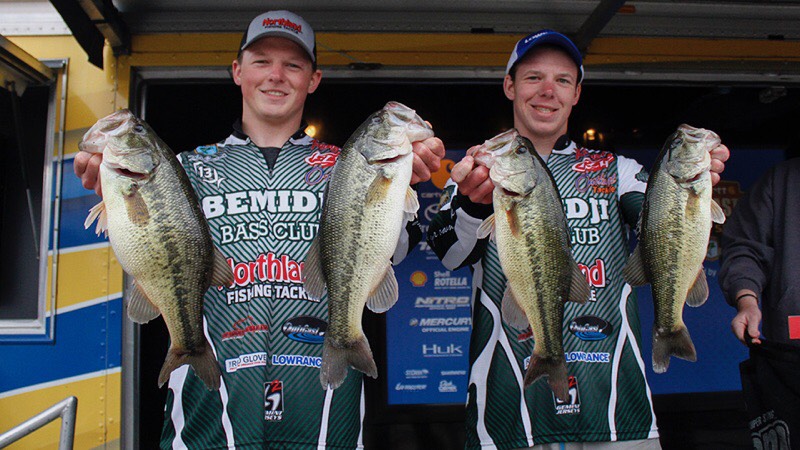 Two teams representing Bemidji State University have qualified for national championship tournaments in the Bassmaster and Fishing League Worldwide circuits. The Bassmaster national championship will be held later this year, while the Fishing League Worldwide tournament will be held in May.
Thor Swanson, a junior majoring in marketing communications from Blaine, Minn., is part of a team that has qualified for both national tournaments.
"Nationals is the best of the best in college fishing and we feel very accomplished to be a part of that group again this year," he said. "There is a lot on the line for nationals, and we want to bring the title back to BSU."
Thor Swanson and his brother, Mitch Swanson, a senior majoring in criminal justice from Wadena, Minn., will be joined at the Fishing League Worldwide tournament by the team of Tyler Robinson, a senior majoring in aquatic biology from Ham Lake, Minn., and Jack Kons, a sophomore majoring in business administration from Savage, Minn.
Carhartt Bassmaster College Series
During the Bassmaster tournaments, two-person teams try to catch the heaviest five-bass limits on each day of the competition. Top teams from five regional competitions advance to the national tournament.
Mitch and Thor Swanson qualified for nationals after placing 13th out of 131 other teams in the annual Lake of the Ozarks Midwest Regional Bassmaster competition, held March 29–31 in Osage Beach, Mo.
Fishing League Worldwide YETI College Fishing
Fishing League Worldwide is the world's largest tournament-fishing organization, allowing anglers of all skill levels to compete for millions of dollars in prize money in five tournament circuits.
At the YETI College Fishing tournament, held April 7–8 in Kentucky-Barkley Lake, Ky., Mitch and Thor Swanson placed 18th, while Robinson and Kons placed 28th, out of 194 teams. The top 29 finishers qualified for the FLW College National Championships, which will be held May 31–June 2 at Wheeler Lake near Rogersville, Ala.
The Swanson brothers qualified for the national tournament following a remarkable rally on the tournament's second day. The pair found themselves sitting in 80th place after the first day of the competition, but vaulted into the top 20 after the second day. Overall, they finished the tournament with a 30-pound, 11-ounce total catch.
"It was a blessing qualifying for two different national championships in two weeks," Mitch Swanson said in an Instagram post.
Links
Bemidji State University, located in northern Minnesota's lake district, occupies a wooded campus along the shore of Lake Bemidji. A member of the colleges and universities of Minnesota State, Bemidji State offers more than 80 undergraduate majors and 11 graduate degrees encompassing arts, sciences and select professional programs. Bemidji State has an enrollment of more than 5,100 students and a faculty and staff of more than 550. University signature themes include environmental stewardship, civic engagement and global and multi-cultural understanding.