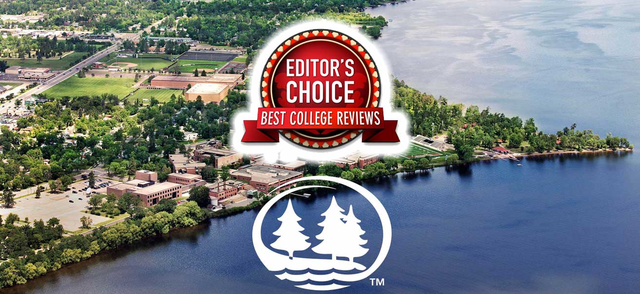 Bemidji State University's master of business administration online degree program is ranked fourth on a list of the nation's top 25 online MBA programs compiled by the website Best College Reviews.
Best College Reviews developed its list by reviewing the overall program quality, academic prestige, flexibility and affordability of the programs.
"The fully online MBA offered by Bemidji State University ranks highly due to its flexible nature and affordable price point," the site said.
ABOUT BSU'S ONLINE MASTER OF BUSINESS ADMINISTRATION PROGRAM
Bemidji State's online master of business administration program is a 30-credit curriculum designed to teach students the advanced skills and understanding necessary to achieve higher-level goals in today's global business environment. The complete program includes 10 courses in areas such as Corporate Social Responsibility, Global Business and Statistical Analysis. Students can complete the MBA in as little as a year or spread the coursework out over more time. Bemidji State offers in-state tuition rates to all students, and financial aid available to qualifying students. Students receive dedicated, professional faculty located on campus who are readily available for one-on-one feedback, guidance and a personalized learning experience. BSU's online program is ideal for rural and urban students who, for various reasons, cannot attend a fully on-campus program. Students who complete the online MBA program will receive a degree from a well-repeated, fully accredited institution of higher learning.
RANKING METHODOLOGY
Best College Reviews evaluated nearly 200 programs against three equally weighted criteria:
Academic quality — the strength of the parent institution — measured by factors such as average class sizes, number and quality of support services, quality of faculty and quality financial aid.
Measures of the breadth and quality of flexibility-enhancing components of a program, including the number of specializations, the ability to accelerate or decelerate programs, prior learning or transfer credit opportunities and unique presentation options.
Affordability, as measured by estimated out-of-state tuition per-credit-hour rate, if applicable.
ABOUT BEST COLLEGE REVIEWS
Best College Reviews was started with the explicit goal of competing with US News & World Report as an authoritative, objective and editorially independent college review journal. They are committed to providing students with the best, most trust-worthy guidance for making their college choice decision. They are dedicated to enabling aspiring students make an informed decision by providing college rankings, reviews of college features, blog articles, and infographics.
Contact
Dr. Young Seob Son, director, Bemidji State University online MBA program; (218) 755-3715, yson@bemidjistate.edu
Links
Bemidji State University, located in northern Minnesota's lake district, occupies a wooded campus along the shore of Lake Bemidji. A member of the colleges and universities of Minnesota State, Bemidji State offers more than 80 undergraduate majors and 11 graduate degrees encompassing arts, sciences and select professional programs. Bemidji State has an enrollment of more than 5,100 students and a faculty and staff of more than 550. University signature themes include environmental stewardship, civic engagement and global and multi-cultural understanding.