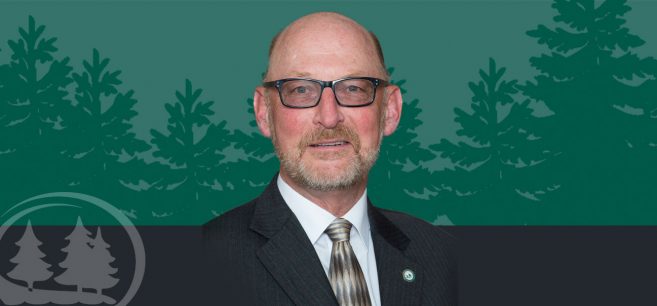 Dr. Jim Barta, currently dean and professor of the Tift College of Education at Mercer University, has been named dean of the College of Health Sciences and Human Ecology at Bemidji State University.
"Jim Barta is a visionary educator who brings a wealth of experience to Bemidji State University," said Dr. Faith C. Hensrud, president of Bemidji State and Northwest Technical College. "He has held a variety of leadership positions and has strong insight into teaching and the professional education discipline. Jim's work with mathematics and indigenous cultures is recognized internationally, and he knows Bemidji State and our unique region. I'm excited that he'll be joining us as dean of the College of Health Sciences and Human Ecology."
Barta has been dean and professor at Mercer University's Tift College of Education since 2015. There, he served as the college's lead administrator at Mercer, which has campuses in Macon, Atlanta, Henry, Douglas and Newnan, Ga.
Before joining the administration at Mercer, he spent nearly two years as interim dean of Bemidji State's College of Health Sciences and Human Ecology. Prior to that, he held a variety of administrative and teaching positions including director of the American Indian Teacher Education Program at Utah State University–Eastern, associate department head of regional campus and distance education at Utah State University, assistant and associate professor of education and human services at Utah State University, visiting professor in the Office of First Nation and Inuit Education at McGill University/Concordia University, and assistant professor of early childhood education and reading at Georgia Southern University.
"All my life, I have been motivated to make a difference. I want to be part of a team that rises every morning trying to position the university and its students to be 21st-century difference makers," Barta said. "The College of Health Sciences and Human Ecology is such a community. It has some of the finest faculty I have ever seen providing a variety of educational opportunities and experiences to help our students exceed all expectations for success. I am honored to serve as their dean and look forward to collaborating with such a transformative team of educators and staff."
Barta has developed a national and international reputation for his work in ethnomathematics, the study of the relationship between mathematics and culture with a focus on indigenous cultures in the United States, Canada and Central America. For eight years, he led teams of educators providing professional development for Mayan charter school teachers in the rural Highlands of Guatemala. Since 2012 he has served as vice president of Teachers-2-Teachers Global, which develops teams of mathematics coaches who travel to rural villages throughout the world to provide professional development to teachers.
He also serves on the boards for the United States National Commission of Mathematics Improvement and the American Association of Colleges for Teacher Education's Committee on Global Diversity.
Barta has a bachelor's degree in industrial science education from Colorado State University, a master's degree in learning disabilities and emotional behavior disorders from the University of Northern Colorado and a doctorate in curriculum and instruction in early childhood education from the University of Oregon.
Barta's appointment at Bemidji State begins on July 20.