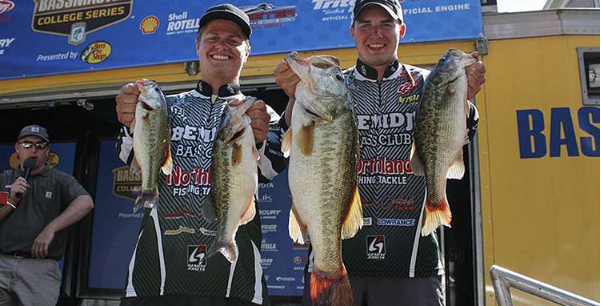 Bemidji State University students Luke Gillund and Robby Troje have qualified for Bassmaster's national championship tournaments, which will be held Aug. 10-12 on the home waters of Lake Bemidji in Bemidji, Minn.
Gillund, a junior majoring in marketing communications, and Troje, a junior majoring in business administration, qualified for the championship after a second-place finish in the Bassmaster Wild Card Event, June 8-10 on Alabama's Lay Lake. The duo was in 58th place overall after the first day's weigh-in, then rocketed to 10th place after the second day on their way to a runner-up finish.
"We tried to make our shallow bite work on Thursday," Gillund said. "But after we finished in 58th, we knew that bite was dying for us."
Gillund said the team switched tactics and fished trees and stumps on an offshore ledge to improve their standing on the second and third days. They mainly used a crankbait, one of the most commonly used bass lures, and a shaky head jig to catch their fish. On Friday, the crankbait netted Gillund a double catch, his first ever, and on Saturday the shaky head landed the event's largest catch — a 6 pound, 13 oz. largemouth on Saturday that won the Bassmaster Big Bass Award for the tournament, more than a pound and a half heavier than the next-largest fish.
"To qualify for the national championship and for it to be in our back yard is awesome," Gillund and Troje said. "We can see the lakes from our school — that'll be a neat experience."
Gillund and Troje will join fellow BSU fishing duo of Thor and Luke Swanson, who qualified earlier this spring at the Midwest Regional, at the national championships in August.
Carhartt Bassmaster College Series
During the Bassmaster tournaments, two-person teams try to catch the heaviest five-bass limits on each day of the competition. Top teams from five regional competitions advance to the national tournament.
Links
Bemidji State University, located in northern Minnesota's lake district, occupies a wooded campus along the shore of Lake Bemidji. A member of the colleges and universities of Minnesota State, Bemidji State offers more than 80 undergraduate majors and 11 graduate degrees encompassing arts, sciences and select professional programs. Bemidji State has an enrollment of more than 5,100 students and a faculty and staff of more than 550. University signature themes include environmental stewardship, civic engagement and global and multi-cultural understanding.