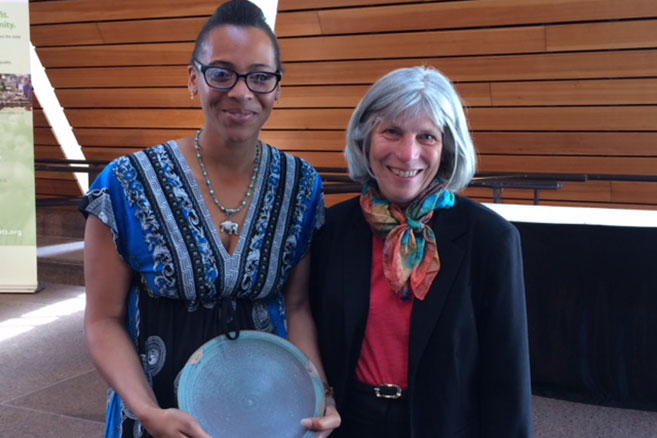 For her work coordinating Bemidji's Foster Grandparent Program and her involvement with numerous Bemidji-area nonprofit organizations, Bemidji State University alumna Ashley Charwood has received the Catalytic Leader Award from the Minnesota Council of Nonprofits.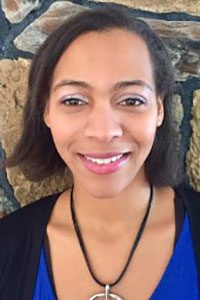 The Catalytic Leader award honors a person who uses informal authority to shape the direction and progress of her work and that of the organization, who understands how to help bring change in an organization by effectively communicating with key internal and external stakeholders and who has helped shape her organization through strategic change that is beneficial to its staff, board, organization and community.
Charwood, who graduated from BSU in 2007 with a degree in social work, received the award at a June ceremony in Minneapolis. She was nominated by Mary Ann Reitmeir, professor emerita of social work at BSU.
"I am humbled and happy to be recognized, Charwood said. "I am a quiet introvert, and I believe that all people are capable of being leaders and that everyone has different strengths that they bring to the table. I serve on a local non-profit board of directors and I chair the governance and nominations committee. I think it is important to have diverse people at the decision-making tables."
Charwood lives in Bemidji, where she is a secretary for Bi-County Community Action Program, a comprehensive sexual health educator and a licensed social worker, in addition to her work with the Foster Grandparent Program. She works part-time for Lutheran Social Services, Planned Parenthood and Northwood Caregivers and says she is "committed to contributing to a more caring and equitable world."
Charwood also has worked at an Area Agency on Aging, as a foster care and adoption social worker and as a domestic violence advocate.
"I have always been passionate about working in the nonprofit field," she said while accepting her award at a June 13 ceremony. "I love my community, and I know a lot about the organizations as a professional, as a service user and as a community member. Though I have different passions, interests and hobbies, I know how important it is to have a say in different issues that affect me. You have a voice — let it be heard."
As the Catalytic Leader honoree, Charwood received a one-year "Golden Ticket" for free individual registration to all Minnesota Council of Nonprofits-sponsored conferences and training, valued at more than $1,000. She may use the ticket to attend the council's annual conference, technology conference, leadership conference and any of its nonprofit workshops offered throughout the year.
Other Community Projects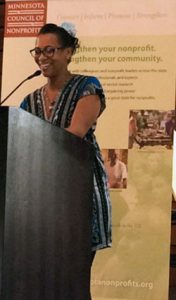 In October 2016, Charwood co-created Project 26, a local art project featuring work by people who have experienced sexual and domestic violence. During a 26-week period that began in October with Domestic Violence Awareness Month and continued through Sexual Assault Awareness Month in April, 26 participants in the project developed an art project. The completed works were exhibited June 16 at the Project 26 Survivor Art Show at the Northwest Indian Community Development Center in Bemidji. The exhibition included jingle-dress healing dancers, a drum, an Ojibwe blessing, a survivor story and a feast.
Charwood and Project 26 will host a fundraising rummage sale July 29 at 142 Inglewood Drive NW in Bemidji.
In January, Charwood planned an Inclusivity and Diversity Event in honor of Martin Luther King Jr. Day, funded by a Patty Johnson Seed Grant. This first-ever event included a peace march, multicultural diversity and inclusivity panel of speakers, community potluck dinner and dance celebration.
Links
Bemidji State University, located in northern Minnesota's lake district, occupies a wooded campus along the shore of Lake Bemidji. A member of the colleges and universities of Minnesota State, Bemidji State offers more than 80 undergraduate majors and 11 graduate degrees encompassing arts, sciences and select professional programs. Bemidji State has an enrollment of more than 5,100 students and a faculty and staff of more than 550. University signature themes include environmental stewardship, civic engagement and global and multi-cultural understanding.