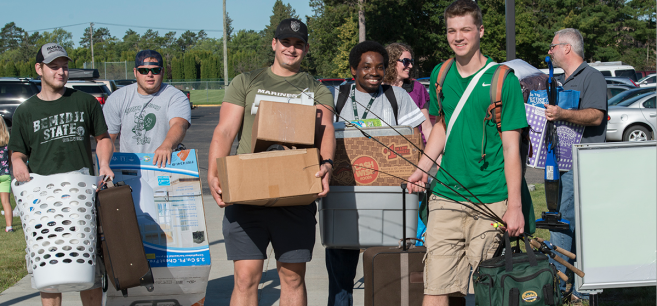 Bemidji State University's class of new students for the 2017-18 academic year, which includes a freshman class expected to number around 800 students, will get its first taste of college at the university's Orientation weekend, Aug. 18-20.
Orientation welcomes all students who are new to the university, including both first-time college students and students transferring to BSU from other institutions.
The schedule of activities begins with the BSU residence halls' annual Move-In Day on Aug. 18 and continues with a series of activities for new students and their families throughout the weekend. BSU's traditional Convocation ceremony will take place on Friday night at 5 p.m.
Residence hall move-in and Orientation check-in will take place from 9 a.m.-2 p.m.
Other activities scheduled include:
An official welcome ceremony and Class of 2021 group photo at Chet Anderson Stadium at 2:30 p.m.
A Family Connection event featuring information and activities for parents of new college students in the Gillett Wellness Center's BSU Gymnasium beginning at 3:15 p.m.
Convocation begins at 5 p.m. in the BSU Gymnasium at the Gillett Wellness Center. Convocation officially marks the beginning of a student's academic journey as a member of the BSU student community, and includes an induction ceremony and a gift to new students.
A send-off picnic on the Hobson Memorial Union Lakeside Lawn from 6-8 p.m.
Gathering and social for off-campus students at the Hobson Memorial Union's Crying Wolf Room, beginning at 8 p.m.
A welcome dance for all new students in the Hobson Memorial Union's Crying Wolf Room beginning at 9 p.m.
SATURDAY, AUG. 19
The second day of Orientation features an Orientation Leader Time, meeting at the Walnut Hall Lawn at 10 a.m.
This meeting is followed by "Succeeding in College and in Life," a presentation by motivational speaker and former American Ninja Warrior competitor Hoan Do. Do has been recognized for youth mentorship and speaks at colleges, high schools and associations across the country to share practical advice that helps students to succeed in school and in the real world. This presentation will take place in Hagg-Sauer 100 beginning at 10:30 a.m.
After lunch, students will attend a 1:30 p.m. presentation "Life on Campus and What You Need to Know" in Hagg-Sauer Hall 100, followed by a "Meet the Class of 2021" event at the Gillett Wellness Center beginning at 3 p.m.
BSU's Campus Activities Board will offer a presentation to incoming students beginning at 8 p.m. in the Gillett Wellness Center.
SUNDAY, AUG. 20
Ropes Course
New students can participate in the ropes course at BSU's Hobson Memorial Forest from 9 a.m. to 7 p.m. Students will be divided into groups and depart at various times throughout the day.
Other activities scheduled include:
Walking Tours will be held 10 a.m. to 2 p.m. by Orientation leaders.
Transfer student orientation starts at 11 a.m. in the Crying Wolf Room.
Sunday in the Park in Diamond Point Park from 1-5 p.m., weather permitting.
Official Orientation Weekend activities conclude with a campfires and s'mores at the residence halls beginning at 9 p.m.
A complete schedule of Orientation and Welcome Week activities is available online.
Contact
Nina Johnson, director, Hobson Memorial Union; njohnson@bemidjistate.edu
Links
Bemidji State University, located amid the lakes and forests of northern Minnesota, occupies a wooded campus along the shore of Lake Bemidji. Enrolling more than 5,100 students, Bemidji State offers more than 80 undergraduate majors and eight graduate degrees encompassing arts, sciences and select professional programs. BSU is a member of the Minnesota State system of colleges and universities and has a faculty and staff of more than 550. The university's Shared Fundamental Values include environmental stewardship, civic engagement and international and multicultural understanding.